Cui: Raise understanding level
By ZHAO HUANXIN in Washington | China Daily Global | Updated: 2019-02-09 00:12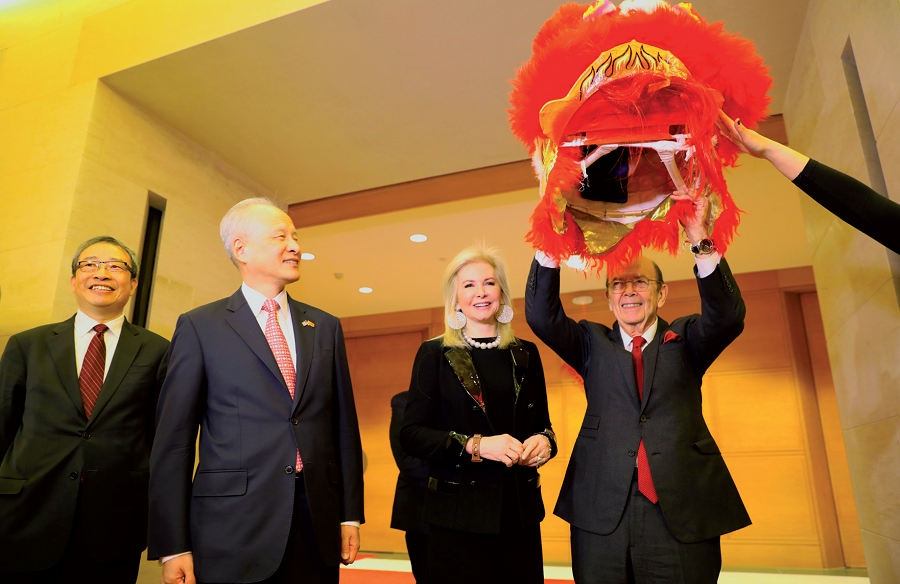 China and the US should build on the achievements made since the establishment of diplomatic relations in 1979, and continue to broaden cooperation, Beijing's top envoy to Washington has said.
To build a China-US relationship based on coordination, cooperation and stability, as agreed to by their top leaders in Argentina on Dec 1, the two countries should ramp up mutual understanding to avoid strategic miscalculations, stay open to each other rather than decouple, and step up people-to-people exchanges, Ambassador Cui Tiankai said on Wednesday.
Speaking at a reception marking the 40th anniversary of China-US diplomatic relations and the Chinese New Year at the embassy, Cui said the world is undergoing profound changes, with new global challenges continuing to arise.
"More than ever before, the world needs China and the US to work together. Our people need us to work together," he said. "As our common interests grow, we should continue to expand and deepen our cooperation on the basis of the achievements of the last four decades."
The ambassador said the past 40 years of China-US relations have helped advance the development of the two countries, which have interacted on such an extensive scale and influenced each other in so many ways that each is stronger and better for it.
Such relations have delivered "enormous benefits" to the people in both countries, Cui said, listing a series of figures to show the two more connected than ever: Daily bilateral trade is worth more than $1.5 billion; more than 14,000 people fly between the two countries every day for work, study and leisure.
In addition, there are 50 pairs of sister states/provinces and 227 pairs of sister cities between the two countries, he said.
"People in China have always had a strong interest in learning more about America and from America," the ambassador said, as he stressed the need to promote mutual understanding to enhance mutual trust and avoid strategic miscalculations.
"Hopefully, there is a similar effort on this side of the Pacific to learn more about China," he said.