World leaders send greetings
By MO JINGXI | China Daily | Updated: 2019-02-09 04:28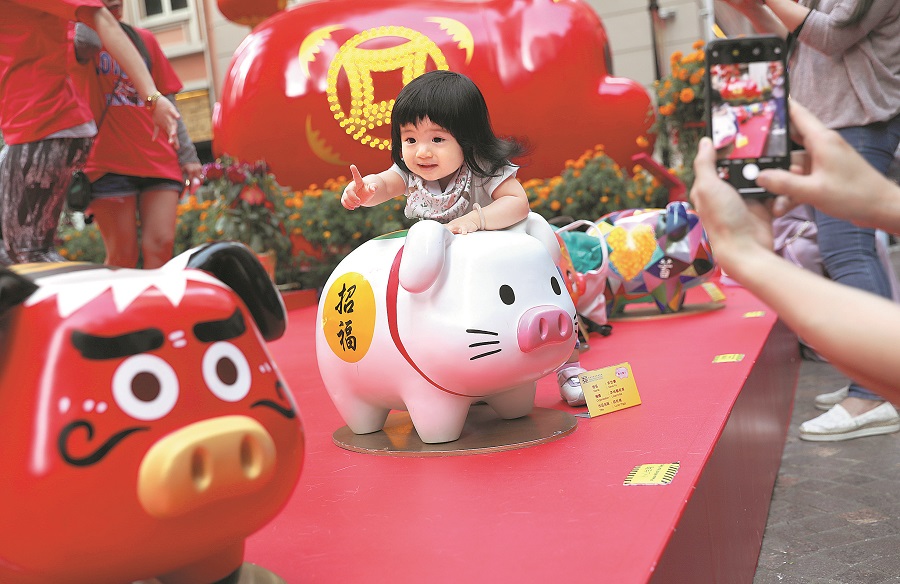 Contributions of Chinese, hope for coming year noted
World leaders sent Lunar New Year's greetings as Chinese people around the globe celebrated their most important holiday season of the year — Spring Festival.
Russian Prime Minister Dmitry Medvedev extended his greetings to the Chinese people on Thursday, the third day of the Chinese New Year.
"We are glad that today we have the opportunity to meet and convey our warmest words and wishes to the Chinese people," Medvedev said to a gathering at the Chinese embassy in Moscow. "We are hopeful that in the new year, we will continue our effective contact to develop our strategic partnership and interaction that has distinguished our countries in recent years."
Medvedev said his visit to the embassy "also has a symbolic meaning", given this year's 70th anniversary of the establishment of Russia-China diplomatic relations.
United States President Donald Trump sent his greetings on Tuesday to those celebrating the Lunar New Year via a statement on the White House website.
"This is a sacred time for many people of Asian descent, and it is an opportunity for all Americans to honor the important contributions these communities have made to the story of American greatness," Trump said.
"As families, friends and loved ones gather to welcome the Year of the Pig, we join in sharing our best wishes for good health, prosperity, and happiness," he said.
Japanese Prime Minister Shinzo Abe greeted Chinese people by saying "Happy Spring Festival" in Mandarin in a video on Monday night, when the landmark Tokyo Tower was lit up by red lights as part of the New Year's celebration.
Abe said last year was important in the history of Japan-China relations, and he sincerely welcomes more Chinese friends to visit Japan and hopes more Japanese will go to China and build a bridge for exchanges.
"I hope Japan-China relations will make further progress in the New Year. And I wish our friends success and progress," he said.
In a video message on the occasion of the Lunar New Year, United Nations Secretary-General Antonio Guterres thanked China and the Chinese people for their commitment to the UN and called for efforts to build a peaceful and prosperous world.
"I'm pleased to send you my best wishes on this auspicious occasion," he said, adding "Happy Spring Festival" in Mandarin.
"Despite the headwinds in our world today, we know that when we work together, we get things done. In that spirit, I wish you and your families health, success and happiness in this new year," he said.
Pakistani Prime Minister Imran Khan sent his best wishes to the Chinese people on the eve of the Chinese New Year.
"We are proud of the achievements of our iron brother, a good neighbor and strategic partner," he said.
British Prime Minister Theresa May praised the role of the Chinese community in British life and wished everyone celebrating Chinese New Year "a prosperous and auspicious Year of the Pig" in a greeting video released on the eve of the Spring Festival.
During a Chinese New Year reception at No 10 Downing Street on Jan 31, she said the United Kingdom expects to work together with China to push forward bilateral cooperation in all sectors for more fruitful outcomes.
Xinhua contributed to this story.