Italy-France ties hit a low as protests go on
By CHEN WEIHUA | China Daily | Updated: 2019-02-11 11:14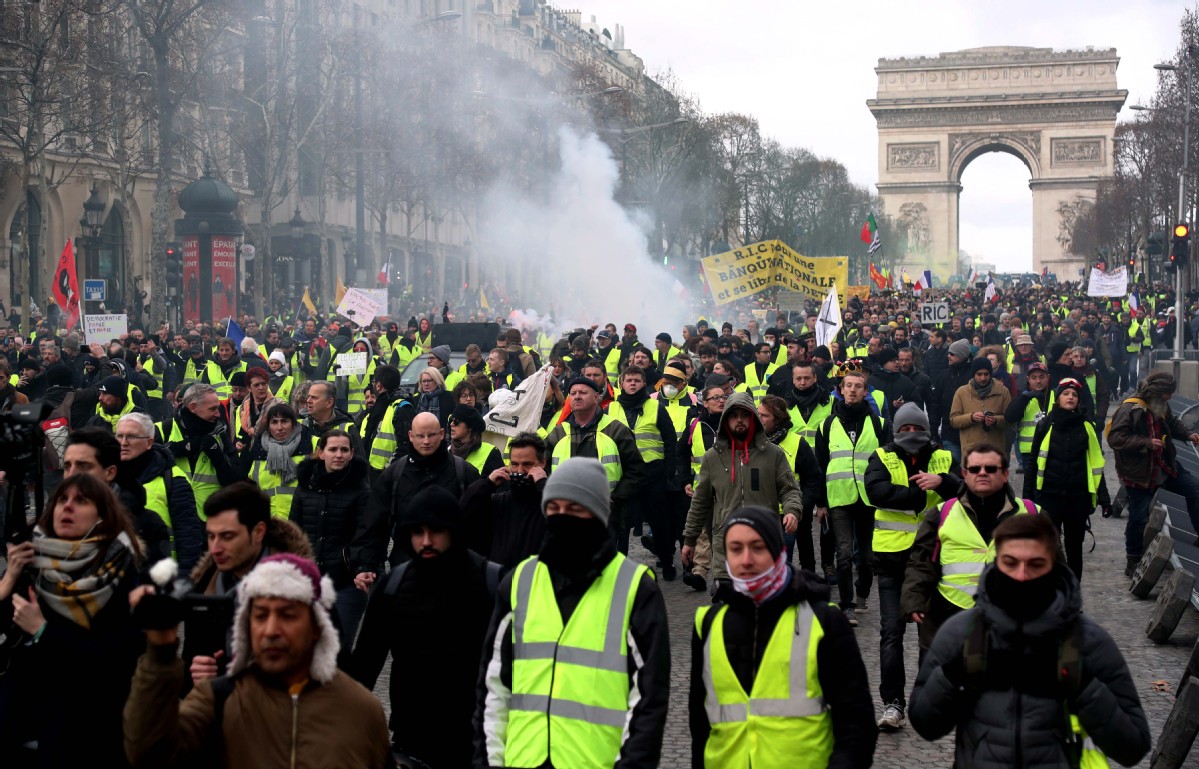 'Yellow vest' movement enters its 13th week and turns violent again in Paris
While the European Union is haunted by an uncertain Brexit less than 50 days away, its two founding members, France and Italy, are adding fuel to the fire with their escalated diplomatic spats.
After Italian Deputy Prime Minister Luigi Di Maio met on Tuesday with French "yellow vest" protesters near Paris, Paris on Thursday recalled its ambassador to Rome, calling the situation "unprecedented" since the end of the World War II and warning Di Maio not to interfere in its country's politics.
The last time Paris recalled its ambassador to Rome was in 1940 when Italy declared war on France.
On Tuesday, Di Maio posted a picture of himself on Twitter with one of the activists leading "yellow-vest" movement Christophe Chalencon and members of a yellow-vest list who are standing in elections to the European Parliament in May.
The French foreign ministry protested on Thursday, saying that "for several months France has been the subject of repeated accusations, unfounded attacks and outlandish claims".
"The most recent interferences constitute an additional and unacceptable provocation. They violate the respect that is owed to democratic choices made by a nation which is a friend and an ally."
Di Maio defended his meeting with the "yellow vest" protesters and called the French people "friends and allies". "President (Emmanuel) Macron has on several occasions attacked the Italian government for political reasons in view of the European elections. This has not affected the feeling of friendship that ties our two countries and never will," he said.
Italy's fellow Deputy Prime Minister Matteo Salvini said later he would be happy to hold talks with Macron.
But he said France had to address "fundamental" issues, such as handing over left-wing militants wanted by Italy and stopping returning migrants.
Italian Prime Minister Giuseppe Conte has tried to control damage. Speaking on a visit to Beirut, Conte said he hoped the situation could be "cleared up immediately". "Italy and France's relationship is rooted in history and cannot be called into question by events," he said.
The two countries have seen their relations increasingly strained since Italy's populist Five Star Movement and right-wing League party formed a coalition government in June last year.
Salvini angered Macron last month when he voiced support for the "yellow vest" movement and said he hoped the French people would soon be able to "free themselves of a terrible president".
The two countries have also clashed over migration over a period of time. While France accused Italy of not allowing rescue boats carrying migrants in the Mediterranean to dock, Italy blasted France of refusing to accept migrants.
On Saturday, French police also blocked "yellow vest" representative Maxime Nicolle from crossing into Italy to join forces with Italian demonstrators, Euronews reported.
"The governments of France and Italy have their differences," Nicolle said. "But between the French people and the Italian people there is no problem."
The "yellow vest" movement, which entered its 13th week last weekend, again turned violent as one protester in Paris lost his fingers while trying to get rid of a tear gas grenade thrown by French police.
According to the French government, 51,400 people took part in the protests on Saturday, including 4,000 in Paris. The official figures for the previous week were 58,600 protesters, including 10,500 in Paris.
The "yellow vest" movement started on Nov 17. It was triggered by a proposed government diesel fuel tax rise, but has since grown into anti-government protest over a wide range of social, economic and political issues.
BBC contributed to this story.