Carmakers embrace 5G technology to boost future mobility
By Cao Yingying | China Daily | Updated: 2019-02-11 11:28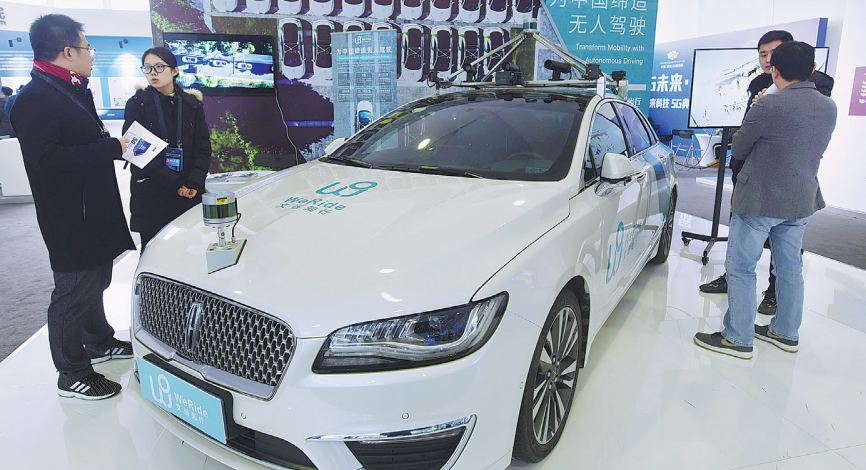 The automotive industry is undergoing a profound transformation as traditional carmakers integrate with 5G technology to facilitate secure and fast data communications for future mobility.
5G, as the fifth generation of wireless technology is called, enables vehicles to connect with the internet, using cloud-based computing and storage for the next generation of autonomous vehicle solutions.
More auto enterprises have been partnering with information technology giants recently to better make use of resources and promote the development of 5G technology in vehicles, accelerating the layout of the future automobile industry.
In the latest deal, Great Wall Motor and China Mobile Hebei signed a cooperation agreement at the end of January, setting a goal that within the next five years.
The two giants will promote 5G applications in automobile manufacturing and intelligent transportation.
According to the agreement, China Mobile Hebei will set up and manage a cloud platform for Great Wall Motor to support the carmaker's management, decision analysis, marketing, customer service and online operation.
The VV7 model of Great Wall Motor's Wey brand, equipped with an intelligent control system based on 5G technology, can start, accelerate, brake and steer without a driver.
Great Wall is not the only auto enterprise to explore the 5G sector with IT companies.
In the middle of last month, Changan Automobile and Chinese tech giant Huawei unveiled their joint innovation center, which will focus on 5G internet of vehicle, or IoV, and Level 4 autonomous driving technology.
As the first Chinese brand to achieve 2,000 kilometers of autonomous driving and to mass-produce Level 2 autonomous driving vehicles, Changan has been dedicated to the research and development of IoV for eight years and reached Level 4 autonomous driving.
Last year, the company said they would not produce new models without IoV and that it plans to mass-produce the models by 2020.
The Chinese government is also making efforts to promote regional 5G development. At the end of last year, Beijing became the major demonstration and application city of 5G IoV and plans to complete the construction of 5G IoV in key regions by 2020.
When Audi, BMW, Daimler, Ericsson, Huawei, Intel, Nokia and Qualcomm set up the 5G Automotive Association in 2016, Christoph Grote, senior vice-president for Electronics, BMW said: "We expect 5G to become the worldwide dominating mobile communications standard of the next decade. For the automotive industry, it is essential that 5G fulfills the challenges of the era of digitalization and autonomous driving."
Zheng Xiaolong, an auto industry analyst, said in an interview with China Business Network: "5G technology will not only promote the development of autonomous driving, but also have a significant impact on the entire transportation and urban planning sectors.
"More importantly, it will also effectively reduce the maintenance costs of operators through the IoV calculation in vehicles, which can achieve a win-win situation."
This trend will only continue to grow stronger as society moves toward an autonomous driving environment.
When self-driving vehicles go mainstream, drivers and passengers will have more free time to watch movies, play games and participate in other activities that demand a large amount of bandwidth from the 5G network.
According to IHS Markit, the IoV market will have 72.5 million related vehicles and is expected to reach a value of 1.48 trillion yuan ($221 billion) worldwide by 2025. The market will maintain a high growth rate of more than 10 percent every year.