May lukewarm about Corbyn's customs union call
By Earle Gale in London | China Daily Global | Updated: 2019-02-12 00:27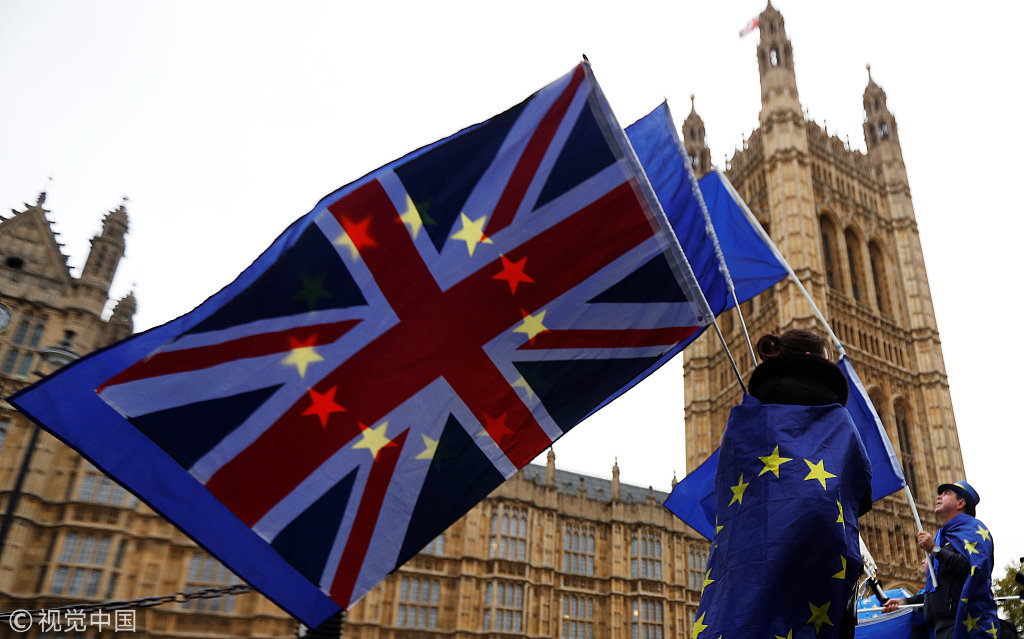 Britain's prime minister appears to have ruled out incorporating a key idea from the leader of the opposition Labour Party into her reworked Brexit withdrawal deal, according to Rory Stewart, the nation's prisons minister.
But Stewart said on BBC Breakfast on Monday that the United Kingdom's two biggest political parties have plenty of "common ground" upon which to build a Brexit consensus, despite Theresa May not liking Jeremy Corbyn's idea of the UK remaining a member of the European Union's customs union after Britain leaves the bloc on March 29.
Stewart said a letter from May to Corbyn in response to an earlier letter from Corbyn shows she is willing to compromise, but not on key issues.
"What's happening here is not a shifting of red lines," Stewart said.
Corbyn had earlier laid out five Labour Party conditions for supporting any revised Brexit deal. One, which called for permanent membership of the customs union, would have guaranteed a very soft Brexit.
Stewart acknowledged that several UK newspapers were suggesting May had left the door open to the idea but insisted she was unequivocal in her opposition.
"The prime minister remains very clear that she thinks that a very major economy like the United Kingdom needs to have the freedom to be able to make its own trade deals, so she's disagreeing with Jeremy Corbyn's suggestion that we enter a permanent customs union," he told the broadcaster.
But he said, in overall terms, "there isn't actually as much dividing us from the Labour Party as some people suggest".
But senior backbench Conservative Party member of Parliament Boris Johnson, a strong supporter of a hard exit from the EU, told Radio 4's Today program May should stop exchanging letters with Corbyn and focus on renegotiating the Irish backstop portion of the proposed withdrawal deal, which has been its most contentious component.
"(Corbyn) now wants to frustrate Brexit very largely by staying in a permanent customs union," the former foreign secretary said.
May's Brexit secretary, Stephen Barclay, traveled to Strasbourg on Monday to meet the EU's chief negotiator, Michel Barnier, and talk about the Irish backstop issue, which aims to avoid a hard border between Northern Ireland and the Irish Republic by binding the UK to EU rules until a free-trade deal is inked, something critics fear could indefinitely trap the UK in a watered-down version of EU membership.
Carolyn Fairbairn, head of the business group Confederation of British Industry, called for an end to the uncertainty, saying the UK is now "in the emergency zone of Brexit" and insisting continued confusion will damage jobs, investment, and the UK's reputation.
Meanwhile, Gavin Williamson, the UK's defense secretary, was set to put a positive spin on Brexit on Monday by saying it will offer the UK an opportunity to boost its global military standing and allow it to take a larger role in addressing threats.
Prior to a speech at the Royal United Services Institute, his office said he planned to say Brexit would let the UK redefine its role as a global power.
Contact the writer at earle@mail.chinadailyuk.com