Post-Brexit travel into and out of UK likely to have some wrinkles
By Wang Mingjie in London | China Daily Global | Updated: 2019-02-12 01:42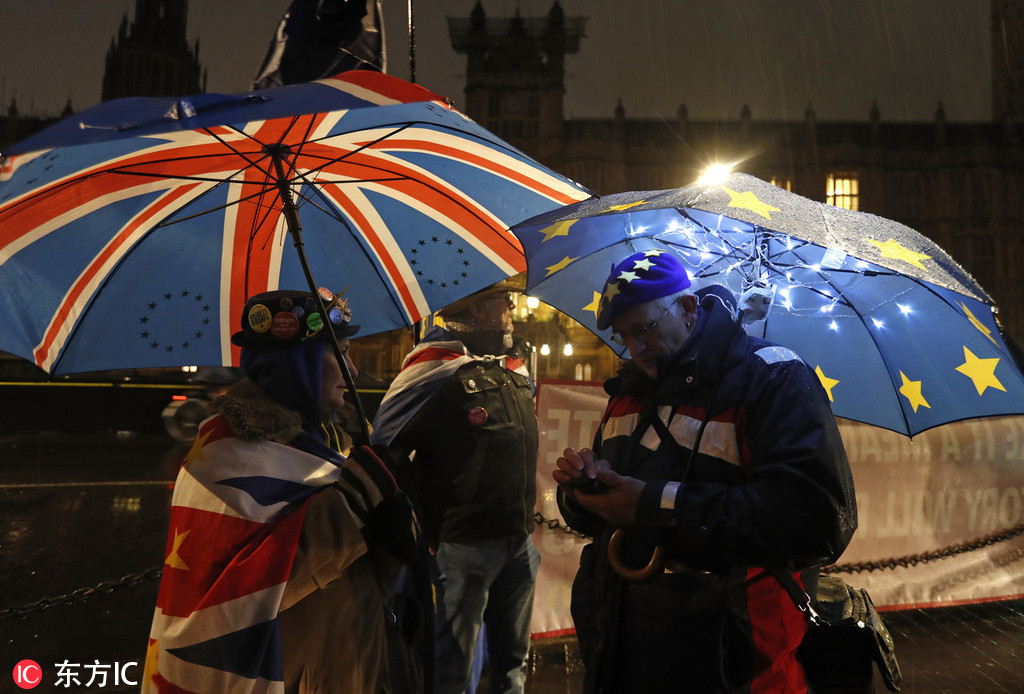 Many people are booking their 2019 summer holidays, but with Britain edging its way out of the European Union and a post-Brexit divorce deal still not in place between the EU and the United Kingdom, it is unclear what travel into and out of the UK might be like after the March 29 separation.
British members of Parliament voted down Prime Minister Theresa May's EU withdrawal agreement by a majority of 230 votes on Jan 15 and May is now seeking "alternative arrangements" to the so-called Northern Irish backstop – the deal's most controversial component – in an attempt to get an amended deal past Parliament.
But the EU is showing little interest in renegotiating the provisional post-Brexit deal and, with no solution close to hand, the possibility of the UK leaving the EU without a deal – a no-deal Brexit – remains high.
James Kennell, principal lecturer in tourism at the University of Greenwich, said: "The closer that we get to the 29th March without a deal, the greater the risk is becoming that a disorderly Brexit will have a big impact on travelers to and from the UK.
"Even if there is a deal in place, in the short term, there will be flight, train, and ferry delays and cancellations, all of which will cause significant problems for passengers."
Kennell said he has very little confidence in the government being able to move quickly to support the tourism industry in the event of a no-deal Brexit.
Long queues at immigration points and expensive, complicated visa processes are already having an impact on the way the UK is being perceived by international visitors, and travel industry experts say this will only get worse if EU tourists are forced into complicated new arrangements.
Border controls
Tom Jenkins, chief executive officer at the European Tourism Association, which is also known as ETOA, said: "Brexit means that the UK would be free to relax its border controls, but we need a reciprocal – and formal – relaxation of controls by Europe."
As it stands, the European Economic Area, which is also known as EEA, has an obligation to treat non-EU citizens in a specific way. Britain will handle according to a European Commission guidance document published on Nov 13, 2018.
In states: "UK nationals will not be entitled to use the separate lanes provided for EU/EEA/CH citizens."
Jenkins said: "Such checks would increase immigration queues by 90 seconds per person. This becomes problematic if there are hundreds of people in a queue, or tens of thousands at a port."
Because the UK Border Force is already struggling to carry out full scrutiny of the 9 million non-EU arrivals in the UK each year, Jenkins believes the agency will not be able to carry out extra checks on the 26 million annual visitors from EU countries post-Brexit. He said it would be a good idea for the government to explicitly state that it will carry out minimal checks on EU travelers and ask for reciprocity from the EU for British travelers.
"One of the ironies of this process is that we will be taking back control, whilst simultaneously throwing ourselves at the mercy of the EU," he added.
Air travels and airfares
UK citizens can be reassured that, regardless of the type of Brexit they end up getting, aircraft will still fly between the UK and the EU. If a divorce deal is agreed and a no-deal Brexit avoided, everything is likely to remain as it is and flights will continue as normal during the transition period, which concludes at the end of December 2020.
The European Commission has said, even in a no-deal scenario, UK airlines will be able to operate flights between the UK and the EU. The UK government has offered similar assurances to EU airlines.
Nevertheless, Steve Heapy, chief executive of Jet2.com and Jet2holidays, has warned that flights to Europe may become more expensive after Brexit, and that a no-deal scenario would prove "extremely damaging" for the UK and EU.
He added that travel could become more heavily regulated for operators after the UK leaves the EU.
The airline has planned for various Brexit outcomes, and has mooted adding more flights to countries outside the EU, such as Turkey, in a worst-case scenario.
However, the Jet2 boss pointed out the EU has "a lot more to lose than we do" from a situation where the UK leaves without a deal, due to the high number of British holidaymakers who boost European economies through tourism.
This is particularly the case for countries including Spain, which welcomed more than 18 million British visitors in 2017. UK travelers make up 23 percent of all foreign tourists in EU resorts, according to the Office for National Statistics.
Visas
The European Commission announced in November 2018, that, even in the case of a no-deal Brexit, UK travelers will be able to visit the EU without a visa, as long as the same deal is offered to European citizens visiting the UK.
The European Commission has said that, from 2021, UK citizens will need to pay a fee of around 7 euros ($7.9) for this visa exemption, which is part of a new electronic travel authorization system that applies to all third-country visitors to the EU, according to the Association of British Travel Agents, known as ABTA, which provides a statement on post-Brexit travel on its website.
There is nothing to suggest that UK travelers will not be able to continue with their holiday plans after March 29.
The ABTA website states: "Customers who book a package holiday with a UK travel company enjoy the most comprehensive consumer protection. If you book a package, your holiday will be protected under the Package Travel Regulations, meaning you have a right to a full refund if your holiday can no longer be provided."
Driving licenses
Currently, people who are eligible to drive in the UK do not need an additional license to drive in other EU countries.
This is likely to change in a no-deal scenario. UK travelers looking to drive in the EU on or after March 29 may need to apply for an International Driving Permit. These cost 5.5 pounds ($7.1) and are available directly from the AA, the RAC, or the Post Office.
Chinese visitors to the UK
According to the UK tourism authority VisitBritain, China moved into the UK's top-10 listing of most-valuable inbound visitor markets in 2017, when the number of visits reached 337,000, a 29 percent increase on 2016.
Visitors from China are among the UK's biggest spenders, forking over an average of 2,059 pounds during a visit, which is more than triple the average amount spent by visitors to the UK.
Elisa Li, the European Tourism Association's China specialist, said: "Chinese visitors coming into the UK have nothing to fear post-Brexit. The UK has never been part of Schengen, so Chinese visitors have always required a separate visa to enter the UK.
"The only area for concern might be if visitors are moving between the UK and the rest of Europe in the week immediately following Brexit. They may face longer queues at airports and ferry terminals due to the knock-on effect of increased checks for UK passport holders on the same planes or ferries."
Contact the writer at wangmingjie@mail.chinadailyuk.com