More snow expected to blanket Beijing this week
By DU JUAN | China Daily | Updated: 2019-02-13 03:42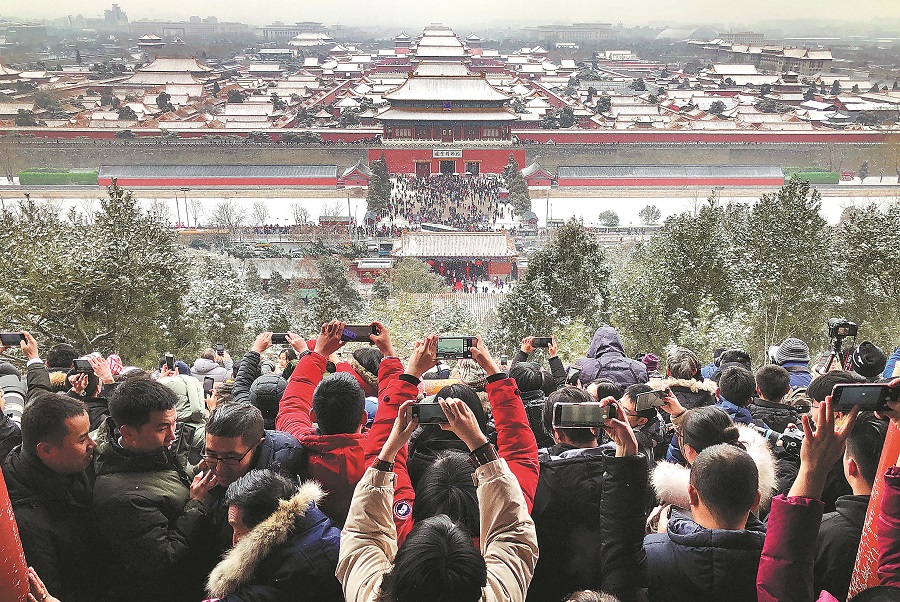 Residents in Beijing awoke to snowy scenes on Tuesday, and more of the white stuff is expected to arrive in the capital on Thursday, adding a bit more romance to Valentine's Day.
This was the second snowfall this winter in Beijing following a light dusting on Feb 6.
"Beijing has recently witnessed drier winters with smaller snowfalls than the average seen in past decades. But the recent snow will help the capital reach its average," said Chen Tao, chief forecaster at the National Meteorological Center on Tuesday.
Beijingers are expected to witness a heavier dusting starting on Wednesday night, and the wind chill factor will make temperatures feel colder, Chen said.
The average precipitation in the city reached 0.5 millimeters from 1 am to 4 pm on Tuesday and the highest precipitation — 3 mm — was recorded at Erhaituo weather station in the hilly Yanqing district, the city's meteorological bureau said.
The recent snow accumulation may ease the current drought in North China, but more snow could affect transportation to some extent since a large population is pouring back into big cities after the Spring Festival holiday, Chen said.
On Tuesday morning, Beijing issued a yellow alert due to icy road conditions, saying that low temperatures and snowfall may cause ice to form on roadways and the public should therefore exercise caution.
The yellow alert is the lowest level in the three-tiered warning system comprised of yellow, orange and red. Most road traffic in Beijing was unaffected, but some expressways connecting Beijing and neighboring regions were closed in the morning, according to the Beijing Municipal Commission of Transportation.
The expected snow will cover broader regions across North and Northwest China, and parts of South China will continue to see rain in the coming days.
Yan Meili of Beijing used her lunch break to take a taxi to Jingshan Park, where panoramic views of the Forbidden City are possible. "It looked gorgeous in the snow," Yan said.
"I felt the whole ride was worth it as I missed the first snow on Feb 6, so I cannot miss this one."