Huawei in major league of chip buyers
By Fan Feifei | China Daily | Updated: 2019-02-13 07:42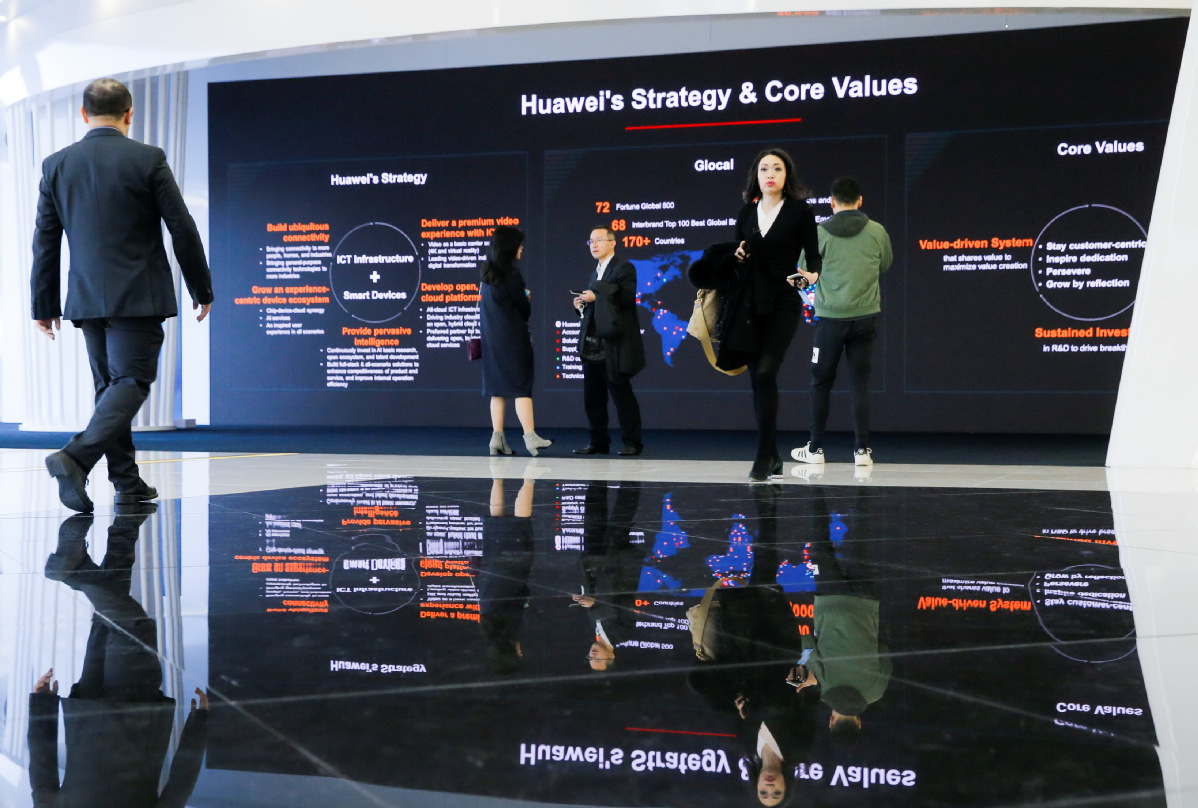 Huawei Technologies Co Ltd became the world's third-largest buyer of semiconductors last year, with its expenditure on purchasing chips witnessing the largest growth among the top five companies, according to a recent report by US-based research firm Gartner Inc.
The Chinese tech heavyweight spent over $21 billion on semiconductor chips last year, accounting for 4.4 percent of the total worldwide market. It increased its chip spending by 45.2 percent, jumping in front of Dell Inc and Lenovo Group Ltd to the third spot.
Three other Chinese companies, Lenovo, BBK Electronics Co Ltd and Xiaomi Corp, ranked in the top 10 semiconductor buyers in 2018, according to Gartner.
Lenovo spent $17.7 billion purchasing semiconductors, ranking in fifth place, followed by BBK Electronics, with its expenses rising to $13.7 billion. Xiaomi rose eight notches to 10th place, increasing its semiconductor spending by about $2.7 billion in 2018, a whopping 62.8 percent rise from a year earlier.
Samsung Electronics Co Ltd and Apple Inc remained the top two semiconductor chip buyers in 2018, representing 17.9-percent market share, which is a decrease of 1.6 percent as compared to last year.
Eight of the top 10 companies in 2017 remained in the top 10 in 2018, with US memory chip maker Kingston Technology and Xiaomi replacing South Korea's LG Electronics and Japan's Sony, Gartner said.
The research firm also said semiconductor spending by the top 10 buyers increased significantly, and their share reached 40.2 percent of the total semiconductor market in 2018, up from 39.4 percent in 2017. This trend is expected to continue.
"With the top 10 semiconductor chip buyers commanding an increasing share of the market, technology product marketers at chip vendors must allocate a majority of their resources to their top 10 potential customers," said Masatsune Yamaji, senior principal analyst at Gartner.
In terms of smartphone sales, Huawei shored up its leading position. The company shipped 30 million smartphones in the domestic market in the fourth quarter of last year, up 23.3 percent year-on-year. It topped the list with a market share of 29 percent, according to research firm IDC.
Oppo ranked in second place, with its shipment of smartphones reaching 20.3 million units in the fourth quarter, accounting for 19.6 percent of the market share, followed by Vivo, with a market share of 18.8 percent.
Apple Inc's smartphone shipments in the Chinese market plummeted about 20 percent during this period, taking up 11.5 percent of the market share. Weakening demand, lengthening replacement times and iPhone's hefty price contributed to Apple's decline in China, according to IDC.
Wang Xi, a senior analyst of IDC, expressed negative views about the smartphone market environment in 2019. "Smartphone manufacturers should explore new business opportunities from technology accumulation, product operation and user maintenance," Wang said.