Suning buys 37 Wanda dept stores
By Wang Zhuoqiong | China Daily | Updated: 2019-02-13 09:51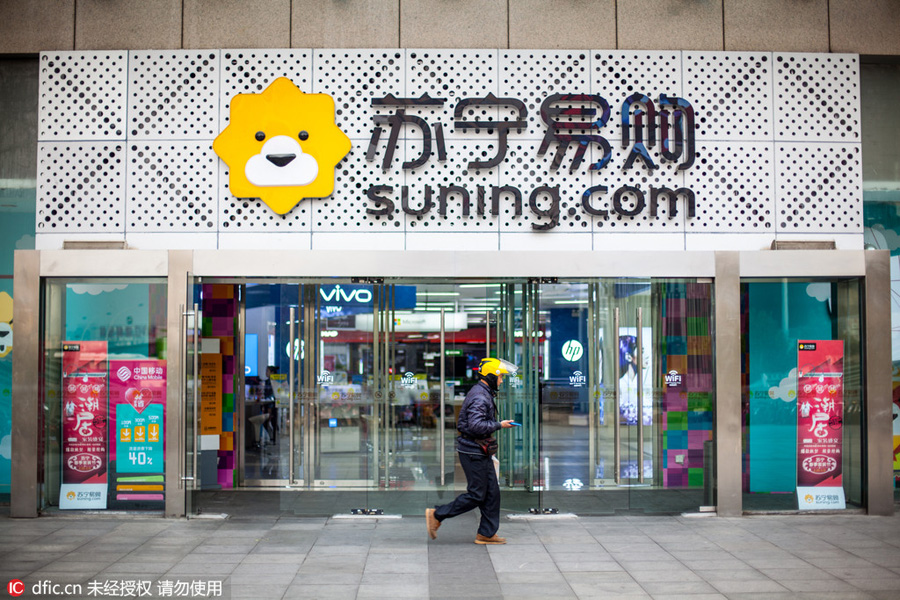 Retailer's move an effort to reach more customers via brick-and-mortar units
Suning.com, the retail unit of Suning Holdings Group Ltd, announced on Feb 12 it will acquire 37 department stores from Wanda Department Store Co Ltd.
A company statement said the move aims to attract more steady and high-end in-store shopping volume and to strengthen its leading position as a retailer in China.
Suning did not reveal the value of the transaction.
A key move to extend its retail layout nationwide, the acquisition is expected to accelerate Suning's improvement of brick-and-mortar resources and strengthen its merchandise supply chain to increase profits in its retail businesses, according to Suning's statement.
"Department stores and shopping centers in major cities in China, at present, still play a very significant role in gathering visitors," said Jason Yu, general manager of Kantar Worldpanel China.
"The steady and quality traffic to Wanda department stores, which are mostly in great locations, will offer a key entrance to Suning's online and offline retailing scenarios."
The 37 department store locations, which have a total of more than 4 million registered customers, are mainly situated in central business areas in first- and second-tier cities.
Suning's statement said Wanda department stores' revenues have risen steadily, with a continuous growth in net profits.
Wanda Group's department store unit, founded in 2007, had once opened more than 110 stores in China. The group considered the unit one of its four pillars, along with its property, cultural industry and hotel units.
But its fast expansion, coupled with rising costs and the challenge from e-commerce, resulted in major losses in Wanda's department stores, followed by a large number of stores closing since 2015.
This new business unit will add department stores to Suning's existing retail empire. Suning's retail operations have mainly focused on home appliances, though they are now expanding to fast-moving consumer goods as well as maternity and baby products.
Suning opened about 8,000 new stores in China last year and aims to open another 15,000 this year, according to the company's announcement in January.
The department store format is a weakness for Suning, which has its own retail stores and community-based fresh-goods shops, said Yu from Kantar.
The acquisition will further diversify Suning's retail distribution channels and develop the integration of its existing online resources, he added.