UK trade body demands clarity from PM on Brexit
By Jonathan Powell in London | chinadaily.com.cn | Updated: 2019-02-14 01:25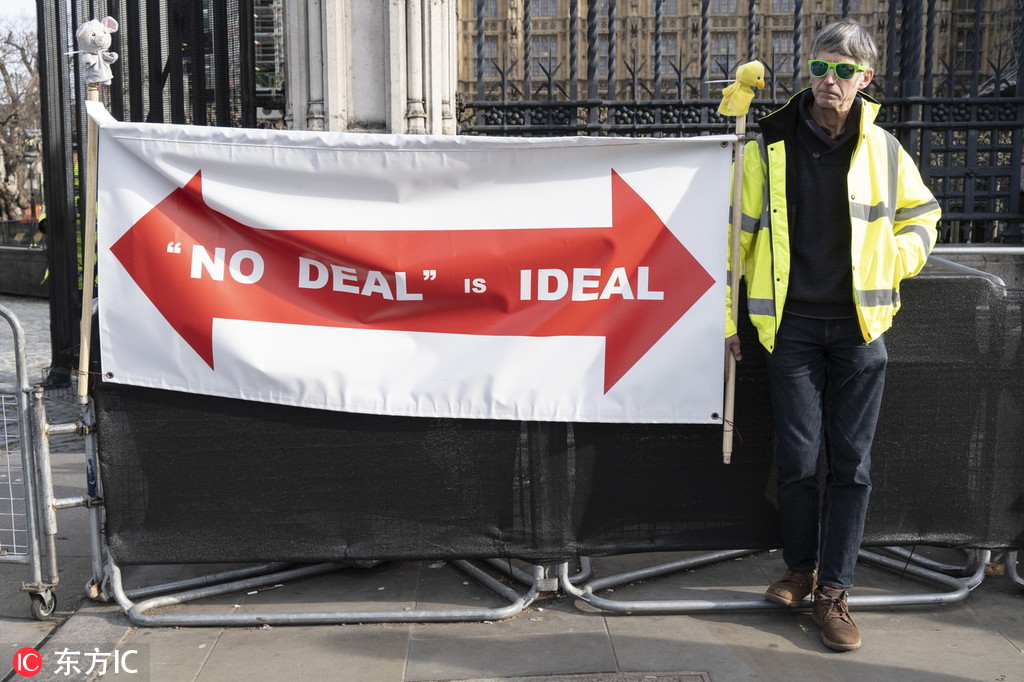 Britain's leading business trade body has demanded greater clarity from the government on its plans in the unwelcome event of the United Kingdom leaving the European Union without a deal on March 29.
With less than 50 days until the Brexit deadline day, the British Chamber of Commerce says 20 key questions remain unresolved.
The BCC said there was ambiguity over import and export duties, border controls and customs procedures, and that British Prime Minister Theresa May risked thousands of companies suffering a potentially catastrophic shock when the UK quits the EU.
The leading business group - which represents 75,000 companies of all sizes and sectors across the UK employing nearly six million people - is demanding answers to these twenty questions.
While government agencies urge business communities to prepare for all scenarios, the BCC says they are failing to give companies the tools and information needed to do so. As a result, businesses risk being left, "hung out to dry".
Adam Marshall, director general of the BCC, said UK companies could face "the biggest change to their terms of trade in over a generation, without the information and clarity they need to navigate their forward course".
"There is a very real risk that a lack of clear, actionable information from government will leave firms, their people and their communities hung out to dry.
"Even those companies trying their hardest to get ready are still in the dark on important matters from contracts through to customs. Many others, who took the decision to wait for the political process to conclude before acting, would face sudden and costly adjustments if a deal is not reached."
In response, the government has said it was only focused on getting approval for its negotiated Brexit deal.
"I absolutely recognise that for many businesses it is a period of uncertainty and concern," Brexit Secretary Stephen Barclay told BBC Radio 4's Today Programme. "That's why we are so committed to securing a deal."
He said he had already met BCC representatives to discuss the list of key questions.
On the matter of trade tariffs in the event of a no-deal Brexit, he said he expected to be able to give more information "in the coming days".
May told business leaders on Tuesday that extending the Article 50 process under which the UK is meant to leave the EU on March 29 would serve no purpose.
According to a Financial Times report that cited people who took part in a phone call with the prime minister, she said delaying Britain's departure from the EU would bring no end to Brexit uncertainty or push Parliament any closer to approving a withdrawal agreement.
The prime minister is currently seeking changes to her Brexit deal with the EU after it was rejected by Parliament last month.
Members of Parliament are due to vote again on the Brexit process on Thursday in what was expected to be a routine procedure acknowledging the government's efforts.