Chinese financier receives lifetime award
By Cecily Liu in London | chinadaily.com.cn | Updated: 2019-02-14 01:36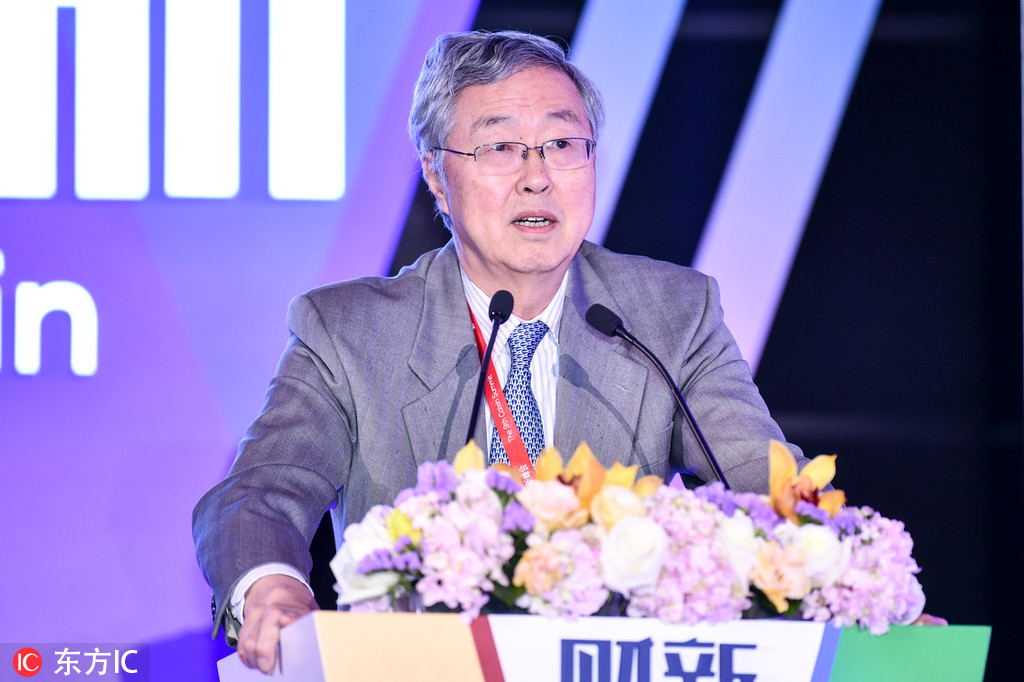 Former bank governor joins elite group of winners
Zhou Xiaochuan, the former governor of the People's Bank of China, also known as PBOC, has been awarded the 2019 lifetime achievement award by finance industry journal Central Banking.
Zhou, who is the sixth winner of the award, was recognized for his integrity, intellectual rigor and bold reforms that have served the public interest in China and the world.
The United Kingdom-based publication Central Banking announced the award on Tuesday and it will be presented at a formal ceremony in London on March 13. Previous winners of the Central Banking lifetime achievement award include former United States Federal Reserve Chairman Paul Volcker, Jacques de Larosiere, the former governor of the Banque de France, and ZetiAkhtar Aziz, the first woman to be governor of Malaysia's Central Bank.
Zhou served as governor of the PBOC for a record 15 years, from 2003 to 2018. During that time, he kept a firm grip on inflation despite some notably volatile economic episodes and made an indelible imprint as a bold reformer.
Zhou played a pivotal role in China's move toward greater exchange rate and interest rate liberalization, as well as being key to many financial services and capital markets reforms. He played an important role in internationalizing the renminbi, which led to it being accepted into the International Monetary Fund's Special Drawing Rights basket of currencies in 2016.
"Zhou Xiaochuan's critical thinking, pioneering vision and pragmatic policy-making have helped facilitate a remarkable transformation of China's monetary and financial system during the past 15 years," said Christopher Jeffery, chairman of the Central Banking Awards Committee and the journal's editor-in-chief.
"Throughout this period of tumultuous change, Zhou never lost sight of his primary goal to secure and deepen Chinese monetary policy and financial stability."
Christine Lagarde, managing director of the International Monetary Fund, added: "During his tenure, he has successfully steered monetary policy while structural transformation was in full swing, contributing importantly to China's sustained growth to become the second-largest economy in the world.
"With Zhou's leadership, China and the International Monetary Fund's partnership has grown significantly, and our relationship with China has been excellent," she said.
Zhou started his career in 1986 when he was assigned to the institutional reform research group of the State Council to work on economic restructuring. He later became head of China's State Administration of Foreign Exchange, or SAFE, before moving to the PBOC as a deputy governor and concurrently serving as head of SAFE from 1996 to 1998.
As head of SAFE, Zhou played a key role in managing China's monetary policy during the Asia Financial Crisis without devaluating the yuan.
Domestically, Zhou has a reputation as a staunch reformer who helped to push through fundamental changes that transformed China from a centrally planned economy to a market-driven one.
"Zhou Xiaochuan is a person of high integrity – an academic who does not live in an ivory tower, a policy maker with a strong sense of what is in the public interest, and a reformer who is bold and acts on the basis of a robust theoretical foundation," said Joseph Yam, a member of the executive council of the government of Hong Kong Special Administrative Region.
Feng Hui, co-author of the book The Rise of the People's Bank of China, added: "He has led profound banking reforms since 2002, and pioneered financial liberalizations throughout his governorship, balancing between political demand for rapid growth and the bank's institutional mandate of price stability."