CRRC cars meet global standards
By Hong Xiao in New York | China Daily | Updated: 2019-02-15 07:46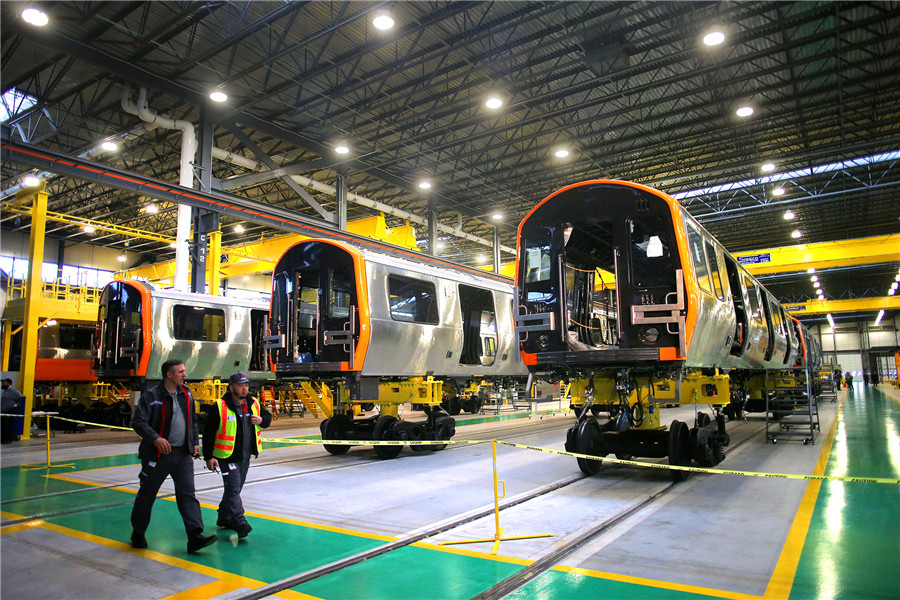 The president of the North American division of the China Railway Rolling Stock Corp (CRRC) dismissed talk emanating from Washington that the company's rail cars could be used to spy in the United States.
"To condemn CRRC is unfounded," Jia Bo, president of CRRC MA, told China Daily in a recent interview. "The rail car components we make are all in line with the global standard, which has no difference with those made by other suppliers."
The State-owned manufacturer is considered a strong contender for a Washington DC Metro contract, which is likely to exceed $1 billion for between 256 and 800 of the agency's newest series of rail cars, according to The Washington Post.
However, US senators representing the Washington area are wondering if the procurement could add cybersecurity risks to the region's transit system.
Four Democratic senators-Mark Warner and Tim Kaine of Virginia, and Ben Cardin and Chris Van Hollen of Maryland-wrote to the Washington Metropolitan Area Transit Authority (WMATA) on Jan 18, expressing their "serious concerns" about possible foreign bidding on the rail transportation project in the US capital.
The letter said there was concern "particularly when it could involve foreign governments that have explicitly sought to undermine our country's economic competitiveness and national security" and called for the agency to "take the necessary steps to mitigate growing cyber risks to these cars".
In the letter, the senators mention technology in the transit system, including video surveillance cameras and the automated aspects of rail cars, which could be a target of spies or hackers.
WMATA said any hardware and software components would be tested by a Defense Department-approved firm for cybersecurity risks, The Washington Post reported.
"I think it's some senators who are trying to impose restrictions on us for political purposes," Jia said. "And our competitors might offer some lobbying as well, trying to limit our continued search for orders or expansion.
"Agencies like MBTA (Massachusetts Bay Transportation Authority) and WMATA that we worked with manage their projects and vehicle operations based on certain industry standards in line with the requirements of relevant safety management committees," he said.
Jia told China Daily that because cybersecurity has become a hot topic in the rail industry, CRRC has made a concerted effort to address the issue.
"We have developed comprehensive network security management systems and regulations within the company," Jia said.
In 2014, CRRC won a $566 million contract from the MBTA to manufacture 152 Orange Line cars and 132 Red Line cars. Later, the MBTA added a $277 million contract for an additional 120 Red Line cars.
To implement the contract, CRRC built an assembly facility in Springfield, Massachusetts. The factory began operating in April 2018 and has employed approximately 130 people locally.
Jia said the MBTA project is wholly under the supervision of the safety management committee, "from product development, design and audit certification".
"We call for discussion in the industry to establish cybersecurity standards, including management systems," Jia said. "However, such technical problems should not be treated as a political topic for speculation, also not a suspicion or accusation against CRRC."
CRRC already has won major contracts from metropolitan transit authorities across the US.
In December 2016, the Los Angeles County Metropolitan Transportation Authority awarded a contract to CRRC MA to design and manufacture 64 new subway cars for the Red and Purple Lines at a cost of $178.4 million, with a consideration for an additional 218 subway cars.
Committed to manufacturing major components locally in Los Angeles County, CRRC MA secured an assembly facility in City of Industry, California, investing nearly $40 million, with approximately 50 jobs created.
The Washington Post recently reported that "CRRC has used bargain prices to win four of five large US transit railcar contracts awarded since 2014". It said CRRC had the most competitive bids-sometimes besting competitors by hundreds of millions of dollars.
Jia said that in the early stages of entering a new market, strategic expansion is necessary.
And CRRC has great cost advantages in product development and production, based on its rich experience in China's large domestic market.
"Also, we have advantages in localization," said Jia. "The production model we adopt, which is separating the production in China and assembly here in the US, guarantees the low cost."
Jia said the so called "bargain price" is relative. "For the MBTA project, the price gap between us and the competitor is not too big," he said.
"And for the LA project we got later, the gap (between us and competitor) is only 3 to 5 percent," he said. "And if we compare with the bidding price of other competitors in the same period, our price is just average."
"So for the concerns about our price, I believe it just proved the advantages of cooperation between home and abroad," he said.
Jia said, though, that CRRC's operation in the US is facing some obstacles.
A 25 percent tariff on Chinese-made rail car components went into effect last year, imposed by the Trump administration as part of its trade dispute with China.
Jia said its business in the US has been affected somewhat, but extra funds were invested to maintain operations.
The company is still looking for a tariff exemption, and Jia said he hoped "the tariff thing could be removed if current trade talks are successful".