Trump's wall 'emergency' likely to face pushback
By HENG WEILI in New York | China Daily | Updated: 2019-02-16 04:04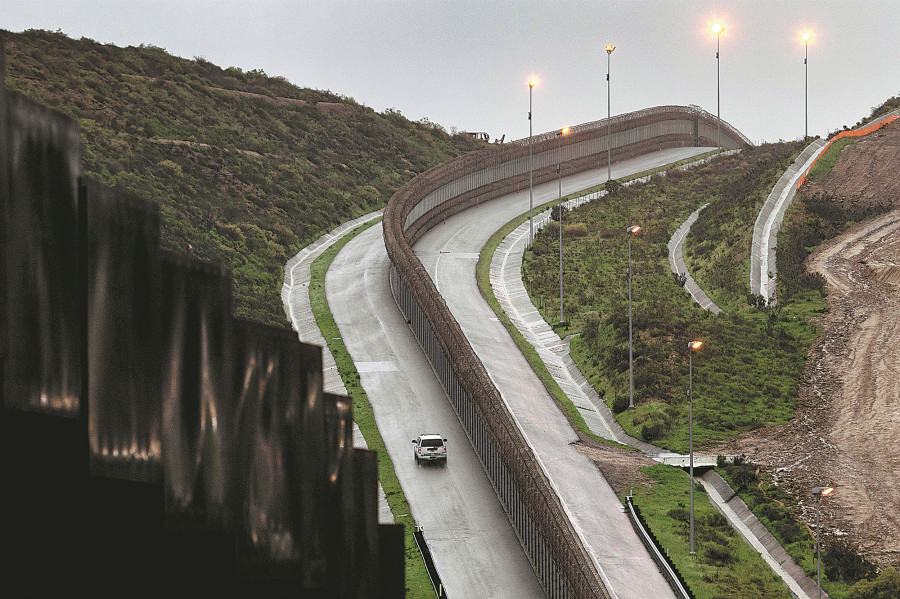 US President Donald Trump's announcement on Friday that he will declare a national emergency in order to build a wall along the Mexican border appears likely to face strong political pushback.
Democrats and some Republicans oppose an emergency declaration.
The US House of Representatives on Thursday night passed legislation on spending and border security to avert another government shutdown, hours after the bill was approved by the Senate. The budget bill allows for $1.37 billion in funding for 55 miles of border barriers.
"President Trump will sign the government funding bill, and as he has stated before, he will also take other executive action — including a national emergency — to ensure we stop the national security and humanitarian crisis at the border," White House spokeswoman Sarah Sanders said.
Asked by reporters if she would file a legal challenge to an emergency declaration, House Speaker Nancy Pelosi said, "I may, that's an option."
The top Senate Democrat, Chuck Schumer, accused Trump of a "gross abuse of the power of the presidency".
Trump was expected to announce that he will be spending roughly $8 billion on border barriers — combining the money approved by Congress with funding he plans to repurpose through executive actions, including a national emergency, said a White House official who was not authorized to speak publicly, the Associated Press reported. The money is expected to come from funds targeted for military construction and counterdrug efforts.
Senate Majority Leader Mitch McConnell, a Republican, said he will support Trump on an emergency declaration.
But Senator Susan Collins, a moderate Republican, said in a statement: "Declaring a national emergency for this purpose would be a mistake on the part of the president."
Congressional aides said House Democrats were expected to file a lawsuit if Trump declares a national emergency in order to protect the House's constitutional powers to decide how taxpayer money is appropriated.
Conservative critics were not only disappointed in the small amount of wall funding in the bill — Trump had requested $5.7 billion — but immediately seized on the spending bill, because it contains a clause that would allow border counties in Texas veto power over any barriers.
Pelosi said: "If the president can declare an emergency on something that he has created as an emergency — an illusion that he wants to convey — just think of what a president with different values can present to the American people."
Robert Chesney, a professor of national security law at the University of Texas, said a legal challenge might succeed, but that courts typically defer to the president on national security matters.
Elizabeth Goitein, a lawyer at the Brennan Center for Justice, said there were strong arguments that border wall construction is impermissible under various statutes granting the president emergency powers.
Reuters contributed to this story.
Contact the writer at hengweili@chinadailyusa.com