Challenges require joint global efforts
By CAO DESHENG | China Daily | Updated: 2019-02-18 03:26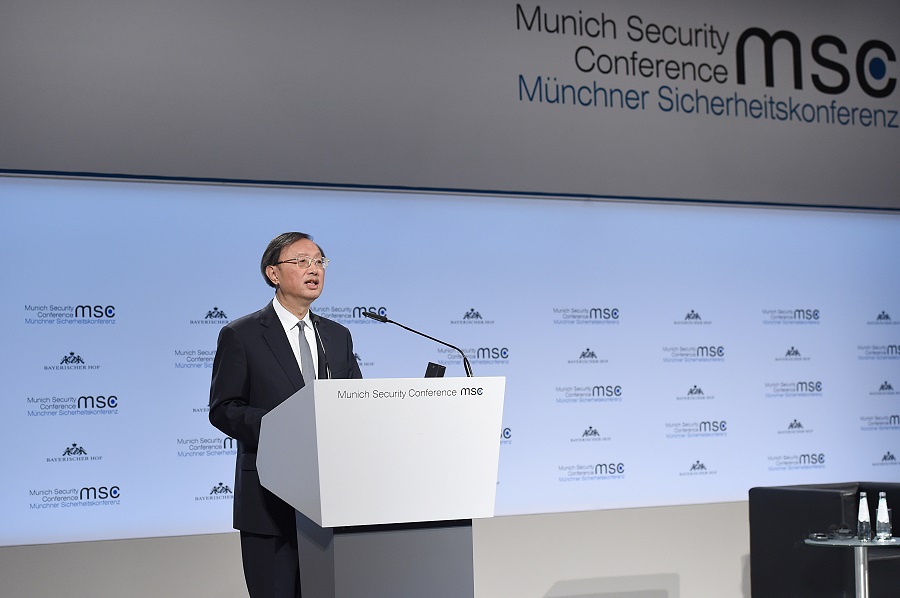 China's pledge of multilateralism, shared growth made at annual Munich meeting
Pursuing international cooperation, multilateralism and a community with a shared future for mankind represents the right way forward to cope with global challenges, a senior Chinese official has said.
Yang Jiechi, a member of the Political Bureau of the Communist Party of China Central Committee, made the remarks in a key speech on Saturday at the three-day 55th Munich Security Conference, which concluded in Munich, Germany, on Sunday.
Multilateralism provides an effective way of upholding peace and promoting development, and the world needs multilateralism now more than ever, said Yang, who is also director of the Office of the Foreign Affairs Commission of the CPC Central Committee.
China consistently holds that the United Nations is the symbol of multilateralism, and the role of the UN in international affairs must be defended and the multilateral trading system with the World Trade Organization at its core must be upheld, he said.
The China-proposed Belt and Road Initiative creates opportunities and benefits for all countries and serves the common interests of humanity, and it is an important pathway toward building a community with a shared future for mankind, Yang added.
He called for building partnerships through mutual respect, upholding universal security through mutual support, fostering global development and prosperity via win-win cooperation and improving global governance through reform and innovation.
Yang's remarks came as this year's MSC was overshadowed by global challenges resulting from rising unilateralism, which has posed threats to the international order established after World War II.
The whole world order appears to be falling apart — nothing is as it once was, MSC Chairman Wolfgang Ischinger writes in an article published on the official website of the forum.
German Chancellor Angela Merkel warned at the conference on Saturday against the collapse of the global political structure and hailed multilateralism and cooperation in dealing with global challenges.
When answering questions about the China-United States relationship after addressing the conference, Yang said the important consensus reached by the two heads of state should be implemented to develop bilateral relations based on coordination, cooperation and stability.
As for China-US trade frictions, Yang said China is willing to solve the problems through cooperation, but cooperation must be based on principles.
Noting the Chinese government values the promotion of human rights, Yang said China firmly opposes the US' groundless attacks and accusations against China under the guise of human rights. Chinese people of all ethnic groups have forged ahead in unity and improved their living standards, which is a fact for all to see, he added.
Saying China has no law requiring companies to install backdoors or collect foreign intelligence, Yang stated Chinese firm Huawei has made contributions to the development of communication technologies in countries including in Europe, and strictly abided by international rules and local laws and regulations.
He called on some countries to show confidence in their own technologies and some respect for the willingness of other countries to develop cooperation with Chinese firms.
Yang also reaffirmed China's position in defending its territorial sovereignty and maritime rights and interests, saying the country firmly opposes any activity that undermines China's sovereignty and maritime interests under the pretext of freedom of navigation and overflight.
The MSC — an annual conference on international security policy that has taken place in Munich since 1963 — has developed into the world's leading forum for debating international security policy.
Ruan Zongze, executive vice-president of the China Institute of International Studies, said the international situation is seeing rising uncertainties caused by increasing conflicts and confrontations, terrorism, populism and protectionism, as well as human migrations, poverty and unemployment.
However, globalization is irreversible and no country can benefit itself alone without considering others, Ruan said.