Analysts: Progress is slow in Sochi meeting
China Daily | Updated: 2019-02-18 09:24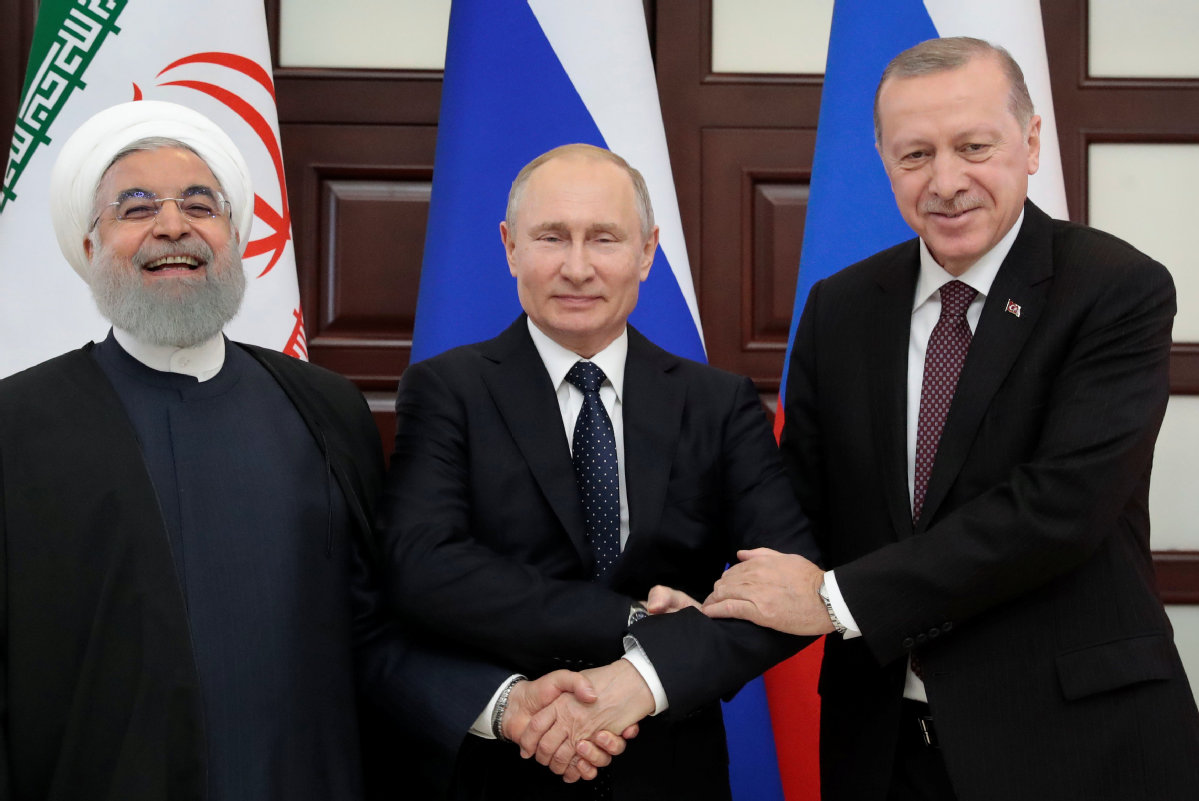 ISTANBUL - The latest Syria summit among the Turkish, Russian and Iranian leaders has achieved no major progress as the priorities of the three countries diverge, while Ankara appears to have persuaded its partners to defer a looming military operation in Idlib, analysts said.
"The Sochi summit has achieved no concrete results," said Cahit Armagan Dilek, director of the Ankara-based 21st Century Turkey Institute, who argued that the leaders' statements revealed nothing new.
The Turkish, Russian and Iranian presidents met on Thursday at the Russian Black Sea resort of Sochi to discuss the long-running conflict in Syria.
Idlib, the last major stronghold for the rebels, was a major topic at the summit, the first gathering by the three leaders following the US announcement of troop withdrawal from Syria last December.
"The trilateral meeting in Sochi was mainly useful only in terms of its emphasis on and reiteration of the importance of Syria's sovereignty, territorial integrity and unity," said Faruk Logoglu, a former senior Turkish diplomat.
Russian President Vladimir Putin said the three countries agreed to take some extra steps to clear Idlib of the terrorists without specifying what those steps were.
Turkish President Recep Tayyip Erdogan said Turkish and Russian militaries agreed to conduct joint patrols in Idlib to monitor the ceasefire, adding no heavy weaponry had been spotted by Turkish drones in the demilitarized zone in the Syrian province, a requirement of the Idlib deal.
"What the concrete steps promised in the joint declaration regarding Idlib are remains to be seen," said Logoglu, who does not rule out a Russia-led offensive against the terrorists in Idlib in the days ahead.
The presence of terrorist groups in Idlib should not be tolerated, Putin said at the Sochi summit, urging Ankara and Teheran to take joint actions against the terrorists in the province.
Iranian President Hassan Rouhani positively responded to Putin's call, said that he expected the Idlib agreement to be respected, underlining that Ankara would continue to prevent the rebels from attacking the Russian military base in Syria.
At the Sochi summit, Ankara was unable to get support from Moscow and Teheran for its security zone plan in northeastern Syria against the Kurdish militia known as the People's Protection Units.
Moscow and Teheran have long urged Ankara to establish dialogue with the Syrian government, which was rejected by Ankara.
However, Ankara gave its first signal of policy change toward Damascus after Erdogan met with Putin in Moscow in late January.
Ankara's changing attitude was confirmed at the Sochi summit, as Moscow and Teheran underlined that the best way Ankara could get rid of its concerns about terrorism was through cooperation with Damascus.
"Under the current circumstances, the best option for Turkey is to enter into direct talks at the political level with the Syrian government, the sooner the better," said Logoglu.
Xinhua