Flybmi tell passengers to seek refunds or rebook after collapse
By Yan Dongjie in London | chinadaily.com.cn | Updated: 2019-02-19 02:18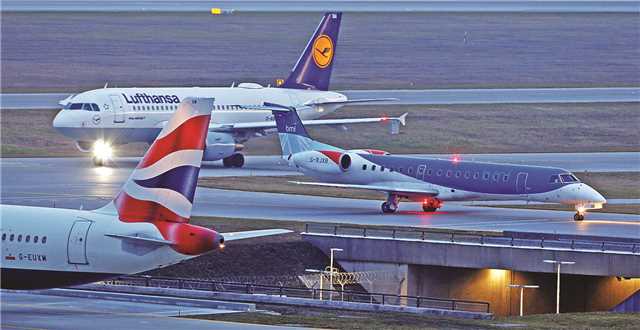 British airline Flybmi is advising customers to seek refunds or rebook with partner airlines after it announced that it has ceased operations and is filing for administration.
The carrier, based at East Midlands airport, made the collapse announcement on Saturday afternoon, blaming the uncertainty of the Brexitprocess for its financial collapse.
Thousands of passengers have been left out-of-pocket as Flybmi operated more than 600 flights a week from regional airports including Bristol, Newcastle, Aberdeen and East Midlands.
On Sunday night, Flybmi's Glasgow-based sister company Loganair, said it would step in and take over five of Flybmi's routes next month. Loganair already flies to the Scottish Highlands and Islands as well as to a small number of destinations in England, Ireland and Scandinavia.
Jonathan Hinkles, Loganair's managing director, said that they are evaluating Flybmi's wider network, and also working on employment opportunities for pilots, cabin crew and engineering support staff to strengthen the Loganair team.
"It's always really sad to see an airline go out of business, and our thoughts are with all those affected – particularly staff members," he said.
Passengers who have "shared ticket" flights with Flybmi operated by partner airlines Lufthansa, Brussels Airlines, Turkish Airlines, Loganair, Air France and Air Dolomiti, are able to rebook.
Flybmi, styled as flybmi, legally British Midland Regional Limited and formerly branded as BMI Regional, was a Britishregional airlinethat operated scheduled passenger services across the UK and Europe.
It used to serve destinations within Europe, including Germany, Denmark, and Sweden. It owned 17 small aircrafts on routes to 25 cities and carried more than half a million passengers in 2018.
Flybmi said its trading and future prospects had been,"seriously affected by the uncertainty created by the Brexit process".
"Against this background, it has become impossible for the airline's shareholders to continue their extensive programme of funding into the business, despite investment totalling over 40 million pounds in the last six years. We sincerely regret that this course of action has become the only option open to us, but the challenges, particularly those created by Brexit, have proven to be insurmountable," the company said.
Tim Alderslade, chief executive of Airlines UK, the industry association that represents 13 UK carriers, said: "Today's announcement demonstrates once again the ferociously competitive environment airlines currently operate in. It should give government – and other parts of the industry who relentlessly champion passenger growth but too frequently neglect the challenges carriers face – pause for thought."