Online food-delivery scrambling more than the restaurant industry
By Scott Reeves | China Daily Global | Updated: 2019-02-20 23:24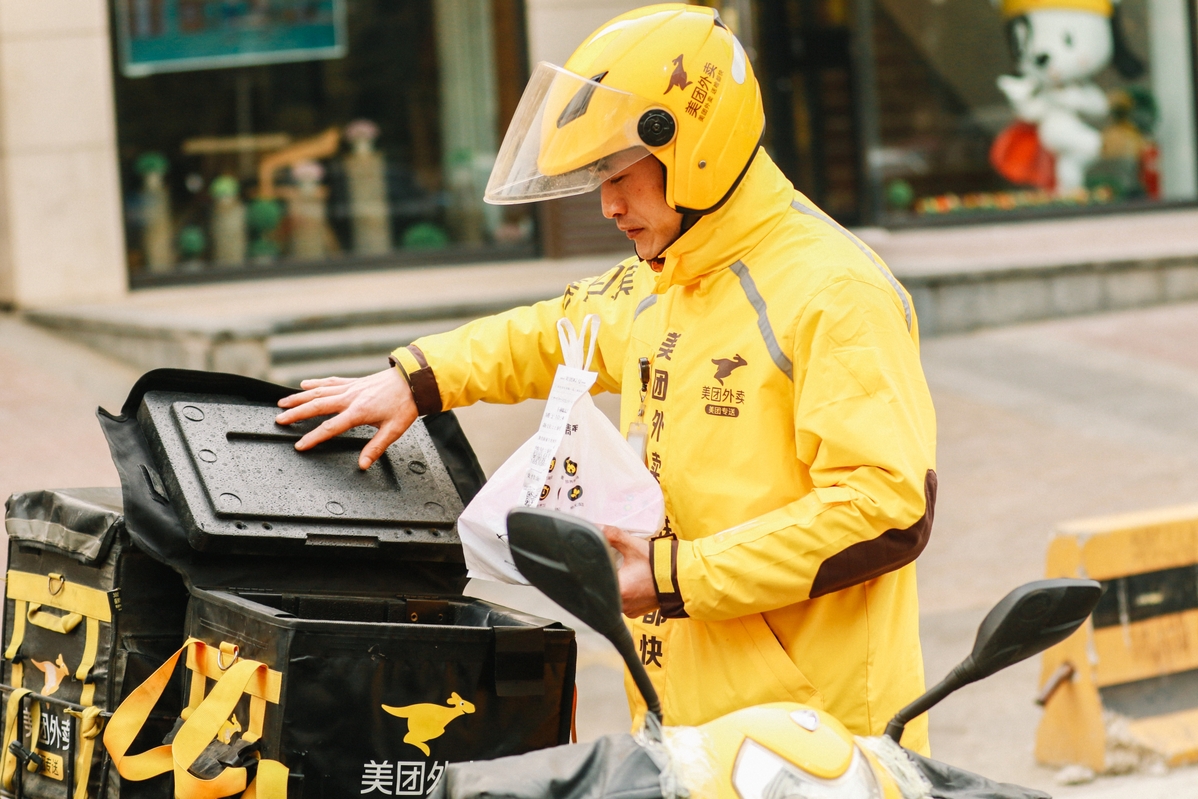 It may not be romantic, but posing the question is practical for harried people on the go: "Alexa, my dear, what's for dinner?"
Those ordering food by Amazon's or Google's digital assistant, a smartphone, smartwatch, smart TV, Twitter or a personal computer will become part of the stampede from traditional restaurants to home delivery.
Home food delivery is booming in China, where it is expected to lead the world this year, followed by the United States, India, the United Kingdom and Germany, statista.com reports.
The growing home-delivery industry creates a nasty side-effect: trash. In China, the State Post Bureau has published guidelines to expand the use of green materials for takeout food.
The good news: The China Environmental Protection Foundation said about 90 percent of paper packing was recycled in 2017. The culprit is plastic bags.
In 2016, the industry in China used about 17.9 billion plastic bags and 8.6 billion cardboard boxes. The number of deliveries increased to 50 billion in 2018 and is expected to reach 60 billion this year, up from 31.35 billion in 2016.
New guidelines call for the increased use of biodegradable plastic packaging. However, the biodegradable bags are expected to double the cost of plastic packaging, an expense likely to be passed on to consumers unless paper products can be substituted.
The growth of the home-delivery food industry shows that customers are willing to pay for convenience. It's therefore unlikely the higher cost of biodegradable plastic packaging will give the industry a stomach ache.
UBS said in a report titled "Is the Kitchen Dead?'', that the online food-delivery market, including grocery shopping, will grow from a $35 billion industry worldwide today to $365 billion by 2030.
"Online food delivery is part of a mega-trend combining the on-demand and sharing economies," UBS said. "The ramifications for the food retail, food producer and restaurant industries could be (significant) as well as the impact on property markets, home appliances and robotics."
The survey of 13,000-plus consumers worldwide said that there could be another ramification: "By 2030 most meals currently cooked at home are instead ordered online and delivered from either restaurants or central kitchens''.
The most recent and biggest US-based company to move into delivery service is Starbucks, operator of about 14,000 stories in the US. It has started delivering in San Francisco with plans to expand to Boston, Chicago, Los Angeles, Washington and New York.
What Amazon and Alibaba have done to brick-and-mortar retailing, UberEATS, Deliveroo, GrubHub and Just Eat may do to restaurants that don't develop apps capable of handling personalized orders from a detailed menu.
Pizza is a major player in the takeout business. Worldwide pizza sales totaled $144.7 billion in 2018, including $50.7 billion in North America and $3.6 billion in China. In the next five years, sales are expected to increase 10.2 percent in North America and 21.6 percent in China, according to the Pizza Power Report.
And order-taking for a pizza has upgraded from the phone to the digital age. After setting up a "pizza profile" on Domino's online US delivery service, customers can order by tweeting an emoji to the company's account in a few seconds.
Growth in home delivery will spark the development of other industries. Expect food to arrive in a self-driving vehicle or by a drone. JD has introduced pilot drone-enabled delivery of goods in mountainous areas in Southwest China.
A global positioning system, high-speed wireless communication, high-definition cameras and cellphones make autonomous vehicle delivery possible.
Major US universities, including the Massachusetts Institute of Technology and the University of California at Berkeley, are working to develop autonomous delivery vehicles.
Ford and General Motors are entering the autonomous delivery market. Daimler is working on Starship, a prototype robot about the size of a picnic ice chest. Eight robots can be stacked in a Mercedes-Benz Sprinter van, driven to a neighborhood, and activated to make deliveries. In China, Alibaba, Baidu and Tencent are developing self-driving vehicles, including cars and busses.
What if the digital age kills romantic dinners at small, intimate restaurants? Perhaps Alexa has the answer. With luck, it won't come in a cardboard box.
Contact the writer at scottreeves@chinadailyusa.com