New Zealand insists China ties still strong
By Karl Wilson in Sydney | China Daily | Updated: 2019-02-25 09:38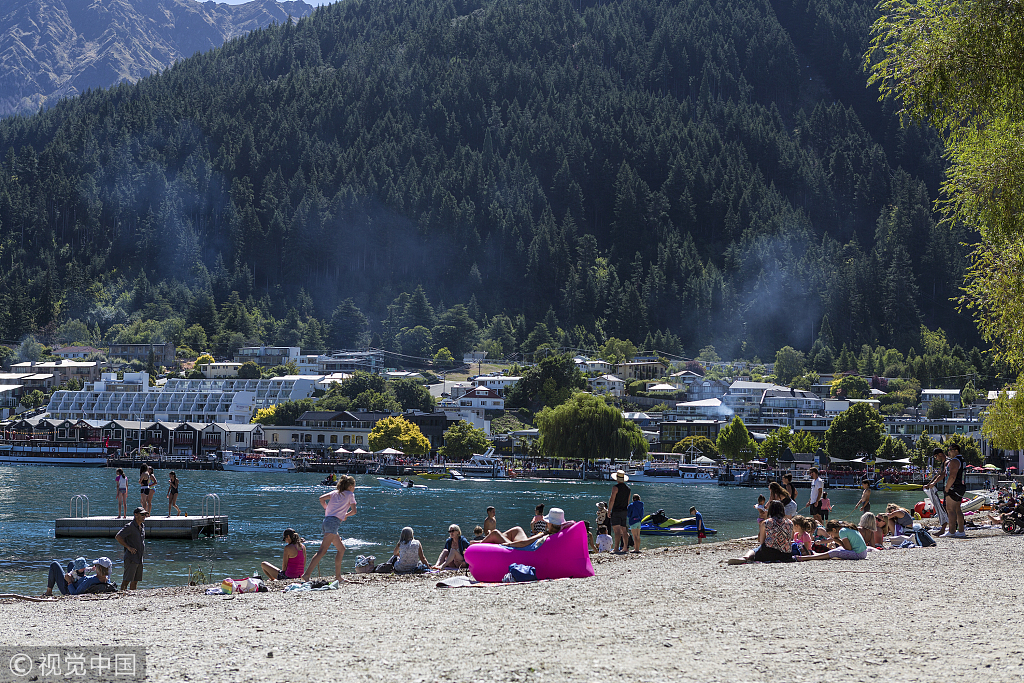 Beijing is its biggest trading partner, with two-way $19 billion trade in 2018
New Zealand's relationship with China remains strong, although recent events and controversies may pose fresh challenges, analysts said.
Stephen Jacobi, executive director of the New Zealand China Council, said there has been a lot of "wild rumors" recently of Air New Zealand aircraft being turned around and Chinese tourists being discouraged to visit.
Recent headlines in local media, such as "NZ on the edge of historic fallout with China" in the New Zealand Herald newspaper on Feb 20, highlighted the extent of tensions.
Jacobi said the source of the Air New Zealand incident "was a problem (on Air New Zealand's part) with the documentation". "The other things are down to wild speculation," he added.
He insisted the relationship between China and New Zealand remains very strong.
"Both governments have, in recent days, repeated the importance of the bilateral relationship and the need to balance it (the relationship) in these difficult and complex geopolitical times. But that does not mean the Chinese government is not concerned with some of the decisions we (New Zealand Government) have made ... They are."
Some of those decisions concern New Zealand's Strategic Defense policy statement released at the end of last year, sparking some commentary that the policy was an attempt to counter China's growing influence in the Pacific, even though China was not named in the policy statement.
Then there was New Zealand government's decision to follow the United States and Australia in banning Chinese telecoms giant Huawei from any involvement in the rollout of 5G technology.
Despite these issues, Jason Young, director of the New Zealand Contemporary China Research Centre at Victoria University in Wellington, said both governments have stressed the importance of the relationship.
Different views
The New Zealand cabinet seems to have different views on the relationship. During a speech in Washington in December, Foreign Minister Winston Peters sought to "enlist greater US support in the region", specifically the Pacific which, he said, had become more "contested and its security more fragile".
Although he did not name China, many commentators saw this as a blunt reference to the country and its overtures or aid and infrastructure support to a number of Pacific Island nations.
But Prime Minister Jacinda Ardern has confirmed recently that trade minister David Parker would be attending a Belt and Road Initiative conference in Beijing in April.
New Zealand signed a non-binding Memorandum of Arrangement with China on the BRI in 2017 by the former government. Local media RNZ reported that Ardern said progress was ongoing.
China is New Zealand's biggest trading partner, with two-way trade valued at more than NZ$28 billion ($19 billion) in 2018. The Chinese are also New Zealand's second largest and fastest growing tourism market, behind Australians, with more than 400,000 visitors in 2016.
New Zealand is celebrating the "Year of Chinese Tourism" this year.
Moreover, China is its largest source of international students, with over 40,000 Chinese students enrolled in New Zealand in 2017, and is a significant source of foreign investment.
Massey University professor Henry Chung, who specializes in international marketing strategies, told the New Zealand Herald that the country faces a big challenge in winning back the "hearts and minds" of the Chinese consumers, especially when it comes to Huawei.
"There is a sense in China that Huawei has not been treated fairly," Chung told the newspaper.
As in New Zealand, the concept of fair treatment is important to the Chinese, he said. And the perception is that New Zealand is not giving one of its China's biggest companies a fair go can have a detrimental effect on the willingness of the Chinese to do business here.
Former New Zealand foreign minister Don McKinnon said the country's relationship with China needs to be "resilient enough to stand the occasional disagreement or disappointment".
"China sees us as a country which has its own interests at heart and one which does not go out of its way to antagonize others," he said.
He said diplomacy, however, can go only so far in forging relationships between nations. "True and resilient bonds are forged between ordinary citizens, face to face, over many years."