Huawei unfolds its foldable 5G phone
By Cheng Yu and Ma Si | China Daily | Updated: 2019-02-26 09:00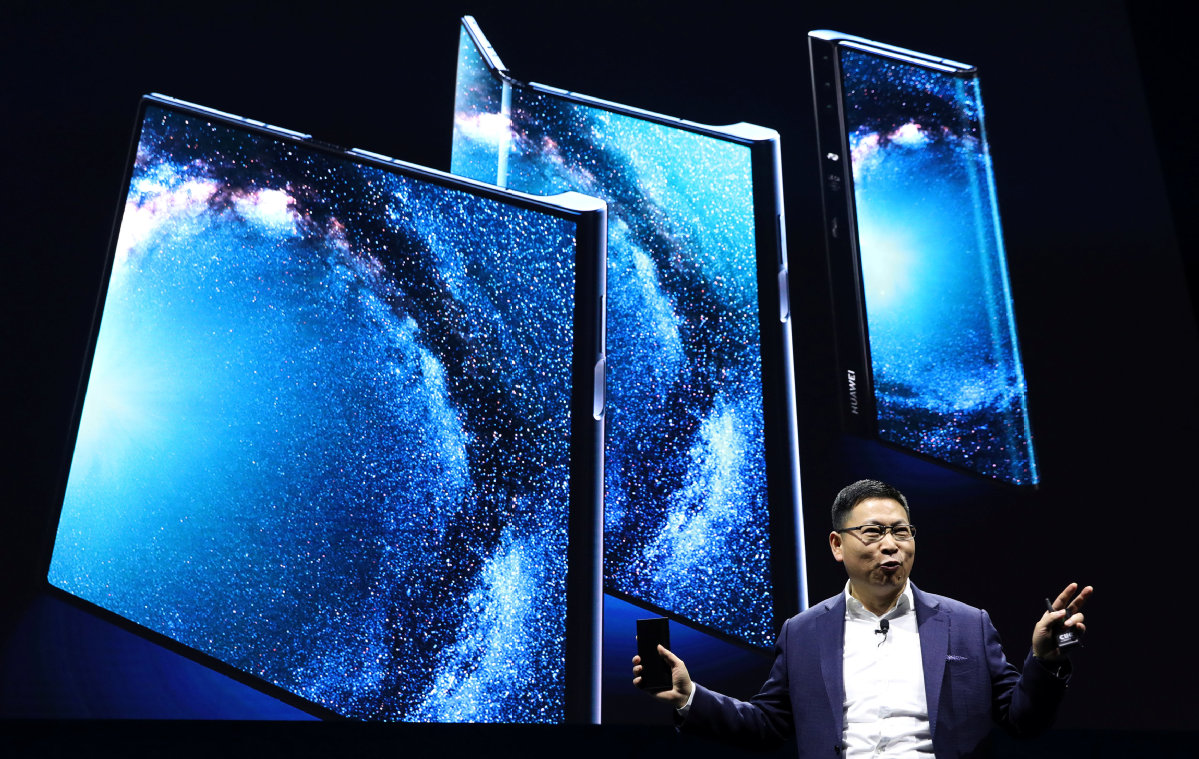 Chinese tech companies are catching the spotlight at this year's Mobile World Congress in Barcelona, Spain, as they raise the bar through unveiling smartphones with cutting-edge designs and leading 5G technologies.
Huawei Technologies Co launched its first 5G foldable smartphone ahead of the congress, the world's largest telecom industry gathering, which started on Monday. The phone is seen as dealing a major blow to its rivals, Apple Inc and Samsung Electronics Co, analysts said.
The gadget, priced at about $2,600, features a 6.6-inch display when folded, which is just slightly larger than Apple's iPhone XS Max. When fully opened, it becomes an 8-inch tablet.
Yu Chengdong, CEO of Huawei's consumer business group, said on Sunday that it took three years for the company to perfect the folding phone's hinge, the most challenging technical component.
"Combining 5G, the foldable screen, artificial intelligence and a brand-new interface, we hope that Mate X will be the first key for consumers to open the door to 5G smart living," he said.
"Mate X is quite impressive, with a sound design showcasing Huawei's technological breakthroughs against its competitors," said Jia Mo, an analyst from market research company Canalys.
Huawei's new device was made public several days after Samsung unveiled its foldable smartphone Galaxy Fold.
"It is fair to say that Samsung's model marks a big innovation step, but Huawei's foldable model marks three," said Vincent Ducrey, co-founder and CEO of the HUB Institute, a Paris-based digital think tank.
It will, however, take some time for most consumers to get their hands on such foldable screens, Jia from Canalys said.
According to GSMA, host of the conference, more than 2,400 companies from over 200 countries and regions are participating at this year's event.
The number of Chinese companies has been increasing in the past few years and is expected to exceed 360 this year, according to GSMA officials.
At this year's fair, Chinese smartphone makers, including Huawei, Oppo, Xiaomi, ZTE and OnePlus, will all present 5G phones or creative solutions, hoping to bring Chinese innovations to the world stage.
Oppo, the country's leading smartphone vendor, announced a 5G smartphone ahead of the mobile congress. Four foreign telecom carriers - Swisscom, Australia's Telstra and Optus, and Singtel in Singapore - are expected to be the first to sell the unnamed 5G phone.
Shen Yiren, vice-president of Oppo, said that the company is working with more partners in the field in a bid to offer customers 5G smartphones as soon as possible.
Oppo's products are available in more than 40 countries and regions. It will roll out its 5G products in accordance with the speed of local carriers in cooperatively building the ultrafast network.