Phones' high-tech future is unfolding
By Barry He | China Daily | Updated: 2019-02-27 09:50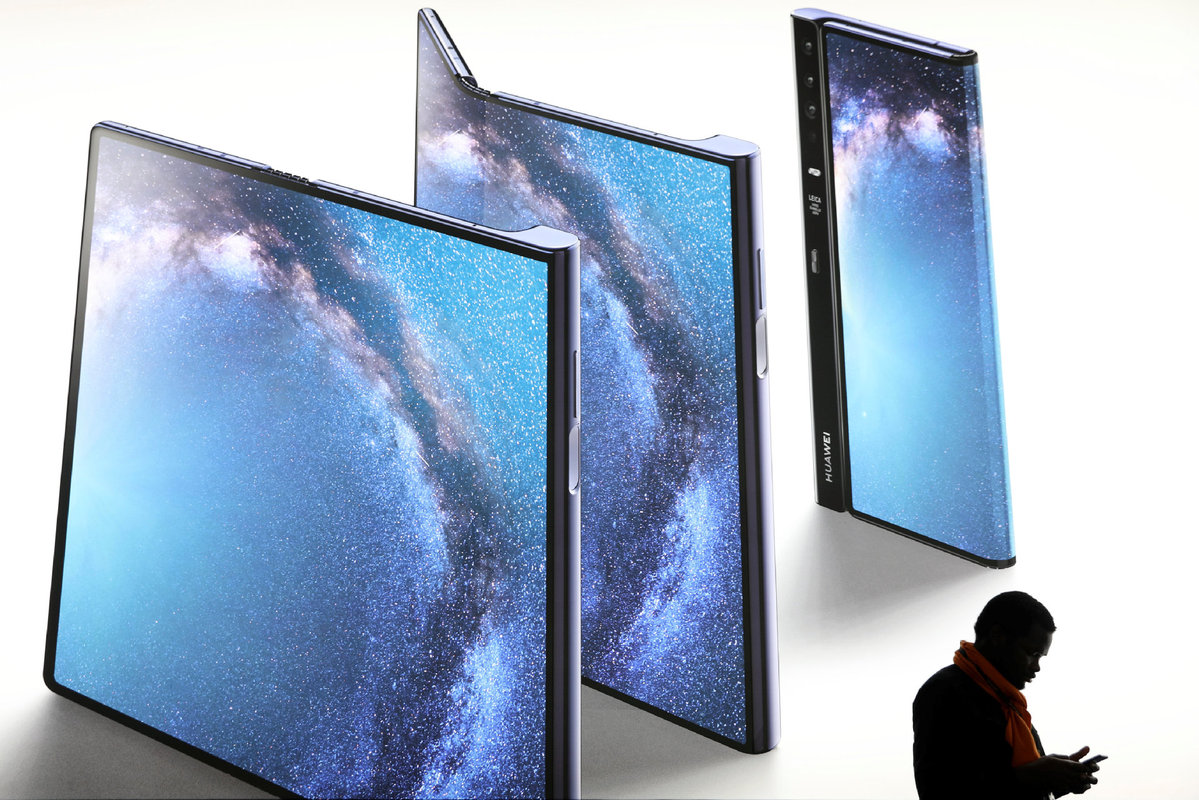 In 2004, Mobile phone company Motorola launched the Razr V3 model. Sleek, slim and iconically foldable, the phone was a hit worldwide, selling more than 130 million units during the product's life span.
Heralded as the most popular clamshell phone in history, the V3 was an icon of the primeval era of cellphone fashion, pixelated graphics and wireless network access galore. Since then, a lot has changed. Fast-forward 15 years and a whole new generation has grown up without a flip phone in living memory, until now. Once again, mobile technology companies are rolling out fliplike models.
Samsung's recent announcement of the Galaxy Fold at $1,980-the model folds out into a tablet layout-generated huge excitement over the internet. Its 4.6-inch screen "extends" to 7.3 inches, a drastic change in smartphone morphology that has sparked interest internationally.
Less than a week after the Samsung rollout, Huawei responded with the Mate X, a 5G-enabled foldable phone. Thinner and with a larger screen, the handset is set to retail at $2,600. However, unlike the Galaxy Fold, the phone is not equipped with a secondary screen when the phone is folded. Nevertheless, the Mate X has made an impression in the industry.
Basil Kronfli, a reviewer for online technology publication TechRadar, wrote, "Huawei, once synonymous with budget devices, is most definitely getting comfortable in the big leagues." Despite the Mate X being significantly more expensive than the Galaxy Fold, other reviewers have praised the sleek finish of its OLED technology screen and super-thin design, which indicates the growing clout of Chinese brands globally.
Ramon Llamas, research director at market intelligence provider IDC, was quoted by CNN as saying: "We've been looking at iterations of variations of a theme we've seen already. We've seen big phones, great cameras and awesome processors. So where do we go next?
"The strategy is to find a phone that isn't out there today, and it may not appeal to everyone but it may appeal to some, and that's OK. Samsung is onto something because people have a smartphone and a tablet and a PC, but what if you don't need all of those devices anymore?"
Royole Corp, a California-based tech company that has a mass production campus in Shenzhen, Guangdong province, was touted as the first to launch a foldable phone. The Royole FlexPai, from a company that has a history in flexible screens, has had mixed reviews. Still, the innovation astonished many people who expected Samsung or Huawei to pioneer the technology. Many more designs and models are likely to appear from different brands, patents permitting.
The early days of any revolutionary attempt should, however, be met with sober analysis. Ben Wood, analyst at technology research group CCS Insight, told CNN Business: "It feels like we're in the Stone Age when it comes to products with flexible screens. This isn't a criticism but merely an observation. We're seeing the first very tentative steps toward the implementation of a technology that may seem to be a solution looking for a problem now, but is likely to become a pillar of designs of consumer electronic devices in the future."
The Galaxy Fold and Mate X are both likely to attract attention from gadget lovers and those seeking the novelty of deviating from traditional smartphone formats. Tapping a larger market may depend on companies' ability to create apps and services that maximize screen size and provide a unique foldable phone experience.
Despite the setbacks and potential difficulty of convincing consumers that foldable phones are the way forward, the technical achievements by these companies in their latest offerings should be commended. Early models of these phones may not be ideal, and we may not be at the point of success yet, but every attempt should be taken as a step forward.
The author is a freelancer for China Daily UK. The views do not necessarily reflect those of China Daily.