Guizhou ramps up efforts to become a big data hub
By Yang Jun in Guiyang and Chen Meiling in Beijing | China Daily | Updated: 2019-02-28 09:17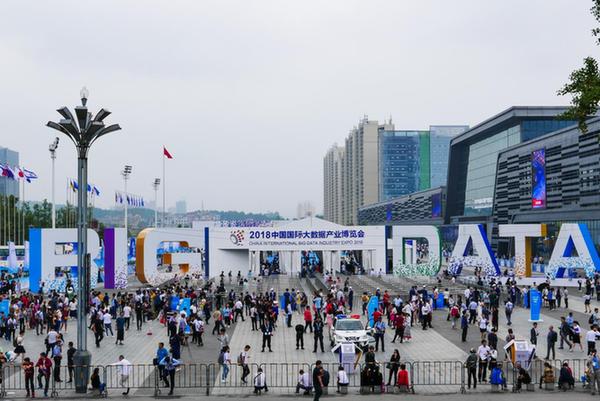 Guizhou, one of the fastest-growing provinces in Southwest China in terms of GDP growth, is aiming to become a big data hub, welcoming global investors to commercialize their emerging technologies, officials said.
Guizhou was once known as a mountainous region with one of the largest poor populations in China. In 2018, its GDP surpassed 1.48 trillion yuan ($221.3 billion), up 9.1 percent year-on-year, 2.5 percentage points higher than that of the country as a whole.
The growth rate ranked second among 31 provinces, municipalities and autonomous regions on the mainland last year. It topped the list in 2017, data from the National Bureau of Statistics showed.
This change can be attributed in part to the efforts the local government put into its pillar industry-big data.
Last year, investment poured into big data-related information transmission, software and information technology services industries grew by 49.7 percent, local government data showed.
The local government has announced plans to increase the added value of the digital economy to reach 33 percent of the province's total GDP by 2022.
As China's first big data pilot zone, the province has attracted internet giants, including Qualcomm, Huawei, Tencent, Alibaba and Apple, to establish cloud computing and big data centers as well as regional headquarters.
"People used to think traffic in the mountainous region was not convenient and there were too many rainy days. But the disadvantages have turned out to be advantages," said Tencent CEO Pony Ma Huateng at the China International Big Data Industry Expo 2018.
Before the expo, Tencent put its new data center in a cave in Guian New Area, Guizhou, expected to host 300,000 machine sets.
"The geological location is securely hidden, the temperature is low and it has sufficient water and power supply. All of these help to reduce energy consumption," he said, adding that the company will store its important data there.
In 2019, the provincial capital Guiyang will give more support to big data projects, according to a document sent from the local government to China Daily. For example, it will help Dell to build its software service base, Inspur Group to build a big data industrial park and Huawei to set up a data center, as well as cooperate with countries such as India and Malaysia for business.
"We will accelerate integration of big data into agricultural, industrial, service and other industries, and use big data in the transformation and upgrading of the traditional production, life and social governance mode," said Zhao Deming, Party secretary of Guiyang, at a news conference held in Beijing on Monday.
China's big data sector aims to increase its annual sales to 1 trillion yuan by 2020 from an estimated 280 billion yuan in 2015, according to the Ministry of Industry and Information Technology.
The city is also home to the largest national-level big data themed event.
This year's expo, to be held from May 26 to 29, will focus on the hottest topics in the industry, including 5G, industrial internet, blockchain, intelligent manufacturing and application of e-commerce in poverty relief, officials said at the news conference.
Forty percent of exhibitors are from overseas, including Google, Qualcomm, Seagate Technology Corp and NTT Data. Paul Romer, co-recipient of the 2018 Nobel Prize in economics, and Whitfield Diffie, winner of the Turing Award, plan to attend.
The expo will introduce a guest of honor for the first time, and will invite one country to showcase its achievements in big data every year.
Chen Yan, mayor of Guiyang, said the expo is an important platform for Guiyang to open up its economy and promote high-quality development.
"It offers a chance for the world to learn about Chinese markets and demands of Chinese consumers, as well as the business potential and economic value of cutting-edge technologies and industries," he said.
The expo is co-organized by the National Development and Reform Commission, the Ministry of Industry and Information Technology, the Cyberspace Administration of China and Guizhou province.
The number of attendees is expected to surpass 100,000.