Fujian, Shanxi show how tech will help overcome slowdown
China Daily | Updated: 2019-03-11 09:24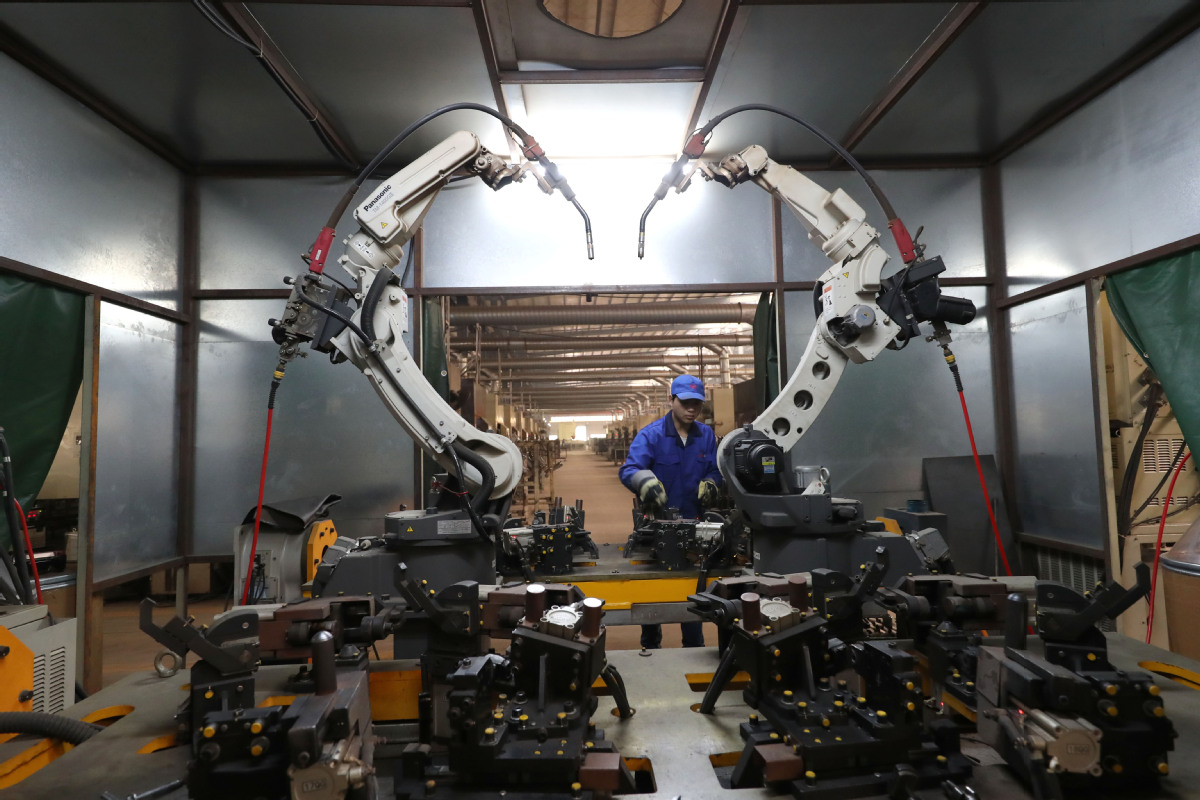 BEIJING - Like birds pecking at grain, a dozen robotic arms pressed components onto a point-of-sale or POS machine, checked its functions and packed it into a box under the supervision of a human worker. Next to the robots, it took over 60 workers to assemble the same device, used to process card and mobile payments.
The two juxtaposed assembly lines at the Kingtronics factory offer a glimpse into the robotic revolution sweeping East China's Fujian province. Like China's other coastal regions, rising labor costs and dwindling foreign orders are galvanizing labor-intensive factories into action.
Instead of shrinking production, Kingtronics chose to deploy more robots, a strategy that not only raised the company's profits but also allowed the Hong Kong-invested firm to expand its business by designing and selling automatic equipment to manufacturers that cannot afford imported robots.
"We anticipate a market that has no boundaries, as many medium- and small-sized enterprises welcome automated solutions," said Henry C. Tseng, chairman of Kingtronics, which is based in the city of Zhangzhou.
Defying the current economic downtrend to register robust growth, Kingtronics and many other private firms point to the microeconomic tenacity of China as it struggles with an economic growth slowdown and uncertainties posed by trade friction with the United States.
About three years after China initiated the supply-side reform to restructure and upgrade its industries, economists say new momentum is emerging from the transitional labor, bolstering confidence for the "two sessions" that will outline China's development in 2019, a "key year" in its goal to build a moderately prosperous society in all respects.
As the annual sessions of China's national legislature and political advisory body this month move to identify new engines to turbocharge the world's second-largest economy, how to help such market players tide over the tumultuous transition period is also a heated topic.
"Traditional export-oriented companies faced considerable difficulties during the industrial transformation in 2018," said Huang Maoxing, an economics professor at Fujian Normal University. "But after the twinge, a rebound is almost certain in 2019, thanks to new momentum accumulated in the transition."
The transition Huang referred to is now the order of the day across China. In provincial-level "two sessions" that preceded the national event, a majority of Chinese regions lowered their GDP growth targets for 2019 and stressed high-quality development with promises to nurture new industries and upgrade traditional ones.
Fujian, known for its booming electronics and garment industries, has seen more and more factories embracing automation, leading to a 16-fold increase of imported industrial robots in the first 10 months of 2018.
In North China's Shanxi, coal firms are switching to new energy and new materials as the coal-rich province cut redundant capacities. In the past three years, Shanxi phased out 88.4 million metric tons of coal capacities but sped up new energy development, including extraction of coalbed methane that now accounts for over 90 percent of the national total.
One firm, Shanxi Uni-moon Green Paper, is reaping early rewards from the clean energy transition. The subsidiary of a coal enterprise has developed a technology to manufacture paper out of gangue, a coal-production waste. By producing an annual 120,000 tons of such "stone paper", the company estimates it will save 2.4 million trees.
Despite the temporary loss of GDP tempo, Yan Linhu, deputy general manager of the company, spoke highly of the industry's move toward a healthier development model featuring a higher input of innovation. "The coal industry is under a lot of stress, but it's a positive sign that all companies are seeking changes," he said.
Other good news for China's economy will come from the unified foreign investment law, which will be discussed during the two sessions. Once adopted, it will help foster a more favorable business environment and attract more foreign investment.
Panpan Foods, a major supplier of packaged pastries and puffed food in Fujian, testifies to the consumption upgrade in China driven by the rising purchasing power.
According to a report by Bain & Company and Kantar Worldpanel, Chinese households' spending on fast-moving consumer goods, or nondurable goods such as packaged foods and shampoos, is expected to rise 5 percent in 2018, showing that the trade tensions had a minimal impact on China's consumer market.
The ongoing two sessions would focus on the financial woes of private companies as they work on reform and innovation. In particular, many small and medium-sized enterprises faced challenges in obtaining bank loans, said Deng Xiaojun, assistant to the chairman of Datong Reciprocity Group, a Fujian-based manufacturer of industrial valves that is breaking into the global market of cryogenic valves.
A slate of supportive policies were rolled out following last year's two sessions that called for reducing taxes and other burdens for enterprises. China is estimated to have saved 1.3 trillion yuan ($193.7 billion) for market entities in 2018. Tseng, Kingtronics' chairman, believes such policies are essential for China's real economy to prosper.
"Pushing for innovation in the manufacturing sector always involves a lot of risks. Small firms, in particular, have to overcome many financial and technological hurdles, so they need strong government support," Tseng said.
Xinhua