Private companies reaching for the stars
By Cheng Yu | China Daily | Updated: 2019-03-13 09:51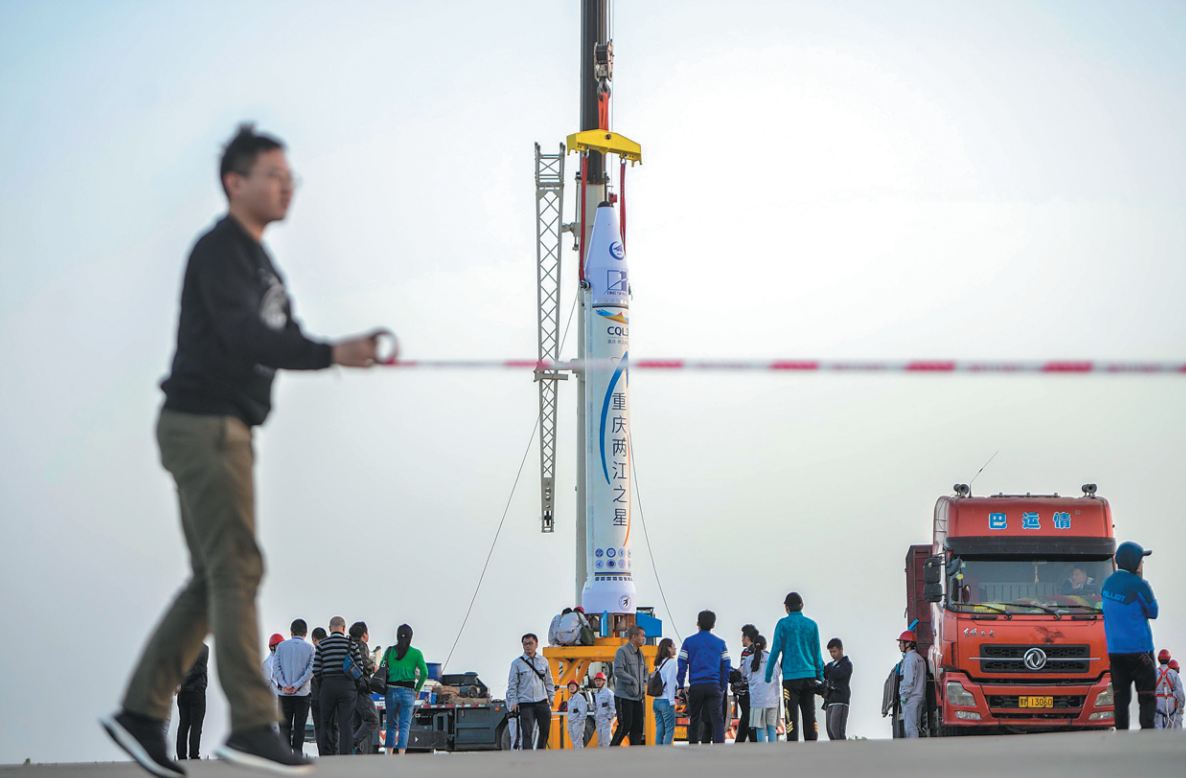 Once dominated by State firms, China's satellite industry is opening door wider
Satellites have become the latest gold mine for private companies in China as they rush to reach for the stars in the space sector.
The country's satellite industry, which used to be dominated by State-owned enterprises, is gradually changing and opening to private players.
More than 90 Chinese startups, mostly focused on satellites or rockets, have taken their first steps in the space industry in the past four years, a senior industry expert from a Beijing-based satellite startup, who wished to remain anonymous, told China Daily based on the startup's internal research.
"It means that on average, nearly two startups were founded every month in the past four years in China. It is significant if China is to grab a slice of the cake from the global competition in the budding space industry," he said.
According to The Space Report 2018 issued by The Space Foundation, the total market of the global space economy was $384 billion in 2017, a year-on-year increase of 7.4 percent. Of that, commercial activities accounted for more than 80 percent.
Industry experts pointed out that China only accounts for 3 to 5 percent of the space economy globally, but the country is gaining ground fast in terms of both scale and technology.
Since 2014, Chinese authorities have launched policies and called for private players to actively participate in the country's space industry.
Earlier, the National Development and Reform Commission, along with the Ministry of Finance and the State Administration of Science, Technology and Industry for National Defense, also unveiled a 10-year blueprint to promote the commercial space sector.
LinkSure Network, a Chinese free internet access provider, announced a plan in November last year to launch China's first Wi-Fi satellite in 2019.
It aims to send 272 satellites into space to provide free Wi-Fi globally by 2026. The first batch of investment will hit 3 billion yuan ($447 million).
Similar to Elon Musk's Starlink plan, the satellites will be used to expand internet coverage and boost internet speeds, the Shanghai-based internet firm said.
"The starting point of such a plan is to offer free internet connections to people around the world, especially those in underdeveloped areas or rough terrain," said Wang Xiaoshu, rotating president of LinkSure Network.
The company, founded in 2013, became a unicorn - a startup valued at more than $1 billion - in 2015 by raising $52 million in its A-round of financing.
"Satellite connection will be a great supplement to the ground network. The ground network, which relies on stations, has limitations due to, for example, weather and land form," said An Yang, chief scientist of LinkSure's satellite project.
"On a global scale, the number of satellites is far from meeting the huge demand for communication. The future of the communication sector must be a combination of space and ground," he said.
Under the plan, revenue will come from services to high-end users as well as those provided to areas that the ground network is unable to reach, An said.
LinkSure is not the first. A string of startups have sent satellites into space for different purposes. For instance, Guoxing Yuhang Co Ltd, or ADA Space, a private firm based in Chengdu, Sichuan province, launched two artificial intelligence satellites at the end of last year.
Though the country's internet giants have not directly announced plans to develop, produce or launch satellites, they are showing a desire to do so.
Tech conglomerate Alibaba Group launched a communication satellite to support its online shopping gala last year while Baidu CEO Robin Li said earlier that he hoped more support could be given to private companies in the civilian space segment.
Another tech giant Tencent Holdings Ltd has also jumped on the bandwagon by investing in US startup Moon Express, which was founded in 2013 by a group of space entrepreneurs.
The US startup is looking to profit from the commercial space sector through leveraging core technologies including using drones to mine asteroids.
Compared with State-owned companies, private firms are better at commercialization including attracting and using money and resources, which will greatly improve efficiency, said Yang Feng, CEO of Spacety, a commercial aerospace company specializing in developing commercial micro and nano satellites.
"It is also a promising area that State-owned and private space companies can supplement and cooperate with each other," he added.
Notably, some private players have also entered the overseas market. China Communication Technology Co Ltd in Shenzhen, a satellite-based communication services provider, has been beefing up its overseas presence to exploit foreign opportunities.
"We aim to extend our business to Africa this year and will tap into one or two Belt and Road economies each year," said Wu Guangsheng, president of CCT.
CCT is currently offering services and products in the United States, Europe, the Middle East and nine other countries and regions that are participating in the Belt and Road Initiative.
In 2017, its overseas revenue was about 9 billion yuan, which made up more than 60 percent of the total.
It also plans to further explore Southeast Asian markets including Indonesia, Malaysia and the Philippines, and promote its products in Central Asian economies such as Kazakhstan.