Internet jobs losing luster amid layoffs, industry churn
By He Wei in Shanghai | China Daily | Updated: 2019-03-13 10:16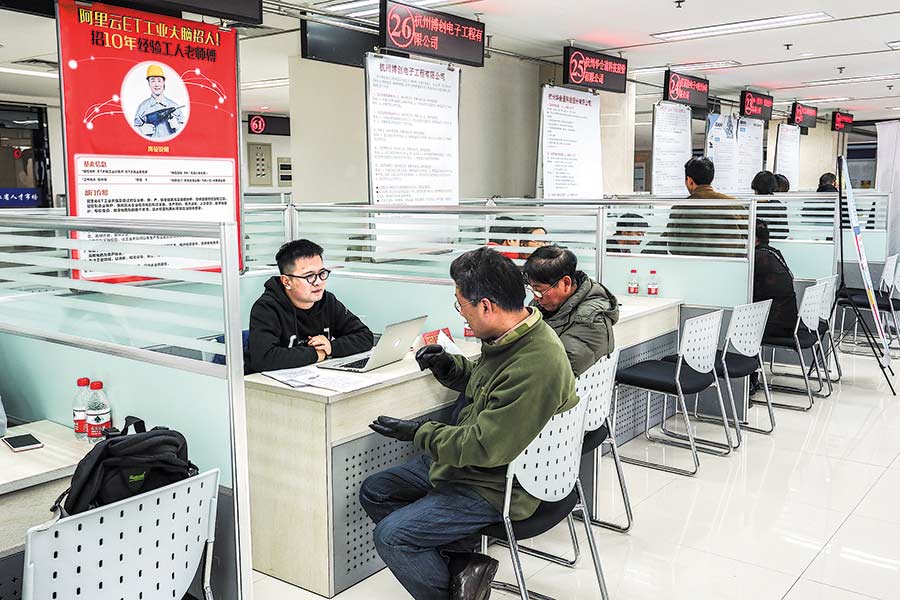 Focus shifting from business model innovation to hardcore breakthroughs
Once viewed as the greener pasture for China's aspirational talents, the internet sector is fast losing its luster, with layoffs and cuts in benefits becoming commonplace.
Experts said the current rounds of cutbacks and personnel reshuffle underscored a "return to rationality" of the thriving sector and a shift of focus from business model innovation to hardcore breakthroughs in China's tech realm.
Didi Chuxing, the country's top ride-hailing firm, said last month that it plans to eliminate 2,000 jobs, or 15 percent of its workforce to focus on core services and limit internal costs.
Close on the heels of that came reports that e-commerce behemoth JD was planning to lay off 10 percent of its executives above the vice-president level.
At the same time, the company said its new recruits include 15,000 front line staff and managers in the logistics and retail subgroups.
"It is clear that the explosive growth of China's internet sector, or even the mobile internet sector, has drawn to an end," said Cao Lei, director of China E-Commerce Research Center.
According to the center, over 30 high-profile internet firms, including big-names like Meituan Dianping and LeEco, have confirmed, or are rumored to have started layoffs.
Cao attributed the trend to the downward pressure of the macro economy, the consequent capital shortage, as well as the relatively high cost of acquiring a new user in a market where internet penetration rate is already high.
"Companies have no choice but to scale down businesses and hold back certain expansion plans to survive," Cao said.
The string of layoffs would not come as a surprise especially given that certain so-called tech unicorns are yet to find their appropriate business models, said Xia Yang, founding partner of Xinyuan Investment Management Consulting Co Ltd.
"A genuinely healthy enterprise is one that can thrive without going public. This is clearly not the case with companies like Didi, which bank largely on cash-burning campaigns to dominate the market and have failed to chart a sustainable profitability path," Xia said.
Since late last year, there has been a call for rationality in investment in the internet sector and the aspirations to achieve "hardcore" technological breakthroughs are clearly on the rise, he said.
"The overemphasis on financial returns led to a neglect of how capital should bolster the real economy and develop more fundamental technologies such as artificial intelligence and blockchain," he said.
"So the 'return to rationality' of both business owners and their investors might not be such a bad thing in the long haul," said Xia.
Sun Jinyun, a professor of management at Fudan University, who focuses on startup research, said over 80 percent of China's internet success stories found their roots in business model innovation, but their limitations are obvious: over-reliance on the local market, a short life cycle, and the high risk of being duplicated by others.
The personnel reshuffle "could be a reflection of the shift from speed and market domination to value creation and organic growth, and 2019 could see several such changes", Jin said.
Wang Lei, managing partner at China Impact Ventures, is even more optimistic. He said this marks the natural rebalancing of an industry that has proved to create value but such value might have been exaggerated in the past.
"Therefore proper scaling down is essential for the sector's long-term growth," he said.
There are, of course, exceptions. Daniel Zhang, Alibaba's CEO, said in February that instead of layoffs, the company will continue recruitment, strengthen its talent training program, and divert more resources to its multiple platforms to "help businesses navigate the current environment and create more job opportunities".