More turning to the bare essentials of life
By Pan Mengqi | China Daily | Updated: 2019-03-15 08:44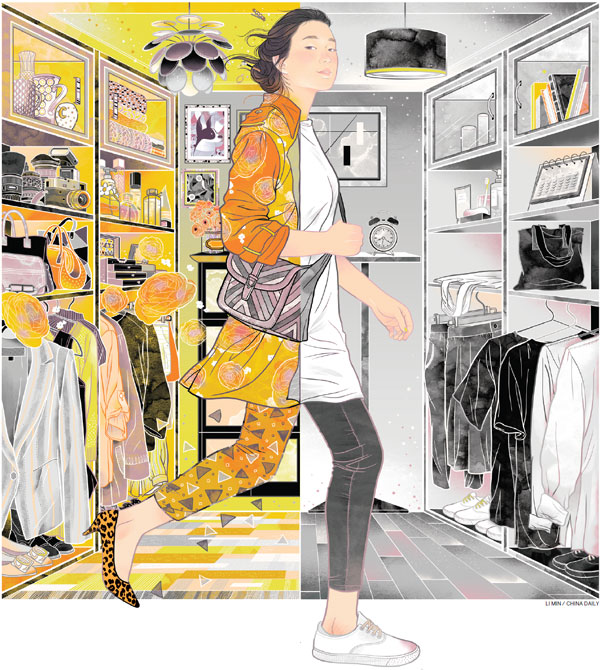 People embracing minimalism to rid their homes of clutter
The observation that less is more, first associated with the German-American architect Ludwig Mies van der Rohe more than 70 years ago, has been embraced by a growing number of minimalists seeking to rid their minds and living environments of clutter and counter frenzied consumerism.
Lin Hanxing is one of them.
The 30-year-old, who lives in Beijing, owns just five shirts, two pairs of pants, four pairs of shoes, a trenchcoat, a down jacket and a meager smattering of various other items. All her belongings fit in a small suitcase.
Five years ago, Lin said she was a member of the "hand-chopping mafia" - a slang internet term referring to shopaholics who feel the urge to figuratively cut off their hands to stop impulse buying.
Lin, who works as an interpreter for an international company, said she used to spend lots of money buying fashionable clothes in the hope of "winning people's recognition and attention".
At one time, she owned more than 400 items of clothing, shoes and handbags. These not only cluttered her 25-square-meter apartment in Beijing but also became an economic burden.
"My salary was around 15,000 yuan ($2,230) per month, but my monthly credit card bill would sometimes reach 25,000 to 30,000 yuan back then," Lin said.
In 2014, she saw an online challenge had been launched by Joshua Becker, a blogger in the United States promoting a minimalist lifestyle. Participants were encouraged to reduce the number of possessions to less than 100. Lin decided to give it a try.
She discarded 90 percent of her clothes, decorations, cookware, furniture, linen, tools and books, along with anything else in her home that was not "essential to life".
In addition, she deleted 120 contacts on her social networking account to whom she had never spoken.
After purging her life of much physical and emotional baggage, Lin said she felt "lighter".
China is one of many countries that have been swept by a wave of minimalism as a lifestyle choice.
While an increasing number of Chinese consumers have acquired strong purchasing power in recent years, some urbanites, such as Lin, are abandoning consumerism to pursue a more ascetic lifestyle as minimalists.
Minimalism as a lifestyle philosophy is simple - the less you own, the happier you will be. Pare down and unclutter, the thinking goes, and your mind will have room to breathe.
But minimalism comes in different forms. Some people are getting rid of books, papers, unused toys or even TV sets. Others are taking matters a step further, and once they have shed their possessions, they are moving out of their large homes in favor of smaller apartments. Some are attempting to reduce the barrage of information they face each day by limiting time spent on the internet.
A report in The Wall Street Journal last year said consumerism is at its peak, thanks to multiple factors - "rising income, fast fashion, ease of e-commerce and a wider embrace of use-and-throw culture as technology advances". These are all combining to make frequent product upgrades a buyer's ritual.