Rotating use of farmland will bring a harvest of new growth
By Hu Yongqi | China Daily | Updated: 2019-03-19 09:16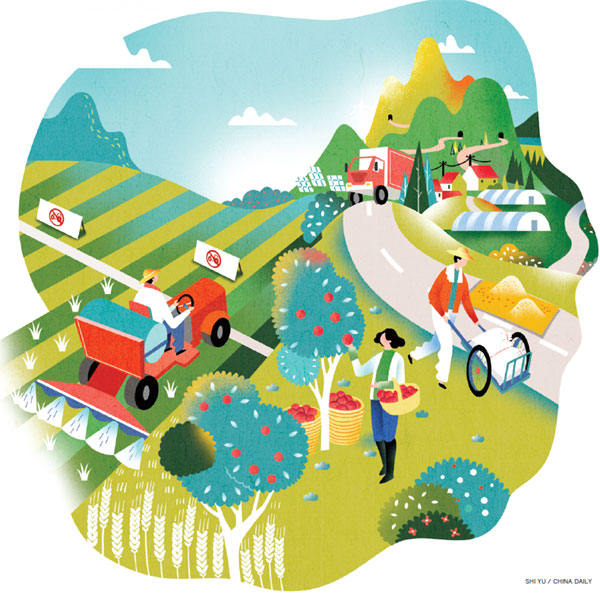 Planting enriching crops and resting the soil can boost sustainability
China announced that the area of farmland designated to cultivate different crops or lay fallow will increase to 2 million hectares this year, 25 percent more than last year, a move that experts said will help promote sustainable agriculture by giving the soil a break to recover from overuse and pollution.
The central government will subsidize 2 million hectares of farmland that will either lie fallow for one year or rotate between corn or soybean, the Ministry of Agriculture and Rural Affairs said on Wednesday.
A new area of 333,333 hectares of rotating land is situated along the Yangtze River Valley and another 66,666 hectares of land will lie fallow for one year in some parts of Heilongjiang province that have overused the ground water, the ministry said.
The announcement was the latest move of a pilot program to rotate or lie fallow some farmland which was started in 2016 by the Ministry of Agriculture, the predecessor of the Ministry of Agriculture and Rural Affairs, and other nine State Council departments.
In 2016, the pilot program covered 410,666 hectares of land in nine provinces and autonomous regions, including Liaoning, Yunnan and Gansu. In 2017, the acreage doubled with pilot regions remaining the same. Last year, three more provincial regions, such as Jiangsu and Jiangxi, joined the pilot program while 1.6 million hectares of farmland were rotated or remained idle.
With 7 percent of the world's arable land, China has succeeded in feeding one-fifth of the world's population over the past few decades. To achieve that goal, the country has paid the price as the agricultural sector now faces challenges, such as an overuse of ground water, soil erosion and pollution.
Last year, China harvested 657.9 million metric tons of staple food, said the Ministry of Agriculture and Rural Affairs. Meanwhile, the world's second-largest economy imported 20.46 million metric tons of staple food and 88.03 million tons of soybeans, according to the General Administration of Customs. These figures show the structural imbalance of the agricultural sector, meaning the country should adjust where and what to grow nationwide.
Many countries around the world also have fallow land programs supported by governmental subsidies, with India ranking the first in 2016 as it designated 14 million hectares of land to lie fallow that year.
In his report to the 19th National Congress of the Communist Party of China in 2017, President Xi Jinping pledged to expand the pilot program of rotating and resting farmland, which demonstrated the CPC Central Committee's determination to promote green development of agriculture and accelerate building an ecological civilization.
Under the program, corn is grown in one season on rotated farmland and soybeans the next, because this crop can help improve land fertility as its roots accumulate fertilizing nitrogens. For fallow land, farmers stop growing anything on their land for one year.
Whatever their choice, farmers can join the program voluntarily and will receive subsidies from the government to ensure income. Subsidies provided by the central government also surged in the past three years, from 1.4 billion yuan ($208 million) in 2016 to 5 billion yuan in 2018.
This year, Bayannuur city in the Inner Mongolia autonomous region started to keep some land idle for the first time. Qin Li, a farmer in his 40s in the county-level city of Ninghe, said many farmers are willing to join the program as they know their land cannot sustain heavy cultivation.
"After years of cultivation, a very small part of my land seems desertified, demonstrated by a sandstorm in winter. Land needs a break to recover its fertility," Qin said. "In a simple word, we cannot always take from the land but should also protect it. Otherwise, it cannot last."
Rotating farmland or keeping it fallow is beneficial to the sustainable use of terra firma and the development for the whole agricultural sector at large, said Qin Fu, a researcher at the Chinese Academy of Agricultural Sciences.
Policy support and subsidies are indispensable to promoting the pilot program and also ensuring a stable income for farmers, said the researcher. Considering China's national conditions, rotating and keeping land fallow should go in line with long-term development of agriculture by piloting in some regions that are particularly ecologically fragile and have serious problems in losing fertility of land, he said.