Japanese cuisine tickles taste buds, spins money in China
By Liu Yukun | China Daily | Updated: 2019-03-25 07:35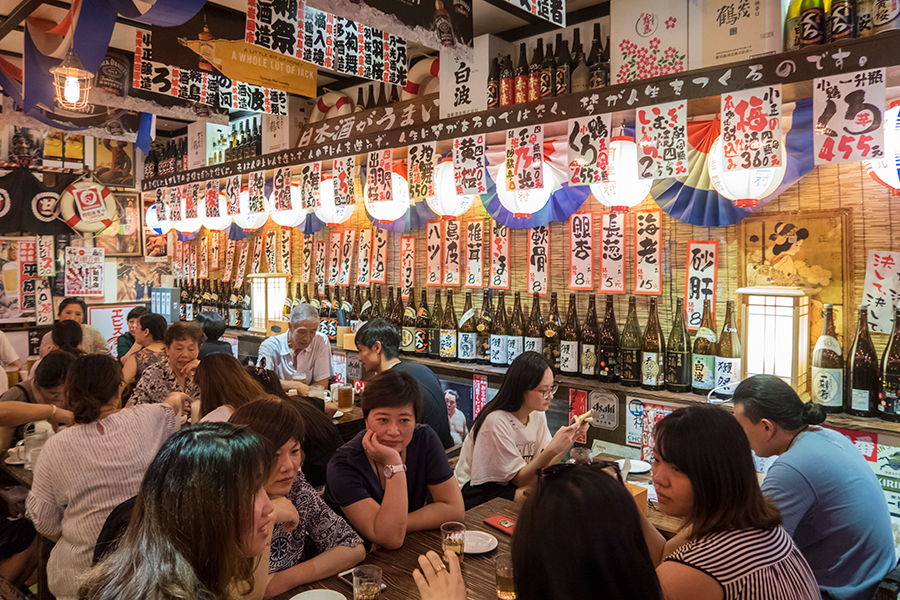 Japanese cuisine is such a rage among Chinese consumers these days that some of them are willing to spend more than 1,000 yuan ($149.70) for a lunch/dinner comprising super-fresh authentic ingredients, including six-piece sashimi, or raw fish, specially imported from Japan.
Small wonder, Japanese restaurants are mushrooming on the Chinese mainland to ride consumer demand.
Their number surged from about 10,600 in the beginning of 2017 to 40,800 at the end of the year, according to data from the Japanese External Trade Organization, which is known as JETRO.
Data from Japan's Ministry of Agriculture, Forestry and Fisheries showed that among the 31,000 Japanese restaurants opened outside of Japan from 2015 to 2017, half of them were in China.
According to Qdaily, a news website, Japanese restaurants in China reported total revenue of 161 billion yuan in 2016, taking the fourth place in newly-added numbers, and outperforming even domestic Cantonese and Jiangzhe (Jiangsu and Zhejiang provinces) cuisines, which figure among the most popular Chinese food.
JETRO said a rising number of Chinese travelers to Japan enjoy local cuisine, and crave for more back home.
"With more Chinese people visiting Japan, this is creating more business opportunities," said Bai Wei, a columnist specialized in cuisine with JinriToutiao and Tencent, and also a member of the World Federation of Chinese Catering Industry.
"Also, Chinese consumers' increasing spending power makes the business profitable. Only a decade ago, Japanese cuisine, which costs relatively higher than many other foods, was much less popular among Chinese consumers."
Feng Enyuan, deputy head of the China Cuisine Association, said changing Chinese consumers' lifestyles also contributed to the trend.
"A growing number of Chinese consumers prefer light meals like salads that are healthy. Many Chinese consumers associate Japanese cuisine with good health," said Feng.
"Foods like sushi are getting increasingly popular among both young and senior people as they are less oily and contain more healthful ingredients."
Although the overall number of Japanese restaurants in China is booming, growth has been slowing in first-tier cities in recent years.
In contrast, China's second-and third-tier cities have seen rapid expansion of Japanese restaurants, according to JETRO.
"Not just Japanese restaurants, a majority of restaurants opened in China are switching their focus from first-tier city consumers to those in second or third-tier cities as there is higher demand there," said Feng.
"Demand for international cuisine like Japanese food is rising in second or third-tier cities as many young people who used to work in first-tier cities in the past are now back in their hometowns, and look to continue their old food habits."
Recent years have also seen a boom in high-end Japanese restaurants, with more being set up in central business districts of cities, according to a Qdaily report.
But only a decade ago, cheaper Japanese quick service restaurants such as Pepper Lunch and Yoshinoya were more commonly seen all over city street corners in China.
Today, traditional Japanese restaurants with new concepts, different decoration styles, cultural themes, and innovative menus are more common, Bai said.
Noriko Shinohara, 29, who operates a three-branch restaurant chain under two brands in Beijing's posh lifestyle zone Sanlitun, will open her fourth venture-an izakaya-next month.
Her existing three restaurants are popular among youngsters as she fuses traditional Italian/Mexican food styles with post-modern elements.
On top of that, her planned new restaurant will offer diners interior decor novelties like steep-sloped rooftops with spectacular views, and posters of anime characters that trigger childhood memories.
"Today, young people like me are really into some cool and novel experiences, and I want to create that experience for our customers while serving traditional authentic Japanese food," Shinohara said.
Consumers such as Alex Cui welcome that approach. "I visit the exiting branches of izakaya very often because their environment is good for chats or business talks. I'd certainly visit such restaurants offering new concepts for the sake of fun and to enjoy their sense of novelty."
Xinhua contributed to the story