China Railway Express opens new freight route to Poland
By Huang Zhiling in Chengdu | China Daily | Updated: 2019-04-09 07:43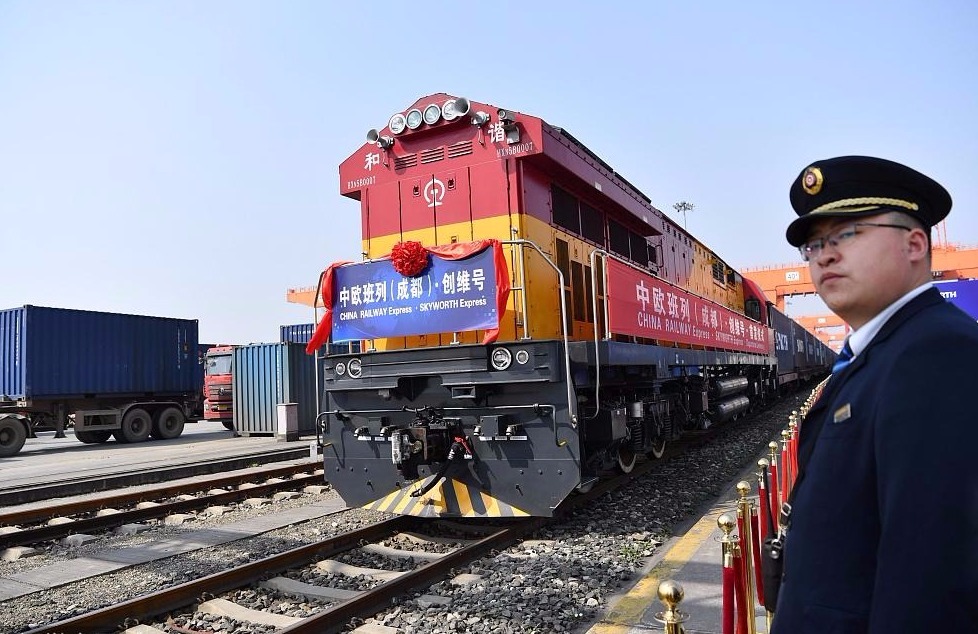 Since the China Railway Express debuted its freight train service to Europe, an increasing number of international companies have cashed on in its relatively high speed to transport goods overseas.
The costs of shipping via China Railway Express are almost the same as those of shipping goods by sea. But the former takes much less time to reach Lodz in Poland-14 days versus 28 days-said Xie Zhuoxun, an official with the brand management department of Shenzhen Chuangwei-RGB Electronics Co Ltd, which makes Skyworth television sets in Guangdong province.
China Railway Express-Skyworth Express held a grand departure ceremony at Chengdu International Railway Port in Sichuan province on March 29.
The Skyworth Express, with 41 full containers of television display screens, main boards and accessories from Shenzhen, was due to arrive in Lodz in about 14 days.
Around 20,000 television sets would be assembled from this cargo bulk and sold in Europe, said Tony Wang, chairman of Shenzhen Chuangwei-RGB Electronics Co Ltd.
The Skyworth Express will run between two and four times at fixed times each month and its frequency may increase.
Starting from Chengdu, the Skyworth Express leaves China from Alataw in the Xinjiang Uygur autonomous region, and passes through Kazakhstan, Russia and Belarus, before reaching Lodz. The journey covers a total distance of 9,965 kilometers.
The company plans to export 1.5 million television sets to Europe in 2019 and 2.1 million sets in 2021.
It will establish supply chain centers in Germany, Poland, Russia and Belarus, Wang said.
Speaking at the departure ceremony, Katarzyna Wikowiecka, consul general of Poland in Chengdu, said the China Railway Express has boosted trade between Poland and China.
The fact that the Skyworth Express has chosen Poland as its destination will further boost the development of the Polish railway transport and logistics. It is hoped that more Chinese companies and goods will enter Poland, she said.
Since 2013, China Railway Express has left Chengdu for Europe 3,300 times. Chengdu has provided the highest frequency of train service to Europe from China and sent the most freight trains to Europe, including 1,591 trains in 2018.
Other cities in Sichuan have also cashed in on the China Railway Express, through which the province has witnessed nearly 20.4 billion yuan ($3 billion) of imports and exports.
The express at first primarily transported electronic products and home electronic appliances. The goods it transports have now expanded to automobiles and accessories, mechanical products, computers and semifinished products, clothing and footwear, furniture and building materials, catering products, flowers, trees and fruit.
With Chengdu as a center, BMW, Volvo, Dell and other world-leading companies ship their products abroad via the China Railway Express, said Zheng Quanfengt, head of the administrative committee of Chengdu International Railway Port.