NBA pros bring basketball skills to China youth
By May Zhou in Houston | China Daily Global | Updated: 2019-04-10 00:34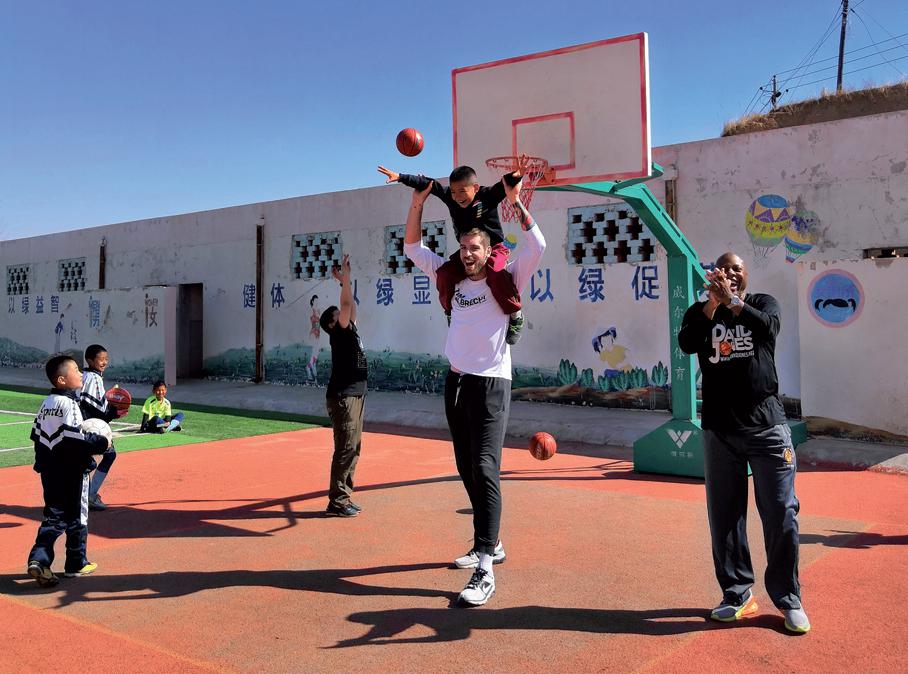 For former NBA players David Jones and Tim Ohlbrecht, the greatest reward from their latest trip to China was to see the children's faces light up, eager and ready to learn some basketball from them.
Invited by Future Sifang Group and Gansu Aesthetic Education Promotion Association, a non-profit organization dedicated to training coaches and children in impoverished areas through working with NBA clubs in the United States, Jones, his daughter Mailee and Ohlbrecht spent a week in early April in China visiting schools to help hone students' basketball skills.
They visited primary schools as well as universities from Beijing to Gansu. Wherever they went, they brought excitement to the students.
Most importantly, they signed an agreement to form Linxia Future Sifang Spurs Basketball Club with the two host organizations, establishing a platform to train Chinese students.
Jones and Ohlbrecht run a basketball training program in San Antonio, Texas, where they have already hosted some of the students from Gansu.
"We have a 'Shooting for Success' program in the United States. We teach boys and girls life skills, basketball skills and planning for their future. Education is always our number one goal," said Jones. "We want to take that to the Chinese kids."
Jones said the general plan is for them to train four to six Chinese coaches who in turn will train the Chinese students.
"The coaches will get a chance to be pushed to a higher level and even be able to train professionals," said Jones.
"I saw in the kids the joy and the excitement," said Ohlbrecht. "They were listening, they really wanted to learn from us, it's great this can happen."
Jones first took his daughter Mailee to China when she was 7 years old. Now she's 21 and helps her father coach the younger students.
"We are learning a bit of the language like 'ni hao', and they get excited and we get connected that way," said Jones.
For Ohlbrecht, this was his second time going to China. He first went 12 years ago at the age of 18 when he was in Beijing for the Olympics.
"It's very special for me to go to China again. I felt like I was Chinese already and I soaked in the Chinese culture," he said. "It made me feel really good and special, I felt very welcome anywhere we went."
Besides teaching kids basketball, they were treated to visits to some cultural sites and samples of a variety of Chinese foods.
"They brought us to places where I never imagined I'd be. They made the trip for me so comfortable, I had a feeling like being in a family," said Ohlbrecht.
Ohlbrecht loved all the Chinese food. He even learned how to make handmade noodles from a local chef.
"I tried every little thing on the table. I was thrilled every time I left the table because it was so good. I am glad to have made great experiences on the court with the kids but also off the court. They are just great memories, hopefully I will make more by going back to China," Ohlbrecht said.
Jones posted some photos of his China visits on WeChat and wrote:
"Having the opportunity to spend time in China and making it my second home is an experience of a lifetime. Thank you China, see you again soon."