Building bridges between China and CEE
China Daily | Updated: 2019-04-11 07:24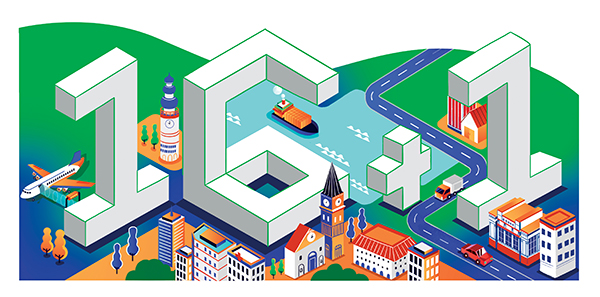 Editor's Note: Premier Li Keqiang will meet with the leaders of 16 Central and Eastern European countries in Dubrovnik, Croatia, on Friday to not only strengthen the 16+1 cooperation framework but also to improve overall China-Europe ties. Six experts share their views on future relations between China and CEE countries and China and the European Union.
16+1 framework can bring Beijing and Brussels closer
Liu Minru, an associated researcher in Central Party History and Literature Institute of CPC
The United States' efforts to reshape international rules to promote US President Donald Trump's "America First" policy have created immense pressure on both China and the European Union. And the divergent opinions of countries on free trade, economic globalization, global governance and other important issues have intensified competitions and distrust among global players including China and the EU.
The basic structure of Sino-EU relations, too, is changing. To begin with, despite its need to cooperate with China on market and technology issues, the EU is worried that using Chinese telecommunications company Huawei's 5G technology could compromise its security. But it is hoped that the EU, especially Western European powers, will change their attitude toward China after they realize the aims of China's development initiatives are to improve connectivity, promote free trade and multilateralism, and address common concerns.
As such, the outcomes of the summit between Premier Li Keqiang and leaders of the 16 Central and Eastern European countries in Dubrovnik, Croatia, on Friday will set the tone for not only China-CEE countries ties but also China-EU relations in the future. And since the summit is being held about two weeks before the second Belt and Road Forum for International Cooperation, it could also influence the forum's agenda and future course of the Belt and Road Initiative.
China and the 16 CEE countries have been cooperating under the 16+1 framework, and promoting multilateralism, openness, reciprocity, mutual benefit and innovation, which have yielded tangible results in sectors such as infrastructure, trade, finance and education. And it is hoped that the cooperation under the 16+1 framework will bring Beijing and Brussels closer and inject new vitality into the Sino-EU partnership. In fact, this thinking is reflected in the theme of the 16+1 summit, "Building Bridges of Openness, Innovation and Partnership".
This year marks the 70th anniversary of the founding of the People's Republic of China, as well as the establishment of diplomatic relations between China and several CEE countries. Over the past 70 years, China has charted new paths and built new bridges in diplomacy-in line with a Chinese saying: When facing difficulties and challenges, we should cut paths through mountains and build bridges across rivers. And how to build a strong bridge connecting China and the CEE countries is the main issue the 17 countries' leaders will discuss.
Balancing Sino-Croatian ties amid competing EU and BRI rules
Kristijan Kotarski, an assistant professor of International Political Economy, University of Zagreb, Croatia
The European Commission and the High Representative of the European Union for Foreign Affairs and Security Policy recently called China a "cooperation partner" as well as "systemic rival" promoting alternative models of governance. By doing so, they have set out an overarching framework for China-Croatia economic and political relations, notwithstanding the fact that China has refrained from promoting alternative models of governance.
This has raised several competing questions for Croatia, as it is a European Union member state as well as one of the 15 EU countries which have joined the Belt and Road Initiative.
It is important therefore to analyze the range of policy options and financial resources available to Croatia as a member of the EU and the BRI. First, the EU's overall funds for infrastructure and economic development offered through European Structural and Investment Funds are much larger and cheaper for the recipient countries, especially since they come in the form of grants as opposed to loans. But those grants are regulated via a clear set of administrative rules, while Chinese diplomacy is more flexible but also more opaque.
Also, investor-state dispute settlement procedures between two EU states are more precise because of the existing bilateral investment treaties, especially if their claims are brought under the auspices of the International Centre for Settlement of Investment Disputes. So the Belt and Road Initiative should have coherent procedures related to investment disputes between China and EU countries.
Besides, EU countries are guided by their adherence to the EU's rules on state aid and government procurement. Now, the EU has added a common screening procedure to assess whether foreign direct investment from third-party countries constitutes a strategic and public security threat.
So it is important for Croatia to boost the EU's common negotiating position so as to ensure transparency, reciprocity and nondiscrimination when it comes to market access and legal security. Only this can lead to fruitful outcomes in the long run: leveraging common resources and boosting economic exchange.
But despite the aforementioned frictions which should be handled within the EU-China negotiating forum, there is a plenty of space for improving Sino-Croatian trade ties through Central and Eastern European countries' joint initiatives, and bilateral summits between Croatian and Chinese leaders.
Croatia's exports to China, however, are still meager, just more than $150 million, while imports total over $1 billion. Croatian stakeholders are also to blame for missing out on the opportunity to cash in on the further opening-up of the Chinese market and not taking joint initiatives with other CEE countries to pool resources.
And although Chinese FDI in Croatia has increased in the past two years, Croatia can still take new measures to attract more FDI, by eliminating red tape and administrative inefficiencies for instance.
Narratives vs actions in EU-China ties
Iulia Monica Oehler-Șincai, a senior researcher at the Institute for World Economy of the Romanian Academy
China has been advocating a community with a shared future for mankind and win-win cooperation on the global front. This has made China's development model gain more and more supporters worldwide, which even the US and the EU have come to realize. China is also building up on its competitive advantages to become a fully developed nation and a world leader in science and technology by 2050.
But despite these facts, many have called the China-proposed Belt and Road Initiative a "debt trap" and the 16+1 mechanism a "Trojan Horse".
The EU wants to deepen trade ties with China, as underlined in the "EU-China-A Strategic Outlook" document issued last month. But since it also sees China as a "systemic rival" promoting alternative models of governance, it can make large concessions only in some areas while making smaller ones in others, and no concessions at all in sectors of national security.
Still, the CEE countries are ready to intensify cooperation with China. Most of the euroskeptics among the CEE countries are trying to evolve and shed their status as dependent market economies and have a stronger voice inside the EU, so they can strengthen trade and investment ties with China.
All the CEE countries participating in the 16+1 mechanism have signed memorandums of understanding with China in order to jointly advance the Belt and Road Initiative. It's true that the 16+1 mechanism needs more substance in terms of implementation of large-scale projects. Even the CEE countries have strong critical voices against China, which cite the difference between the expectations and achievements of the 16+1 mechanism. But more people-to-people exchanges, the China-CEE Investment and Trade Expo in Ningbo, Zhejiang province, and a more intense direct contact with Chinese high-quality and innovative products have already become a reality.
The "new centrality of the Mediterranean" in the global maritime traffic is also due to China's presence in the region. Similarly, the North Adriatic Port Association, Via Carpathia (a planned transnational network connecting Klaipeda in Lithuania with Thessaloniki in Greece), the Three Seas Initiative (a forum of 11 CEE countries and Austria to establish trade connectivity through the Adriatic, Baltic and Black seas), the EU's Danube Strategy and other projects might be better off with China as their partner. China's active presence in the region is not against European unity. On the contrary, China needs a united and prosperous Europe. It is ready to develop infrastructure linkages both on land and at sea, a precondition to economic growth. China, as the "world's factory", has the capability and willingness to also build mental bridges. China's narratives have been always accompanied by constructive actions. This does not mean that it wants to replace the existing partnerships but to complement and even strengthen them.