China, Japan agree to bolster relations
By CAO DESHENG | China Daily | Updated: 2019-04-15 04:07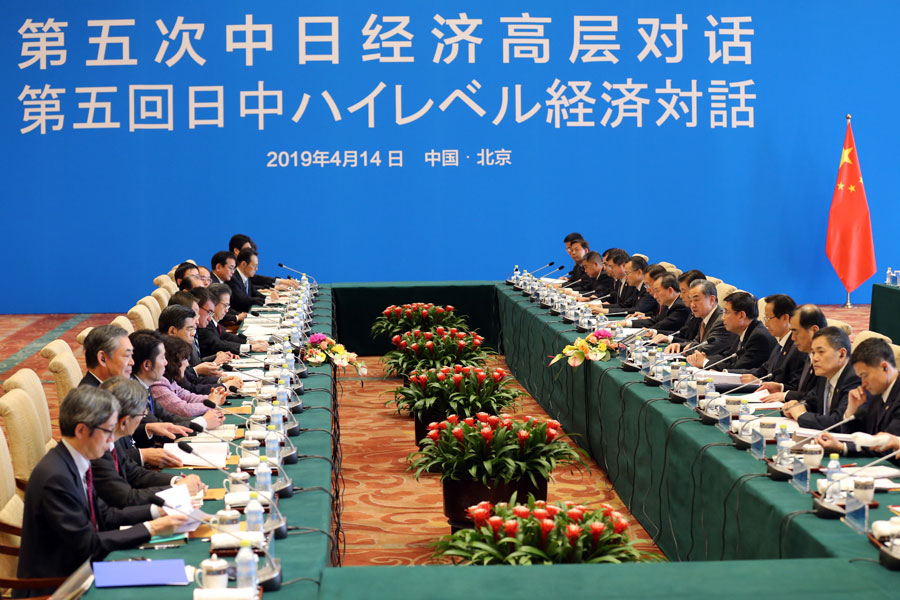 China and Japan reached consensus on Sunday on strengthening ties during a high-level economic dialogue covering issues ranging from trade and investment cooperation to regional economic integration and global economic governance.
State Councilor and Foreign Minister Wang Yi and Japanese Foreign Minister Taro Kono co-chaired the high-level meeting in Beijing on Sunday.
The dialogue, the first one held in China since 2010, also came amid a weakening global growth outlook as the International Monetary Fund said on Tuesday that global growth is projected to decline further to 3.3 percent this year, down from the 3.5 percent it estimated in January.
Wang said in the opening remarks that positive new signs are emerging in bilateral cooperation including in economic areas, which conform to the fundamental interests of the two countries.
Saying profound and complex changes are taking place on the international stage, Wang said China and Japan, as major economies, should work together to provide driving forces for world peace, stability and development.
Wang called on the two countries to strengthen bilateral trade and investment cooperation, jointly build the Belt and Road and actively explore third-party cooperation.
He also called for a conclusion of negotiations at an early date on the Regional Comprehensive Economic Partnership as well as the China-Japan-Republic of Korea Free Trade Agreement to lead the economic integration process of East Asia.
Kono said the two countries should further their economic cooperation to cope with the increasing uncertainties of the international situation, jointly safeguard the rules-based multilateral trading system and strengthen coordination of global economic governance.
The two Asian neighbors have held the economic dialogue since 2007, though there was an eight-year hiatus as relations deteriorated due to their disputes over a number of issues. The dialogue restarted with the fourth round last April in Tokyo.
Relations got back on the right track last year. President Xi Jinping had several meetings with Japanese Prime Minister Shinzo Abe at international gatherings, and Abe paid an official visit to China in October.
The two governments decided that 2019 would be a year of China-Japan youth exchanges. The opening ceremony for this event was held in Beijing on Sunday.
To promote the people-to-people relations, the two countries also plan to arrange mutual visits for 30,000 youths from each other in the next five years.