Fonterra brings Anchor fresh milk to China
By He Wei in Shanghai | China Daily | Updated: 2019-04-16 07:48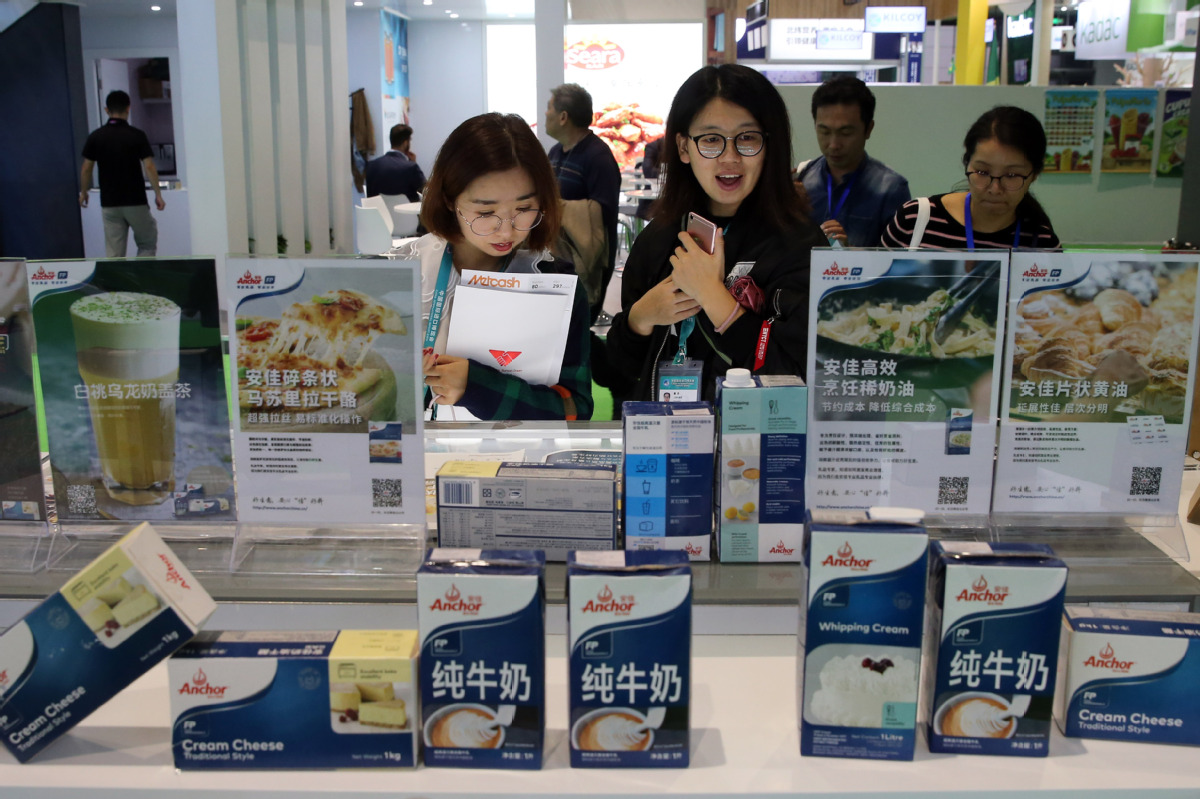 New Zealand dairy giant Fonterra introduced on Monday its fresh milk product to the Chinese market under its iconic Anchor brand, as it is seeks to grab a slice of the country's 200-billion-yuan ($29.81 billion) milk market.
The arrival of indigenous pasteurized milk came over a year after Fonterra launched a co-branded offering with Alibaba's Hema Fresh market, indicating the company's optimism and ambition to capitalize on the fresh milk segment, according to industry experts.
The move aims to meet the evolving preferences of Chinese consumers who shun preservatives in their quest for a healthier lifestyle, said Cao Hui, vice-president of consumer brands for Fonterra China.
"The fresh milk market is projected to enjoy 18.5 percent compound annual growth in the three years starting from 2018," Cao told a news conference in Shanghai. "We strive to ride the consumption upgrade boom as people become more demanding in the taste, nutrition, freshness of dairy products."
Anchor's fresh milk will debut in premium supermarkets such as City Super and mass market chains like RT-Mart in multiple cities across East China, where average dairy consumption is noticeably higher than the national average, according to Xu Desheng, research and development director at Fonterra China.
The first batch of products come in two sizes: 200ml priced at 6.9 yuan and 900ml at 23.9 yuan.
Raw milk will be sourced from two Fonterra-operated dairy hubs in Shanxi and Hebei provinces, which combined generate roughly 1 percent of the country's total raw milk output.
Anchor already sells 100 million liters equivalent of liquid milk products annually in China, including ambient yogurt, dairy foods and adult milk powder, Christina Zhu, president of Fonterra China, told China Daily in an earlier interview.
China is the go-to-market for dairy producers, thanks to its relatively fast annual growth rate and significantly lower annual per capita volume consumption compared with Western economies, according to a research report issued by Mintel last year.
Data from Kantar Worldpanel confirmed such findings. Annual consumption for liquid milk per household has stabilized at 55 liters to 60 liters in the past few years. This is roughly one-fifth of the level in the United States and Europe.
"It's great timing for Anchor, as more consumers believe fresh milk, which contains no preservatives, is healthier and richer in nutrients compared to long-life milk," said Zhao Hui, general manager of Kantar Worldpanel North Region.
At the same time, Zhao pointed to the significantly lower penetration rate of fresh milk compared to other categories, which spells business opportunities.
"For instance, just 31 Chinese people out of 100 have consumed fresh milk at least once a year. The numbers for ultra-high-temperature milk and yogurt are 94 and 86, respectively," he said.
China's fresh milk market, which enjoys a steady 3 to 5 percent annual growth, is led by Shanghai-headquartered Bright Food Group, Beijing-based New Hope Group and Sanyuan Foods.
Albeit being a relative latecomer, Zhao said Anchor's fresh milk stands to benefit from its perceived "premium" brand positioning as more customers choose imported food.
But challenges lie in the penetration into lower-tier cities and townships, where logistics and cold chain facilities pose a challenge. But Zhao said that brands that manage to "utilize technological innovation to tackle these issues" will have a much bigger influence in the fresh milk segment.