Rail link gives a big boost to Kenya tourism
By LUCIE MORANGI | China Daily | Updated: 2019-04-18 08:59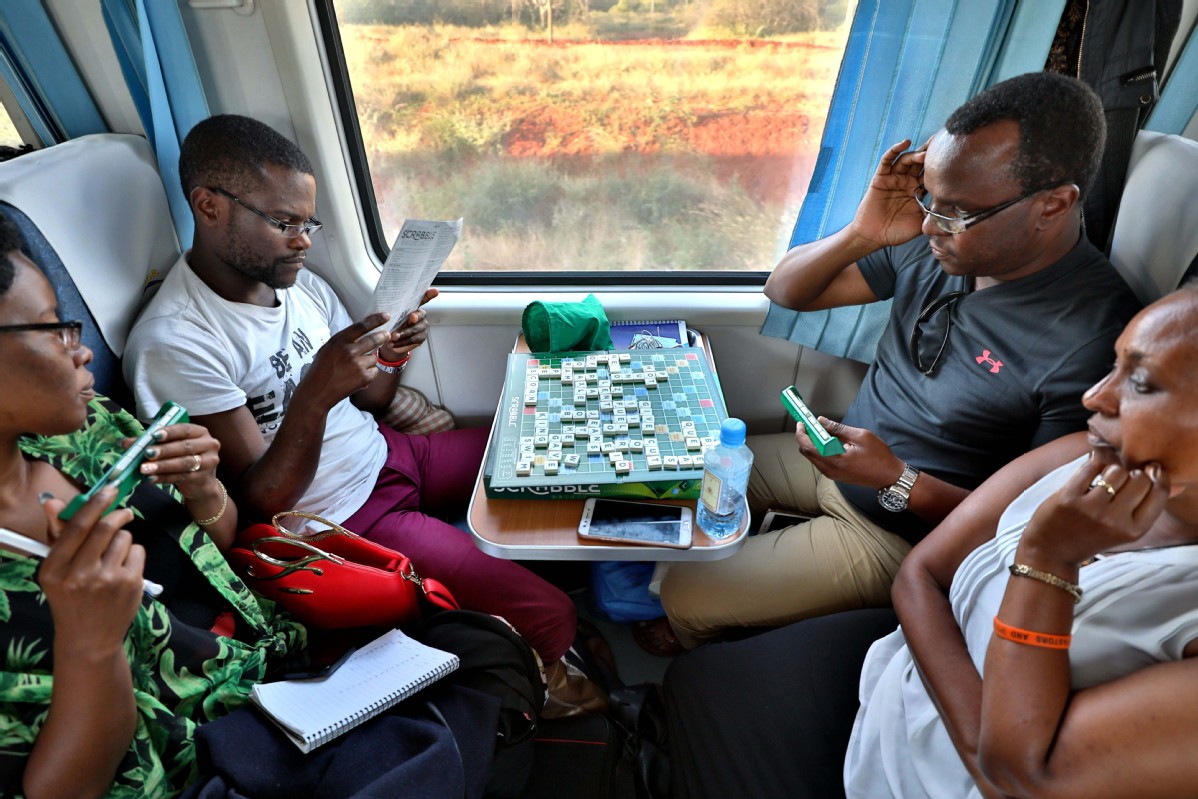 $3.8 billion line is largest investment since country's independence in 1963
Sarah Kabu, the managing director of a travel company in Nairobi, is ebullient about Kenya's Mombasa-Nairobi Standard Gauge Railway.
Passenger demand for the railway, also known as the Madaraka Express, has surged for the days before and after Easter, a major Christian holiday, which falls on April 21 this year.
Some would-be passengers were out of luck when they tried to make reservations-which need to be booked a month in advance-because the railway's online interactive portal indicated the trains were fully booked this week and next.
The railway "is one of the best things that has happened in Kenya", said Kabu, who manages Nairobi-based travel company Bonfire Adventures.
"It shows the government's commitment to revitalize and transform the overall infrastructure network and accelerate economic expansion," added Kabu, whose business was recognized as Africa's leading travel agency during the World Travel Awards 2018.
The company, which has built its reputation by catering to a rising middle class, sees the $3.8 billion infrastructure project as a game-changer for Kenya's tourism subsector.
The Madaraka Express, launched in June 2017, operates four passenger trains daily. By November, it had ferried 2 million passengers.
It is the biggest infrastructure investment since Kenya's independence in 1963 and runs parallel to the railway line built 100 years ago.
The success of the standard-gauge railway rides on its punctuality, safety and efficiency. In addition, its route, which snakes through Tsavo West National Park, gives travelers a glimpse of the country's wildlife and plants.
For passengers, "the cost is affordable, ... so families can confidently plan their whole weekend with no fear of budget overruns", said Kabu.
The biggest beneficiaries are lower-middle-class families, she said. Previously, these families rarely traveled to Mombasa due to high bus fares, and airlines were likewise out of their reach. "Families preferred camping trips in neighboring towns, and spent at least $200 for a weekend," she said.
With the railway, they can now pay as little as $140 for the same amount of time in Mombasa. Tour operators are able to leverage on a high volume of bookings to negotiate discounted hotel prices for their clients.
"Kenyans are mostly traveling over the major holidays, during school holidays in April and December and weekends. Most of them are operating within tight budgets," Kabu said.
She said those using the Madaraka Express account for about 70 percent of her business. She's also upbeat about the prospects for domestic tourism.
"The closure of hotels … has become a thing of the past," she said. "The industry no longer heavily depends on foreign visitors, as the local numbers keep the industry vibrant."
Domestic "bed nights"-the occupancy of one person for one night-were estimated to be about 4 million in 2018, according to the government. Furthermore, there were 32.5 percent more domestic travelers than international arrivals.
The growing uptake is a result of a government campaign to boost domestic tourism and buffer the sector against outside shocks.
The launch of the Mombasa-Nairobi Standard Gauge Railway gave impetus to the campaign.
Bountiful Safaris, based in Nairobi, has also seen a boom in business.
"Six months after the launch of (the Madaraka Express), we filled up three coaches, which translates to about 354 people," said Kelvin Daniel, the travel agency's director.
For the Easter holiday period, about 800 people booked railway tickets through his company, Daniel said.
With competition heating up in the industry, travel agencies find it necessary to distinguish themselves.
Bonfire Adventures, for example, said it has incorporated group transfers into its packages for convenience, by which buses ferry passengers from the Mombasa station to their hotels.
Madaraka Express charges $10 for adults and $3.5 for children for the five-hour journey between Nairobi and Mombasa, compared with buses, which used to charge about $25 for the seven-hour overnight trip, with a trip on the luxury class costing $30.