Reforms make Uzbekistan attractive to investors
By Bakhtiyor Saidov | China Daily | Updated: 2019-04-20 09:17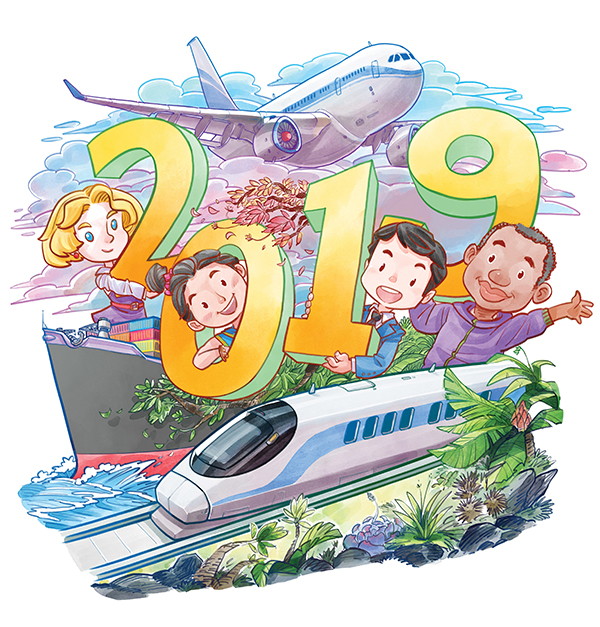 The Republic of Uzbekistan is a large, fast-growing country in Central Asia, and home to almost half of the population of the region-more than 33 million. In terms of economic categories, it is the largest market in Central Asia.
Uzbekistan is located in the heart of Central Asia and shares its borders with all the countries of the region, plus Afghanistan. In other words, Uzbekistan has direct access to a large market with a population of more than 100 million. These factors increase the attractiveness of Uzbekistan for all its economic partners, including China.
And the launch of large-scale reforms, along with President Shavkat Mirziyoyev's active foreign policy, has created new avenues for deeper Uzbek-Chinese cooperation in trade.
Last two years good for bilateral trade
In the last two years, Uzbek-Chinese cooperation in trade and investment has produced qualitative results. At the end of 2018, bilateral trade had reached $6.4 billion, up 35 percent year-on-year, and the number of Chinese companies operating in various sectors of the Uzbek market increased to more than 1,000. Also, Chinese companies' direct investment in Uzbekistan had exceeded $500 million.
Last year, during the Uzbek president's visit to China to attend the Shanghai Cooperation Organization summit in Qingdao, Shandong province, the two sides signed agreements on 46 investment projects worth $6.86 billion, among which $3.11 billion will be direct investment.
The following factors have helped deepen Sino-Uzbek cooperation. First, the personal rapport and mutual trust between the leaders of Uzbekistan and China have played the most important role in strengthening bilateral relations, marked by a comprehensive strategic partnership.
Second, Uzbekistan and China are neighbors whose friendship and cooperation go back thousands of years. No wonder their comprehensive strategic partnership is aimed at deepening long-term multifaceted cooperation based on the principles of equality, mutual respect and mutual benefit.
A natural partner in Belt and Road
And third, that Uzbekistan and China have been working together within the SCO and under the framework of the Silk Road Economic Belt, which is one part of the Belt and Road Initiative proposed by Chinese President Xi Jinping in 2013, has also helped deepen their cooperation. Besides, as an important country along the ancient Silk Road, Uzbekistan is China's natural partner in the Belt and Road Initiative.
In his message to Oliy Majlis (Uzbek parliament), President Mirziyoyev designated 2019 as the year of "active investment and social development", which suggests attracting foreign investment is at the heart of the Uzbek government's economic policy. The president outlined a number of tasks aimed at further improving the investment climate in the country, including creating necessary conditions for further opening up the economy, reducing the state's role in the economy, and continuing to liberalize monetary policy.
Different regions and industries will offer foreign companies certain preferential policies and wider benefits as well as legal help, especially to those foreign companies that invest in free economic zones and small industrial zones. Preference would be given to foreign investors that have established credentials in innovative and high-tech industries and produce export-oriented goods.
S&Ps and Fitch Ratings recognize reform results
The fact that Uzbekistan's reforms have produced positive results has been recognized by even leading international rating agencies such as Fitch Ratings and Standard & Poor's. And to further improve the investment environment, the Uzbek government is working with investment banks such as JPMorgan Chase, Citibank and Deutsche Bank.
Thanks to the active investment policy, Uzbekistan expects to attract $4.2 billion in foreign direct investment in 2019-almost 1.5 times more than last year-which will help put 142 modern enterprises into operation.
China is one of the most important strategic, trade and investment partners of Uzbekistan. Chinese companies' investments in different sectors, which add up to $9 billion, have contributed to the modernization and diversification of the Uzbek economy. The priority areas of cooperation with China are infrastructure building projects, and agricultural, energy, textile and pharmaceutical sectors, because these areas are key to increase Uzbekistan's production and export capacities and thus boost the overall economy.
Platform for direct talks between firms needed
The demand for building integrated high-tech industrial parks and innovative clusters, and free and special economic zones that can produce competitive and knowledge-intensive products is rising, not least because they could accelerate the development of the country's different regions. It is therefore important to build platforms where the business communities of the two countries can directly discuss specific cooperation projects.
Such a platform will also help raise the business community's awareness about the proposed initiatives and projects, including those under the Belt and Road Initiative framework.
In this context, 2018 was a breakthrough year for cooperation on development between the different regions of the two countries, because for the first time the leaders of the 11 regions of Uzbekistan visited China's industrialized provinces and held fruitful discussions with them. The visit led to the signing of $3 billion worth of trade and investment deals between the different parties.
Uzbekistan is also according priority to diversifying its trade and focusing on the quality, not quantity, of the products it sells to China. In fact, last year Uzbekistan supplied some new types of goods to China such as agricultural goods, carpets, and silk products.
Cooperation to build transport networks
Another strategic area of cooperation under the BRI framework is the building of transport networks and transit corridors in Eurasia. It is no coincidence that at the SCO summit in Qingdao, Mirziyoyev said it is Uzbekistan's strategic task to help realize the potential of building transport and transit network.
The ancient Silk Road passed through Uzbek cities such as Tashkent, Samarkand, Bukhara, Khiva and Kokand and served as a transit hub connecting China with Middle East and European countries.
The Belt and Road Initiative, to a large extent, has revived the historical role of Central Asia, and therefore Uzbekistan, as a transport hub. And since Uzbekistan and China are natural partners, the lack of multiple transport and communication networks could prevent them from realizing the full potential of their strategic partnership and fully integrating with the world economy.
New expressway has boosted bilateral trade
True, the railway tunnel through the Kamchik pass in Uzbekistan opened in 2016 thanks to the joint efforts of Uzbekistan and China, but it is not likely to become a strategic section of the emerging Belt and Road routes. Albeit, the opening of the 900-kilometer-long transnational expressway that starts from Tashkent and passes through Andijan in Uzbekistan, and Osh and Erkeshtam in Kyrgyzstan before reaching Kashgar in China in February 2018 has significantly increased the exchange of goods between China and Uzbekistan.
At the beginning of April, Uzbekistan joined the China-Kazakhstan-Turkmenistan-Iran railway corridor, which will reduce by half the time taken to transport goods, especially oil and gas, by sea. With Uzbekistan becoming part of the railway corridor, the delivery time is expected to reduce further. Also, in recent years, talks to begin work on the proposed Uzbekistan-Kyrgyzstan-China railway have intensified.
The implementation of these and other transport projects will significantly increase the geo-economic importance of the whole of Central Asia as an important transit and communication hub between the East and West. And the Belt and Road Initiative will create new strategic opportunities for Asia-Pacific countries other than China as well to conduct trade with Middle East and European countries via the land routes in Central Asia.
Belt and Road forum vital for Central Asian nations
In this regard, the second Belt and Road Forum for International Cooperation to be held in Beijing on April 25-27 is of particular importance, as it will chart the future course of the BRI to the benefit of Central Asian countries, including Uzbekistan.
Uzbekistan was one of the first countries to support President Xi's Belt and Road Initiative, and the cooperation between the two countries under the initiative's framework is equally important for both sides, especially because Uzbekistan has initiated dynamic, large-scale economic reforms, which could benefit China if it uses its huge financial, investment, innovation and technological potential to become Uzbekistan's partner in the reforms.
China is interested in deepening cooperation with Uzbekistan, which is a fast-growing market and historical transportation hub connecting Asia and Europe. And since Uzbekistan, too, is eager to deepen cooperation with China, their comprehensive strategic partnership can only get a shot in the arm under the Belt and Road Initiative framework.
The author is ambassador extraordinary and plenipotentiary of Uzbekistan to China.