Plastic not-so-fantastic
By China Daily | China Daily | Updated: 2019-04-24 07:20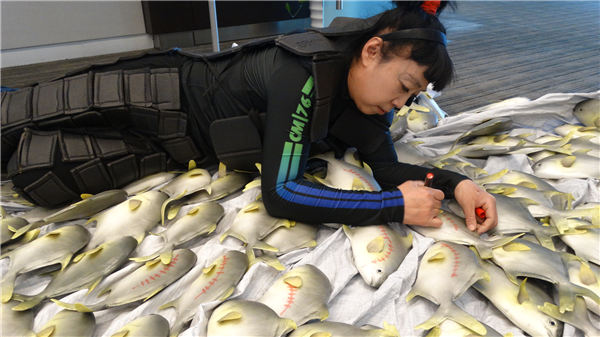 Experts, artists, students and performers raise awareness of the growing pollution threat during Duke Kunshan University's first Water Towns Environmental Film and Arts Festival
Some of the biggest names in the world of conservation and wildlife protection converged in eastern China to attend Duke Kunshan University's inaugural Water Towns Environmental Film and Arts Festival.
Running from April 11 to 14, the event featured 61 independent documentary films from 16 countries, a "trashion" - a portmanteau of trash and fashion - gala and guest lectures by academics, artists, policymakers and designers on topics ranging from smog art and eco-cinema to the zero-waste movement and plastics recycling.
The event officially opened with a red carpet reception for special guests, including Steve Blake, chief China representative of international NGO WildAid, and professor Stuart Pimm, a world-renowned expert on present-day extinctions and efforts to prevent them.
This was followed by a screening of Saving the Porpoise, a movie that follows Chinese pianist Lang Lang as he uncovers the tragic story of Mexico's disappearing vaquita porpoise.
"Movies are not like advertisements. People see a movie on plastics, or one of our films on wildlife, or on climate change, and it really plants a seed. They leave an impression," says Blake, whose NGO targets the illegal trade of wildlife and animal parts.
"It's impossible not to want to change something about your life after seeing some of these films."
Activities on the first three days were held on the university's picturesque campus in Kunshan, Jiangsu province, with an awards ceremony on the final day, held in the ancient Jinxi water town.
Homeland: Stories from Sanjiangyuan, a seven-minute Chinese production about herdsmen helping protect Nyanpo Yuzee National Park, received the Jinxi Prize for best short film, while the award for best student film went to first-year undergraduate Wang Xiaonan for Beryl's One Week, which highlighted the use of plastics in everyday life.
"I was really surprised to win," says Wang, from Wuxi, Jiangsu. "I hope our film can make people pay attention to recycling plastic and reducing plastic in their daily lives."
In addition to movie screenings, students from Duke Kunshan University also took part in a workshop led by Beijing-based performance artist Kong Ning on contemporary "trashion", which involves making clothing from nontoxic, nonorganic household and industrial garbage. They also received coaching from Francis Sollano, an internationally acclaimed fashion designer and artist from the Philippines.