East Africans enjoy benefits of China-built electrified railway
By EDITH MUTETHYA | China Daily | Updated: 2019-04-24 09:27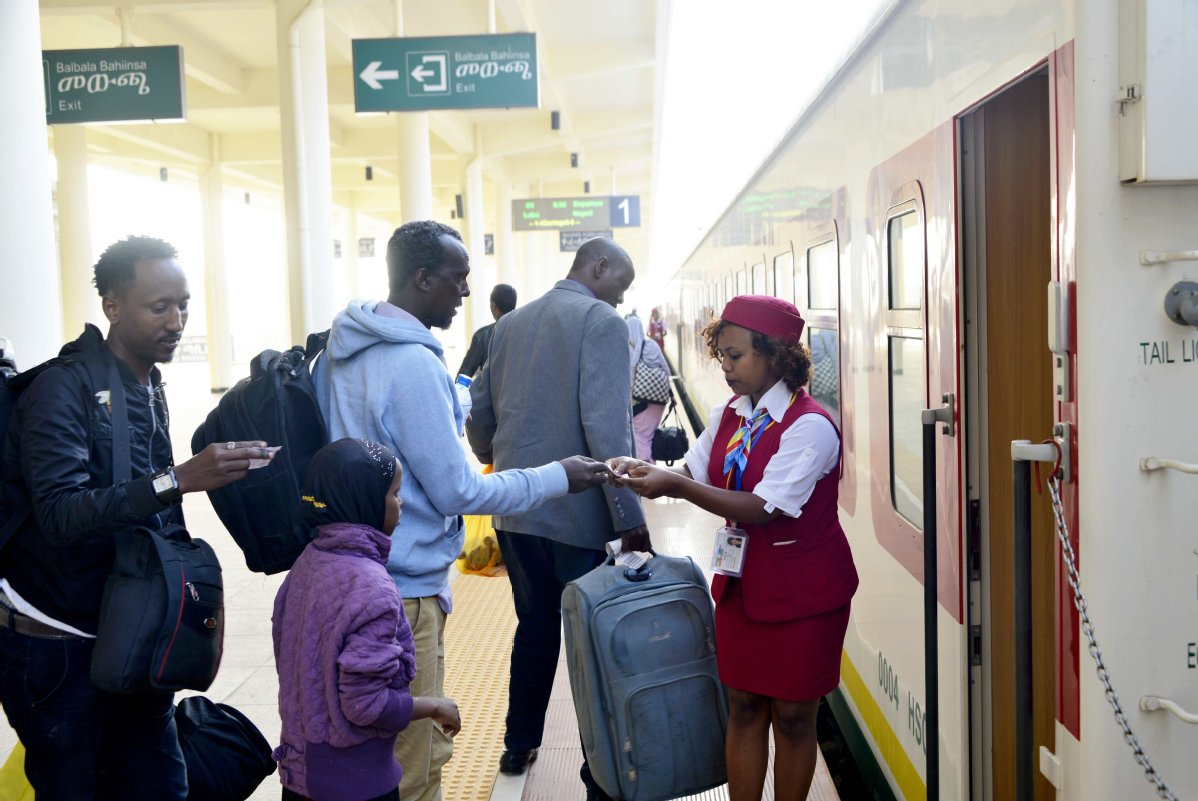 Salamnash Meles used to travel 10 hours by bus to check her business in Dire Dawa, a town 450 kilometers east of the Ethiopian capital of Addis Ababa, where her extended family lives.
Meles, 37, runs a boutique in Dire Dawa and owns a coffee farm in the outskirts of the city. However, she lives in Addis Ababa with her husband and their three children, where she also operates another boutique.
Before the launch of a railway line, she used to travel to Dire Dawa twice per month, meaning she couldn't monitor her business and farm properly.
Because her children made the journey more tedious, she rarely traveled with them, despite their plea to visit their grandparents.
Meles's story is similar to that of Siraj Yawsin, who runs a logistics company in Djibouti. Yawsin found it both expensive and tiresome to travel frequently from Djibouti to Addis Ababa.
He used to board a bus from Addis Ababa to Dire Dawa and spend the night there before riding another bus to Djibouti the following day. "This meant spending extra on accommodation and meals," he said.
Now, the two ride the Ethiopia-Djibouti Railway line, which started operation in January 2018. A train ride between Addis Ababa and Dire Dawa takes seven hours, while the journey from Addis Ababa to Djibouti takes 13 hours.
Both Meles and Yawsin said riding the train is comfortable and affordable. Meles said she now goes to Dire Dawa twice a week.
"The turnover of my businesses has increased significantly since I'm able to monitor it closely. My farm is also doing well than previously," Meles said, but declined to disclose her business returns.
She said it costs her $11 to travel from Addis Ababa to Dire Dawa by train, compared to $12-$14 by road, and more than $70 by flight.
On the other hand, a train ride to Djibouti costs Yawsin $17.4, in comparison to $28 by bus and $120 by flight.
The 756-kilometer track which is the first standard-gauge electrified railroad in Africa, has shortened the journeys between the two countries from 10 days via the old meter-gauge railway built by the French 100 years ago, and two days by road to 14 hours.
The $3.4 billion project, 70 percent funded by the Export-Import Bank of China and 30 percent by the Ethiopian government, was constructed and is currently operated by the China Civil Engineering Construction Corporation Ltd, or CCECC, and China Railway Group Limited.
Muhammed Ahamad, a Djiboutian businessman said the train is fast, affordable, clean, convenient and safer than road transport. Although it was his first time to use the train, he said he would consider traveling via it for his trips to Ethiopia.
"We are grateful to China for constructing the modern railroad. The old meter-gauge one was very slow and uncomfortable," he said.
Job opportunities
While Meles, Yawsin and Ahamad celebrate the Ethiopia-Djibouti Railway for easing their movement, Abraham Fetene and Mesay Diriba are grateful for securing jobs at the railway. They have not only been able to put food on the table but are also honing their skills.
Before the launch of the railway, Fetene was a frustrated jobless man. Despite acquiring entrepreneurship skills from Digital Opportunities Trust Ethiopia, he had no capital to start a business.
Fortunately, he secured a job at the railway as a plan statistician for material and equipment.
His responsibility is to summarize the equipment and material purchasing plan, and supervise and inspect material and equipment.
"Today, I can comfortably cater for my basic needs as well as support my family financially. There is career growth opportunities here and I hope to get sponsorship to pursue master's degree program in China," Fetene said.
Unlike Fetene who was jobless, Diriba worked as a maintenance engineer in a cement company but the job wasn't fulfilling. Today Fetene who works as a team leader and a trainer. He said the job is more fulfilling, there are career growth opportunities and his future looks bright.
Tilahun Sarka, the director-general of the Ethio-Djibouti Standard Gauge Railway Share Company that operates and maintains the Ethio-Djibouti Railways, said the company employed 1,000 Ethiopians, 200 Djiboutians and 700 Chinese.
He said the Ethio-Djibouti Railways has employed Chinese expertise to drive and operate the trains for six years starting last year. Already, 60 local train masters are under training as drivers and operators of the trains.
"Within the next year, they should be fully equipped to start driving," he said.
Lin Xiaohua, the acting deputy manager of the China Railway Group Limited, which operates the railway with the CCECC, said over 1,000 passengers travel by the train per day.
"Both Ethiopia and Djibouti are developing countries, so there is potential for freight cargo growth. We plan to increase the number of cargo freight to seven sets per day within the next few years," he said.