Notre Dame restoration fund raises awkward questions
By Julian Shea in London | China Daily Global | Updated: 2019-04-25 22:14
Critics unhappy at outpouring of help from super-rich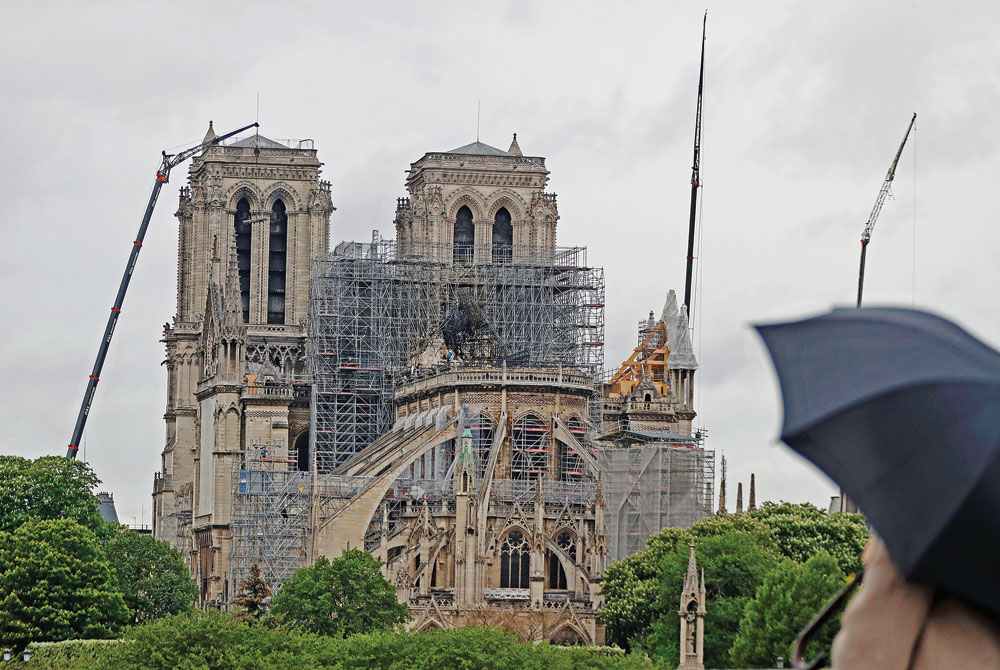 The fund for the restoration of Paris's Notre Dame Cathedral has raised almost 750 million euros ($835 million) in the 10 days since the building's roof and spire were destroyed in a devastating fire, believed to have been caused by an electrical fault–but the nature of the response has caused a major debate in France about the source of much of the funding.
Significant amounts of money have been donated by members of the public, and there have been some suggestions that final total reached may even surpass the amount needed to restore the 856-year-old symbol of the French capital.But the contribution of major companies and philanthropists has drawn some criticism.
In the immediate aftermath of the fire, Francois-Henri Pinault, CEO of the Kering group that owns luxury fashion brands Gucci and Yves Saint Laurent, pledged 100 million euros.
France's richest man, Bernard Arnault, who is head of the LVMH group that owns Dior, Louis Vuitton and other internationally known labels, pledged 200 million euros, saying "The Arnault family and the LVMH group would like to show their solidarity at this time of national tragedy, and are joining up to help rebuild this extraordinary cathedral, which is a symbol of France, of its heritage and of French unity."
Understandably, groups connected to the restoration project are delighted by the response. "We should not tell people to stop donating as we still don't know how much it is going to cost," said Laurence Levy of French heritage group Fondation du Patrimoine.
One estimate of the cost by France's union of construction economists put the figure at around 600 million Euros.
"The cost is (a minimum of) around 300 million euros and the high level is around 600 million euros but we need to have two or three months to have the right cost," union president Pascal Asselin told the BBC, but with the value of the artwork involved, others have estimated the figure could be far above that.
Coming so soon after the months of nationwide yellow vest protests, however, which highlighted a variety of political causes including tax reform, the outpouring of money has provoked some criticism.
Protest leader Ingrid Levavasseur said she was unhappy with "the inertia of big corporations over social misery while they are showing themselves capable of mobilizing a crazy amount of cash overnight for Notre Dame."
The leader of France's biggest trade union, the CGT, was similarly critical. "Now understand that there are billionaires who have huge amounts of money and in one click put 200m, 100m on the table. It shows the inequalities in this country, which we regularly demonstrate against," said Philippe Martinez.
Homelessness campaigners have also protested at the response, setting up camp outside the cathedral with signs saying "Notre Dame is without a roof, so are we."