Analysts upbeat on Russia-DPRK summit
By Pan Mengqi in Beijing and Ren Qi in Moscow | China Daily | Updated: 2019-04-26 07:01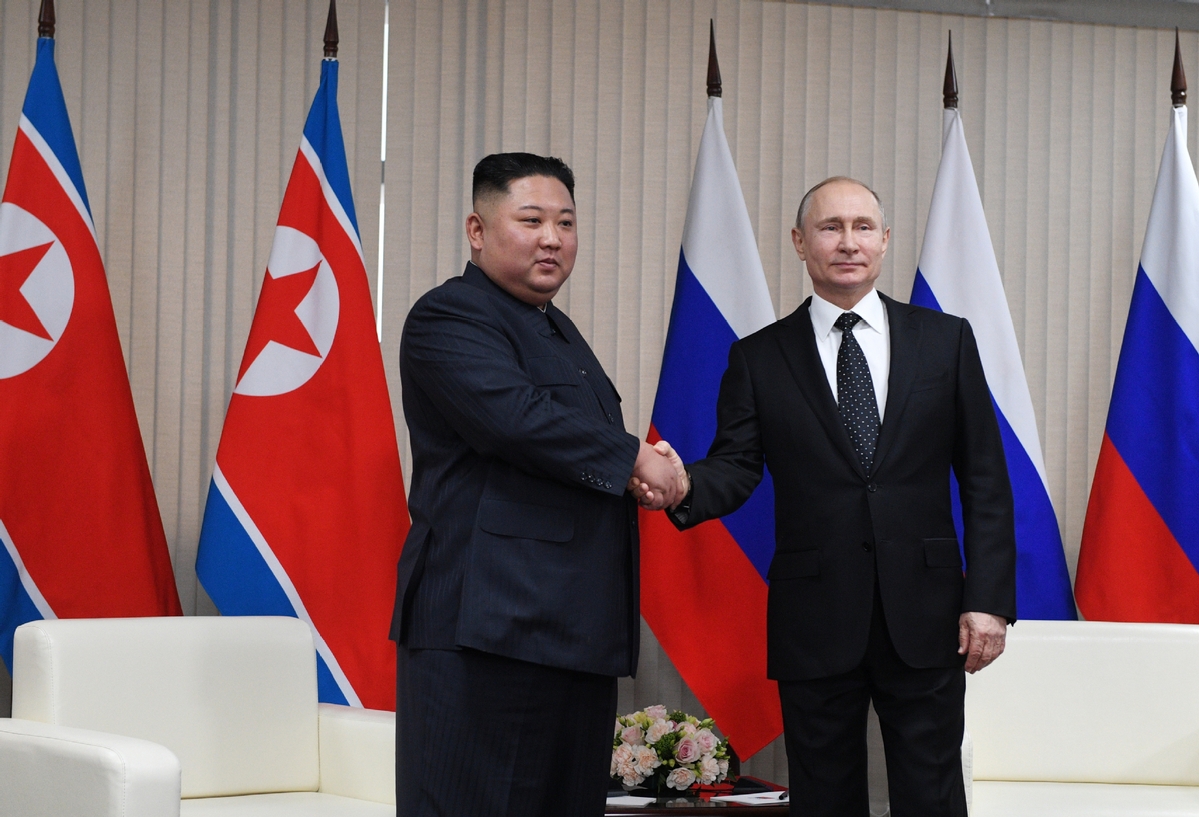 The much anticipated Russia-DPRK summit is seen as a possible chance to break the deadlock in denuclearization talks, ease Pyongyang's sanctions pressure and catalyze a new drive for economic development in the region, analysts said.
On Thursday, Russian President Vladimir Putin met Kim Jong-un, top leader of the Democratic People's Republic of Korea, at Far Eastern Federal University in Vladivostok, Russia, with peaceful resolution of the Korean Peninsula's nuclear issues topping the agenda.
The summit was the first between the two leaders since they took office.
Putin and Kim shook hands and shared smiles before heading into one-on-one talks that lasted nearly two hours, longer than expected, according to the Republic of Korea's Yonhap News Agency.
In brief statements before their meeting, the leaders said they were looking to strengthen ties that date to the era of the Soviet Union's support for the founder of the DPRK, Kim's grandfather, Kim Il-sung, Yonhap reported.
Kim said that the summit with Putin would be "meaningful" for joint efforts to address Korean Peninsula issues. Putin said he is "in full support" of ongoing efforts for inter-Korean dialogue and for improved relations between the DPRK and the United States.
The leaders discussed topics aside from nuclear issues, including security in Northeast Asia, economic cooperation and bilateral ties.
The meeting comes two months after a second summit between Kim and US President Donald Trump, in Hanoi, Vietnam, which ended without agreement and with differing explanations for their failure to make progress on denuclearizing the peninsula.
Since that summit, Kim has been trying to strengthen relations with Pyongyang's traditional allies, said Li Chengri, a researcher at the Chinese Academy of Social Sciences. Li said that shows how Pyongyang is looking for alternatives for support and calling for flexibility in Washington's tough stance since negotiations stalled.
Sergei Luzyanin, director of the Institute for Far Eastern Studies of the Russian Academy of Sciences, said Moscow and Pyongyang share a position on denuclearization issues, as both are in favor of a phased, incremental approach to nuclear disarmament. "Thus the summit will be an opportunity for Pyongyang as Moscow can leverage its influence to help ease Pyongyang's anxiety from a failed summit with Washington."
Luzyanin also noted that denuclearization requires joint efforts of both the DPRK and the US. "While the DPRK should give up its nuclear weapons, the US should also make corresponding efforts such as reducing US military forces and facilities stationed in the ROK," he said.
The two leaders also discussed economic cooperation, Moscow's humanitarian aid to Pyongyang and the prospect of three-way economic projects involving the DPRK, ROK and Russia, Russia's Tass News Agency reported.