Ancient mighty Hittite Empire in Turkey reborn as popular tourist attraction
Xinhua | Updated: 2019-04-26 08:50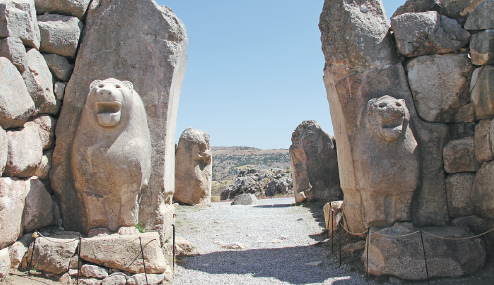 Turkey's Anatolia is, from the beginning of human history, a crossroads for many civilizations, the most significant of which are the Hittites whose glorious capital Hattusha was the heart of a powerful empire 3,000 years ago.
The Hittite Empire in the late Bronze Age was one of the civilizations that played an important role in the development of urban life. Hattusha, once an impressive city, lies near modern Bogazkale in Turkey's central province of Corum.
The ancient city is now a popular tourist attraction in Turkey. During the reign of the Hittite Empire, Hattusha played a critical role as the capital and the center of this powerful empire.
"Hattusha is located in a strategic location, near the Kizilirmak River, a source of life, and thus has been used as the capital for centuries by the Hittites," said Metin Cakar, director of Corum museum.
The museum hosts numerous artifacts of the Hittites who occupied Anatolia between 1700 BC and 1200 BC and expanded their territories into an empire stretching from Anatolia to Syria.
With an astounding role in history, the Hittite Empire fought the powerful Egyptian Empire in the battle of Kadesh, almost killing the Pharaoh, Ramesses the Great.
Later the empire signed what is considered the world's earliest peace treaty, the treaty of Kadesh in their Indo-European language on cuneiform tablets.
Hattusha is an official "Historic National Park" recognized by Turkish Culture and Tourism Ministry. With 6-km-long walls, monumental doors, 71-meter-long underground passages, a Hittite palace, 31 recently excavated temples, and an open-air theater, the city is a real tourist and archeological feat.