Xi congratulates Japan's new emperor
By Wang Xu in Tokyo | China Daily | Updated: 2019-05-02 10:33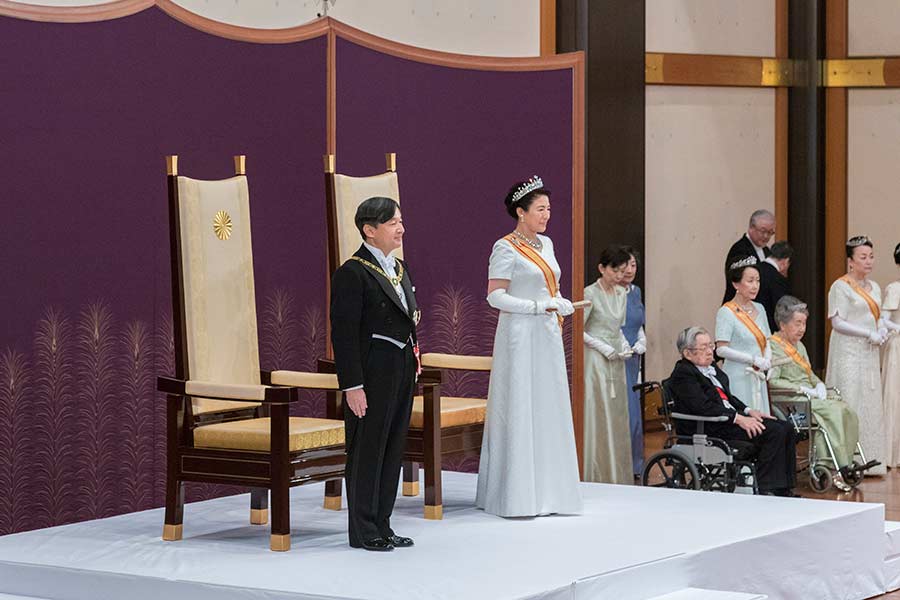 Naruhito vows to follow his father Akihito's example and to pursue peace
President Xi Jinping on Wednesday congratulated Japan's new Emperor Naruhito on his succession to the throne.
In a congratulatory message, Xi said China and Japan are close neighbors with a long history of friendship. The two countries should make joint efforts to promote peace and development and work toward a bright future for bilateral ties, he added.
Also on Wednesday, Xi conveyed greetings and good wishes to Akihito, father of the new emperor, in a separate message following his abdication.
On Wednesday, Japan entered the era of Reiwa, or "beautiful harmony", as Naruhito received the imperial regalia and seals.
In an address to the people, Naruhito pledged to follow his father's example in devoting himself to peace and sharing the joys and sorrows of the people, while showing compassion.
"I will reflect deeply on the path taken by past emperors and abide by the Constitution to fulfill my responsibility as a national symbol," he said, adding that he will always turn his thoughts to the people and stand with them.
Yesterday was the last day of the era called Heisei, or "achieving peace". Japanese people cried, prayed, traveled and shopped on their unprecedented 10-day holiday.
On Tuesday, 85-year-old Akihito relinquished his title, making him the first Japanese monarch in 200 years to step down.
As the country's first emperor living under the post-war Constitution, Akihito is widely revered for healing the wounds brought by Japan in the World War II and bringing the imperial family closer to the people.
Many Japanese would say Akihito, Naruhito's father, did maintain peace during his 30-year-reign, as his era name aspired to. His final message to his people reiterated that theme: "At this moment, I just pray for peace and happiness for our country and the world." However, there are people worrying that the emperor's pacifist efforts had been offset by Japanese government's reflection on the war and seeking military expansion.
"I'm really moved and can't stop crying when the emperor said his last hope for the country is to pray for peace and happiness," said Nobuichi Takahashi, who had tried to keep his wartime memories locked away for many decades.
In the final days of World War II, Takahashi, now 86, lost his father and watched his cousin burned alive by incendiary bombs and can't forget how he had struggled to flee over people's dead bodies.
Working as a lecturer for an antiwar civil organization, Takahashi hopes that he can convey the cruelty and horrors of war to young Japanese who don't have a clue on what a war is.
"Children today don't know enough about the war, the education they received was censored and minimized the Imperial Army's actions. If they don't understand how cruel a war can be and how people suffered from it, they may follow a mistaken path again," Takahashi told China Daily after giving a speech at Kanagawa Residents' Center in Yokohama.
In the name of Akihito's father, Hirohito, Japanese troops fought the war, bringing huge losses to countries including the United States, China and many other Asian neighbors. In contrast, preventing Japan from forgetting the war has been a consistent priority of Akihito.
He traveled to China, Indonesia, Malaysia, the Philippines and Vietnam, all the places that had suffered from Japan's invasion. At every stop, Akihito paid tribute to the war victims, spoke of peace and promised his nation would never repeat the horrors of war.
Takahashi said he admired Akihito's efforts as it rehabilitated Japan's reputation abroad, but he also worried what the emperor did had been largely offset by some Japanese conservative politicians who derided Akihito's "apology tour", arguing that Japan had apologized enough.
"I think people can know they were really sorry for what Japan's imperial army had done when the emperor and empress bowing for the war victims," Takahashi said. "His words of not repeating war is in line with his sincerity when he apologized and that's why he was respected by the world."
"However, some politicians didn't appreciate it the same way," Takahashi said.
The mission of Japan's Self-Defense Force significantly expanded during the Heisei Era. From its first overseas operation to the Persian Gulf in 1991, SDF are allowed to fight in foreign conflicts in 2015, and started to take part in missions outside the United Nations this April.
"Many say the expansion will continue until Japan is a normal country," Takahashi said, "if it were true, that will be too sad because it means all the efforts by Emperor Akihito had been undone."
For Kotai Odajima, Heisei was a time of shocking disasters and economic stagnation. Odajima said he loves and respects Emperor Akihito a lot because he always reached out to the people when the country suffered disasters.
"Many disasters occurred during Heisei such as the Great Hanshin earthquake in 1995, the sarin gas accident in Tokyo in the same year, and the massive earthquake and tsunami in northeast Japan in 2011," Odajima said.
"The Emperor always showed up during hard times, kindly reached out to the people. It makes me feel he is very close to us."