UK considers Brexit trade deal compromise
By Jonathan Powell | China Daily Global | Updated: 2019-05-02 21:22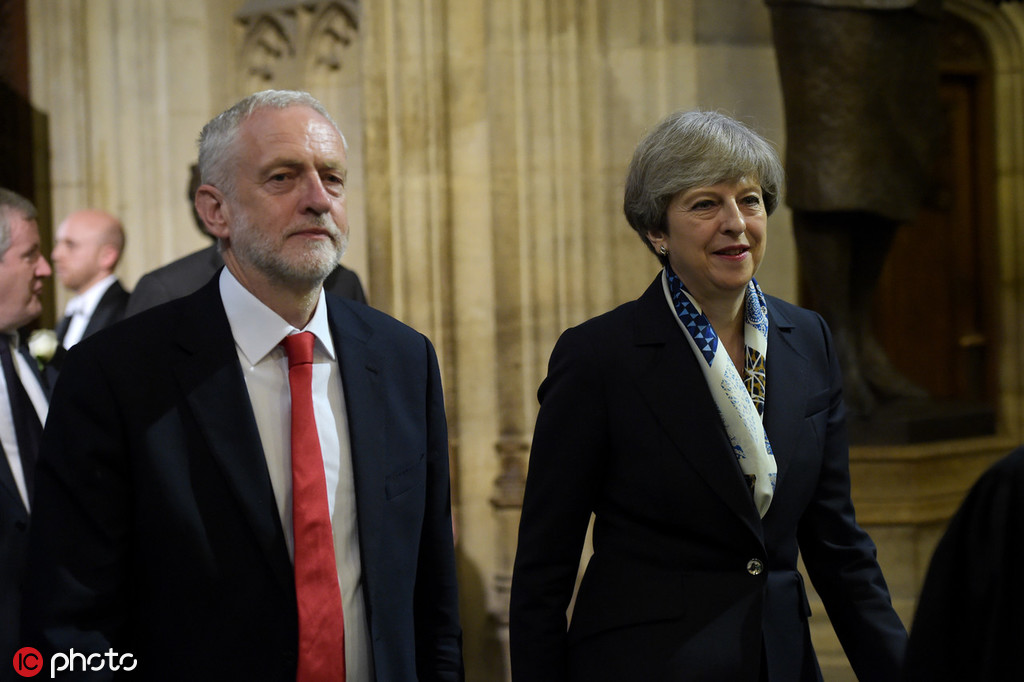 British Prime Minister Theresa May is considering a plan that would keep the United Kingdom inside the European Union's tariff wall in order to secure a Brexit deal with the opposition Labour party.
The potential deal could satisfy Labour demands for Britain to stay within the bloc's customs union. It would limit the country's ability to do trade deals on goods but allow it to make agreements on services, the Financial Times reported.
There are signs of progress in cross-party negotiations, now in their fourth week, with ministers insisting their aim is to get Parliament's approval for the term's of the UK's exit from the EU by May 22, so the country does not have to take part in elections to the European Parliament a day later.
May hopes to secure a deal with leader of the opposition Jeremy Corbyn, by accepting Labour's key concession on the customs union. The potential plan might propose freedom to do trade deals in some areas but not others.
On Wednesday, the prime minister insisted to UK lawmakers that she wanted to maintain an "independent trade policy" after Brexit but her supporters said that this didn't necessarily cover the entire British economy.
However, the potential agreement with Labour has split Cabinet ministers, who have doubts that such a deal could be voted through in Parliament.
Foreign Secretary Jeremy Hunt aired concerns on Tuesday that a deal with a customs union would still not secure a majority. "Personally I think a customs union is a bad policy," he said.
However, on Wednesday, Corbyn's team said the prime minister seemed willing to move on Brexit. "We have seen clear evidence the government is prepared to explore shifts in its position," a Labour spokesman said.
Meanwhile, investment funds based in the UK lost 30 billion pounds ($39bn) in the year to the end of March amid Brexit uncertainty, the Financial Times reported.
Brexit uncertainty prompted investors to spurn UK assets and shift money to EU-regulated products.
New research by Morningstar, a data provider, shows that funds in the UK were hit hard by the Brexit unease.
Bhavik Parekh, associate analyst for manager research at Morningstar, told the FT: "In the months leading to the deadline, investors and fund (managers) became increasingly worried over the impact of an unfavourable deal and its negative implications."
The report said outflows were partly driven by investors culling their exposure to asset classes vulnerable to Brexit shocks, such as UK companies. UK equity income funds — a longstanding investor favorite — bled 3.1 billion pounds over the year to the end of March. Another asset class hit by the Brexit unease was property. Some 2.1 billion pounds flowed out of UK property funds over the 12-month period.