Easier access to scenic spots in Huangshan, Hangzhou
By ZHU LIXIN | China Daily | Updated: 2019-05-04 10:07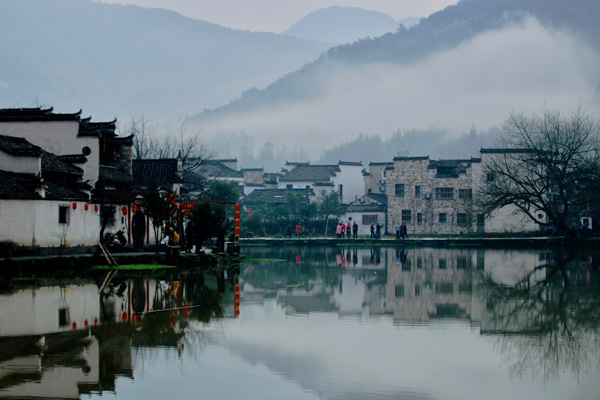 During my recent visit to Hongcun village, a UNESCO Cultural Heritage Site in Huangshan city in East China's Anhui province, there were barely any vacant rooms in the family inn run by Wu Qing.
Wu, 31, rented the houses, which are about 200 years old, from three local villagers last year and renovated them, making 25 rooms available to tourists.
At breakfast in the dining room, some people were heard recalling the breathtaking scenery they saw on Huangshan Mountain, more widely known as Yellow Mountain, and were talking about their trip to Qiandao Lake, or Thousand Islands Lake, in Zhejiang's provincial capital Hangzhou.
Hongcun is known for its history and the preservation of residences built in the Ming (1368-1644) and Qing (1644-1911) reigns.
The houses are typical Huizhou-style architectural marvels with delicate carvings on wood, brick and stone, and a large number of them were built by Huizhou merchants in ancient times. Huizhou was the old name of Huangshan.
Huangshan Mountain, listed as a UNESCO cultural and natural heritage and World Geopark site, boasts spectacular landscapes thick with vegetation and lofty peaks.
There is a saying that people who have been to Huangshan Mountain will not want to visit any other mountain.
Qiandao Lake was formed during the construction of the Xin'an River Reservoir in 1959 and it is now a well-known scenic spot thanks to its beautiful landscape.
Earlier, visiting these places was time-consuming, as the bus or car journeys would take hours.
But with the opening of the Hangzhou-Huangshan high-speed rail line in December 2018, visiting the tourist attractions in the two cities has become more convenient.
The 287-kilometer line, with a speed of 250 kilometers per hour, connects popular tourism zones, including seven State-level 5A-rated ones in Hangzhou and Huangshan city in Anhui province.
The spots in Huangshan include Huangshan Mountain, the Ancient Huizhou Cultural Tourism Zone, the Xidi and Hongcun villages jointly listed as a UNESCO World Heritage site and the Longchuan ancient town. The Hangzhou spots include West Lake, Xixi Wetland National Park and Qiandao Lake.
According to Lvmama, an online travel service provider headquartered in Shanghai, the line has carried more than 1.5 million passengers in the first 100 days after its launch on April 3.
The number of tourists who visited both Huangshan and Hangzhou in the course of a single vacation also climbed 13 percent in March compared to the same period in the previous year, according to the company.
There are usually 28 bullet trains in operation between Hangzhou and Huangshan daily, while during the four-day May Day holiday, there will be as many as 31.
zhulixin@chinadaily.com.cn