New rail line lures mainland travelers to Hong Kong's sights
By ZHENG CAIXIONG | China Daily | Updated: 2019-05-04 10:11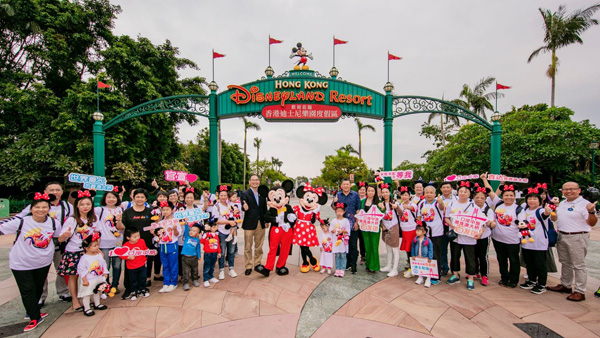 For Lin Shaobin, the Guangzhou-Shenzhen-Hong Kong Express Rail Link, or XRL, that started operation last September is pushing him to visit Hong Kong, a shopping paradise, more frequently.
The travel enthusiast from this Guangdong provincial capital says his family plans to visit the Hong Kong special administrative region during the coming May Day holiday, beginning May 1.
"In addition to shopping, I want to take my 10-year-old daughter to Hong Kong Disneyland and Ocean Park," says the 38-year-old, who is now employed in a foreign-funded company in Guangzhou.
"My primary school-going daughter has been longing to visit the two major parks in Hong Kong, and now is the right time," he says.
"With the XRL, it takes only 47 minutes to reach Hong Kong from Guangzhou by train, and there is a flight operating between Guangzhou and Hong Kong, which takes less than 30 minutes," he adds.
The 141-km XRL includes 115 km in Guangdong province and another 26 km in the Chinese SAR. And it has been designed to reach a speed of 350 km an hour in the mainland section and 200 km an hour in the Hong Kong section.
The XRL that starts with Hong Kong's West Kowloon Station includes five other stations in the Shenzhen special economic zone, Dongguan's Humen town and Guangzhou's Nansha district before it terminates its run at Guangzhou South Railway Station in Panyu district.
And it takes only 14 minutes to arrive in Futian station in Shenzhen from Hong Kong's West Kowloon Station.
Lin says the XRL offers him more opportunities to visit Hong Kong as it provides a quick, comfortable and convenient option for commuters between Hong Kong and Guangdong.
"The XRL will certainly help draw more tourists from home and abroad to visit attractions in the cities, districts and towns on the route," he says.
The Yuyin Ancestral Garden and the Keyuan Garden, located in Guangzhou's Panyu district and Dongguan city, respectively, are two of the four famous Lingnan gardens in Guangdong province that reflect a unique design style popular during the Ming (1368-1644) and Qing (1644-1911) dynasties.
The Yuyin Ancestral Garden was designed in 1864 and it was built by local official Wu Bin who hired famous artisans to create a garden like the famous ones in East China's Suzhou and Hangzhou cities.
An arched and roofed bridge divides the garden into two parts.
The western part is centered around a square lotus flower pond while a pentagonal waterside chamber is the focus of the eastern part.
Pavilions, ponds and halls are distributed throughout the garden, which also features a winding corridor, an arched bridge, flower paths, artificial hills and verdant trees, all fusing together to create a seemingly endless vista of beauty.
As for the Keyuan Garden, it was first built in 1850. The finely designed garden combines buildings and courtyards into an integral whole. The garden's 2,000 square meters of space holds about 20 scattered structures, including pavilions, chambers, halls and a surrounding corridor, all laid out in such a way that the smaller structures are contained within the larger ones.
Shenzhen has also long been known for its beautiful beaches, subtropical natural scenery and large theme parks.
zhengcaixiong@chinadaily.com.cn