Experience a volcanic paradise in Mudanjiang
By TAN XUEFEI and ZHOU HUIYING | China Daily | Updated: 2019-05-04 10:14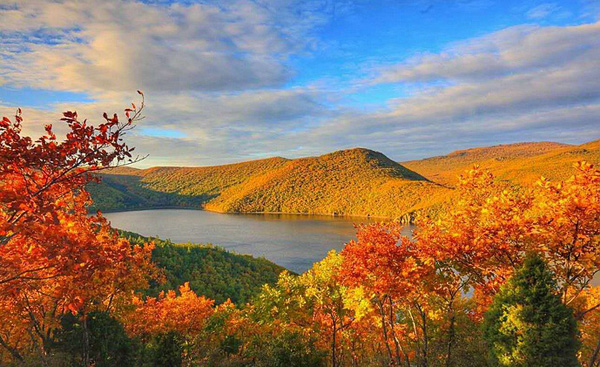 Since the Harbin-Mudanjiang high-speed rail line began operating in December 2018, it has carried over 2 million passengers.
The 300-kilometer high-speed link, designed for trains running at speeds of up to 250 km per hour between Heilongjiang provincial capital Harbin and Mudanjiang city, has cut travel time to 88 minutes from five hours.
Its 11 stops include famous tourist destinations in the province, such as Hengdaohezi, the Mao'er Mountain and Yabuli, one of the most famous skiing resorts in the country.
Mudanjiang itself contains one of the top attractions-the Jingpo Lake National Geopark.
Listed by the United Nations Educational, Scientific and Cultural Organization as a global geopark and dubbed a "volcanic museum" in China, the geopark is home to abundant geo-heritage.
Developed around the Jingpo Lake, the 1,400-square-kilometer park is divided into two themed tourist areas and seven geological relics areas, including the Crater Forest, Lava River, Waterfall and Mountain Villa, Jingpo Lake, Lava Mesa, Xiaobei Lake, Toad Pond and cone-shaped volcano spots.
There are 16 craters in the park, with some of them well preserved and open to visitors.
Tourists visiting the park can also see stalactites and other colorful, intricate lava structures in the cave. The underground lava waterfall is particularly beautiful.
In addition to the lava and volcanoes, there are also a number of lakes in the park, such as Jingpo Lake, Xiaobei Lake, Zhuanxin Lake and Yuanyang Pool, as well as the stunning Diaoshuilou Waterfall.
Jingpo Lake stretches 45 kilometers long and covers an area of nearly 80 square kilometers.
It is originally a branch of the Mudan River but was blocked by magmatic rock from a volcanic eruption about 10,000 years ago and then became a lake.
The lake is about 40 meters deep, and is home to many fish, such as giant crucians, sturgeon and red-tail fish.
The Diaoshuilou Waterfall flows through limestone cliffs before cascading 20 meters into Heilong (Black Dragon) Pool. It is 70 meters wide on average.
The waterfall was formed by the collapse of lava and the erosion of rivers and streams. It is one of the top six waterfalls in the country, along with Huangguoshu Waterfall in Guizhou province, Hukou Waterfall along the Yellow River, Nuorilang Waterfall at Jiuzhaigou in Sichuan province, Wenlong Waterfall in Taiwan and Sandiequan Waterfall at Lushan Mountain in Jiangxi province.
Although it seems a little cold during the May Day holiday in Mudanjiang, tourists can enjoy azalea and apricot blossoms around the charming Jingpo Lake. The flowers bloom on the hillsides, roadsides and even in the gaps between volcanic stones, forming a unique landscape.
It takes about only 20 minutes by high-speed train to get from Mudanjiang to Hengdaohezi town where the Siberian Tiger Park, one of the largest breeding centers of the tiger subspecies in the world, is located.
There, visitors can see different animals, ranging from tigers, lions and leopards to bears and peacocks. They can also hop onto a special bus to watch tigers playing with each other in the meadows.
The Siberian tiger, which is listed as endangered on the International Union for Conservation of Nature Red List of Threatened Species, once roamed freely throughout Northeast China, Russia's Far East and Mongolia.
About 24 pairs of trains operate between Harbin and Mudanjiang every day, according to the Harbin railway authorities.
A first-class ticket on the trains costs 178 yuan and a second-class ticket is 111 yuan.
Contact the writers at zhouhuiying@chinadaily.com.cn