Abe praises outgoing Chinese ambassador
By WANG XU in Tokyo | chinadaily.com.cn | Updated: 2019-05-08 14:45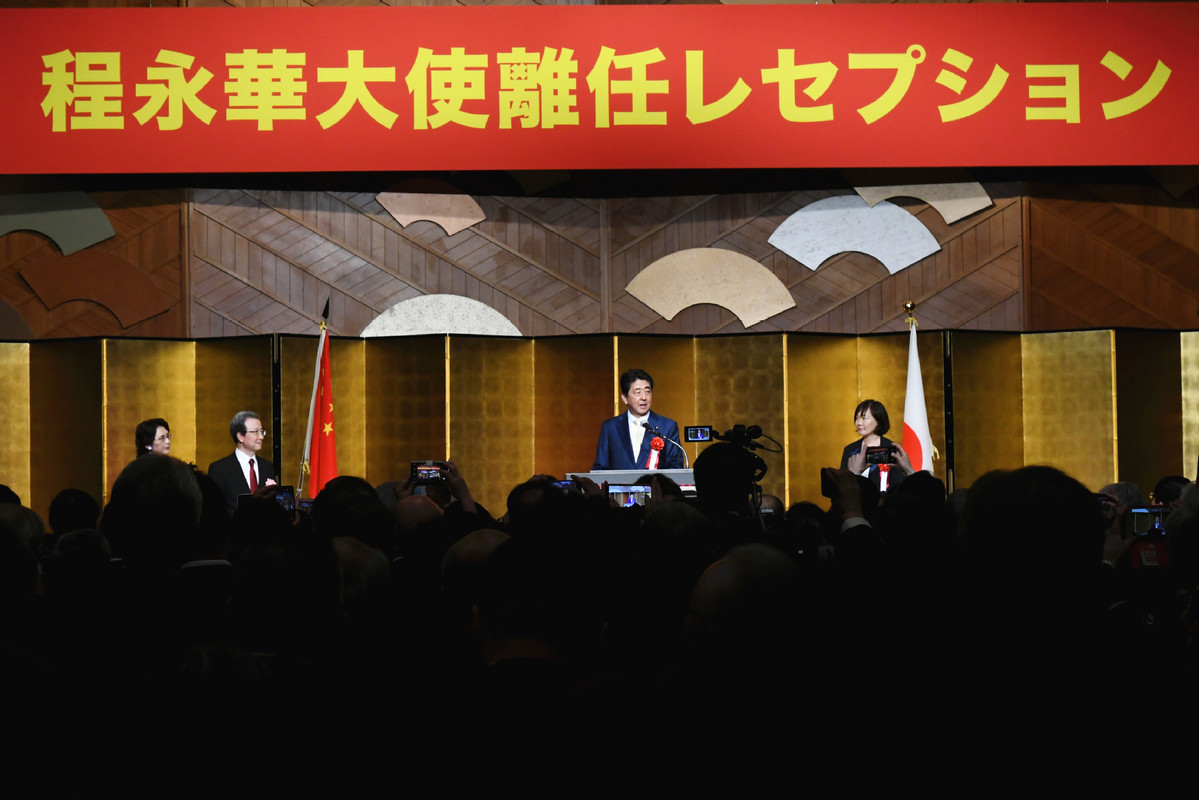 Japanese Prime Minister Shinzo Abe praised top Chinese envoy's work in improving Japan-China relations and thanked him for playing an active role "when the two countries face difficult situations" on Tuesday.
Abe made the remarks at a reception held in Tokyo for Cheng Yonghua, Chinese ambassador to Japan, who is leaving Japan soon after being ambassador to Japan for more than nine years.
"Ambassador Cheng, using his fluent Japanese and wide range of personal connections, has made great contribution to the development of Japan-China relations even when the two countries face difficult situations," Abe said, adding that he wants to push the Japan-China relationship into a new era as "competition transforms into coordination".
Cheng said the happiest thing for him as ambassador was that "China-Japan relationship returned to the normal track after passing the most difficult period since the normalization of diplomatic relations".
"Peace, friendship and cooperation between China and Japan have once again began their journey and will continue to make progress. And that makes me feel secure as I leave," Cheng said.
Among the first batch of students to study abroad since the founding of the People's Republic of China, Cheng came to Japan in 1973 and has lived and worked in the country for more than 30 years.
Having visited all of the 47 prefectures in Japan, Cheng's tenure is also the longest among Chinese ambassadors to Japan since Beijing established diplomatic relationship with Tokyo in 1972.
During Cheng's tenure, China-Japan relationship saw many twists and turns, including the 2012 Diaoyu Islands dispute which brought the bilateral ties to a freezing point.
Chen said the importance of Sino-Japanese relationship will not be changed by anyone who likes or hates the other country and he is confident that the mutual understanding will improve in the future through dialogues.
"I have fully experienced the beautiful scenery of Japan and its culture of different places that have deep ties with China," he said, "although sometimes our opinions are not completely the same, we can gain people's understanding and trust through dialogues."