Uber closes below offering price
By SCOTT REEVES in New York | chinadaily.com.cn | Updated: 2019-05-11 01:00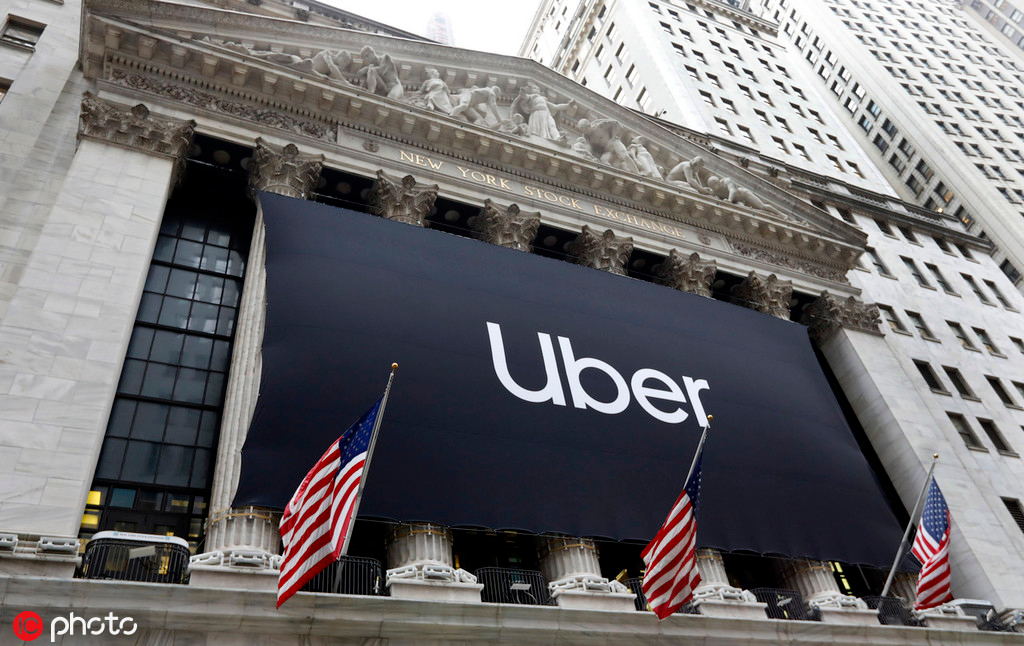 Uber opened and closed below its offering price Friday on the New York Stock Exchange, a sharp setback for the highly anticipated Initial Public Offering.
The stock opened at $42 and fell as low as $41.06 after Uber Technologies priced 180 million shares at $45 each, the low end of the proposed $44 to $50 range. Uber's shares closed Friday at $41.57 each, down $3.43, or 7.62 percent.
The company raised about $8.1 billion and the deal valued the company at about $77 billion, down from early estimates ranging as high as $120 billion before the price range was set. Uber plans to use money raised in the IPO as working capital.
"Dreams end quickly on Wall Street," John E. Fitzgibbon, Jr, founder of IPO Scoop, told China Daily. "The company waited too long to go public — It should have come out several years ago. The deal also came out at the top of the market, and that's not the best time to launch. Worse, the deal debuted as the broad market fell in early trading on fears of a trade war with China."
Uber's world-wide operations have consistently lost money. Earnings slowed ahead of its IPO and there are low barriers to entry. Competition is increasing, especially in the US where Uber goes head-to-head with Lyft.
After strong revenue growth — from $495 million in 2014 to $11.27 billion in 2018 — Uber reported revenue of $2.31 billion in the fourth quarter but showed little growth in the prior six months. This is a red flag for investors because an IPO is a bet on future growth. Slow revenue growth and Lyft's poor performance after its first day of trading probably led to the deal being priced at the lower end of the range.
In March, Lyft's IPO established investor interest in the ride-hailing sector when it priced 30.7 million shares at $72 each above the proposed range of $62-$68 a share. Lyft's shares closed Friday on Nasdaq at $51.09 each, a decline of 29.04 percent from the offer price and a decline of 42.34 percent from the early trading high of $88.60. Lyft's first quarter revenue totaled $776 million, a 95 percent increase from the same period a year ago, but loses totaled $1.14 billion, including IPO-related expenses.
Uber's use of independent contractors driving their own vehicles keeps overhead low, but the company must spend heavily to build market share. Uber's deficit since founding reached $7.9 billion. Court challenges and new regulations could force Uber to recognize its drivers as company employees rather than independent contractors and its drivers could, increasing costs.
In its SEC registration filing, Uber warned, "We anticipate that we will continue to incur losses in the near term as a result of expected substantial increases in our operating expenses."
The optimistic view is that Uber may be like Amazon.com in its early years. But Amazon revolutionized retailing as evidenced by the continued growth of online sales and a long list of bankrupt brick-and-mortar chains, including, Gymboree, David's Bridal, Gumps, Brookstone and Nine West. Amazon is now a huge money-maker. In 2018, profits grew to $10.1 billion, three times earnings in 2017, on revenue of $232.9 billion, up 31 percent over last year.
This year, Forbes magazine ranked Jeff Bezos, Amazon's founder, the richest man in the world with a fortune and estimated his fortune at $131 billion.
Uber is also active in food home delivery and trucking. There are low barriers to entry in both sectors, increasing competition and forcing Uber to spend heavily to build its brand. In meal and food delivery, Uber competes with GrubHub, DoorDash, Delivery Hero, Just Eat, Takeaway.com and Amazon. Uber's freight business competes with North American and global companies, including DHL, Next Trucking and Convoy.
"There's nothing to do now but wait until the dust settles," IPO Scoop's Fitzgibbon said.