Moms, love your kids, not their exam scores
By Yao Yuxin | China Daily | Updated: 2019-05-11 09:28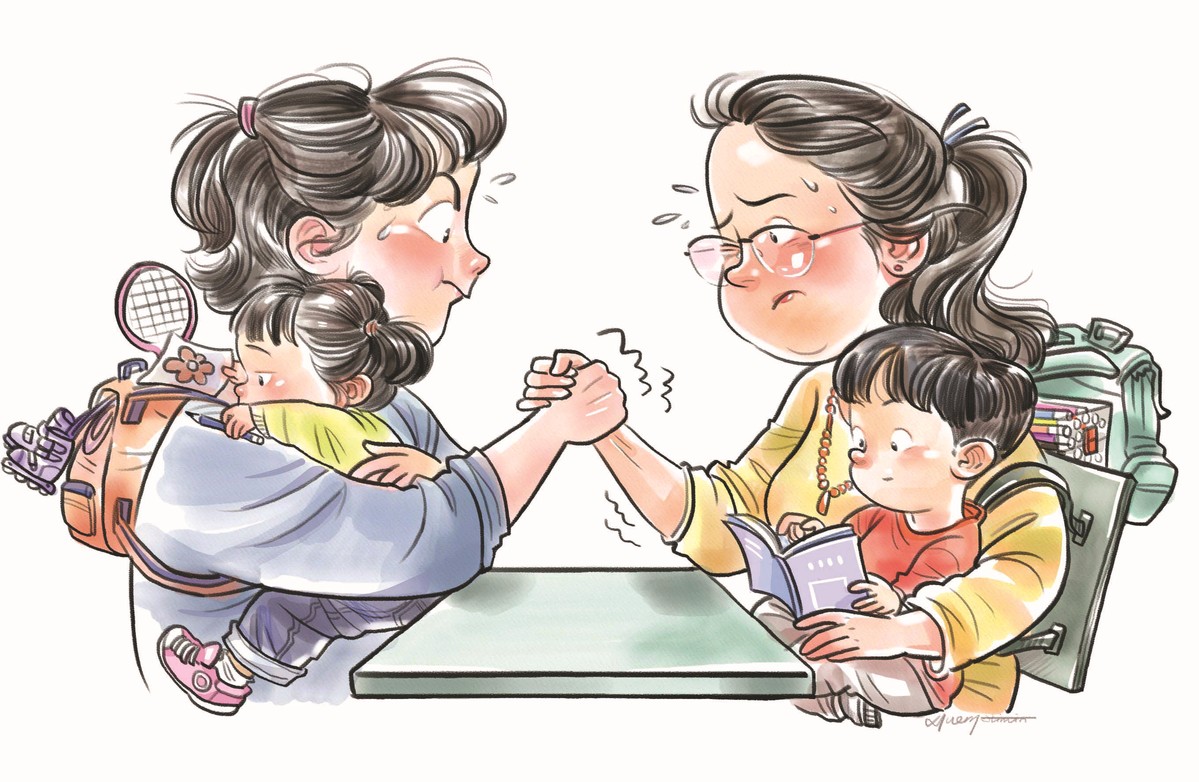 Editor's note: Many Chinese moms tend to get angry when helping their kids do homework. So stressed out are some moms that one suffered a heart attack and ended up in a hospital last year.
Why do Chinese mothers get so tense when it comes to their kids' education, and what should be done to ease their nerves?
With Mothers' Day just a day away, two experts share their views on the issue with China Daily's Yao Yuxin. Excerpts follow:
Fathers should share child-raising duties
The traditional family model of the man bringing home the bacon and the woman looking after the family doesn't seem to have changed much even today. As a result, Chinese mothers still shoulder most of the responsibilities of raising kids.
In the absence of fathers, mothers are more likely to pay greater attention to their kids and their education.
This could not only prevent the children from learning life skills, but also make them burdens for their mothers. And the greater the burden they become, the more their mothers would be stressed out.
Yet such anxiety could be easily shared by, if not transferred to, other family members.
A highly emotional yet anxious mother is more likely to make a wrong decision about her child's education, which in turn could have a negative impact not only on the child's healthy growth but also the health of the mother and the husband-wife relationship.
To avoid such a situation, fathers should share the responsibilities of raising a child in equal measure, which will ease the burden on the mothers as well as help the children learn more diverse life skills.
If fathers do not share the responsibilities of raising a child, the mother-child bond could become so insulated that even the father might find it hard to become part of it.
Therefore, Chinese women would do good to take a step back and involve their husbands in household affairs, including in raising children.
Women should learn to refuse to sacrifice themselves for the sake of the family and, instead, work to fulfill their other goals in life, including building their careers, and ask their husbands to fulfill their part of the obligations to the family even if it means going against tradition.
Chinese couples should get one thing right: the education, health and safety of their children are very important, but so is their conjugal relationship. And they should realize that by leaving their children to enjoy some spare time on their own everyday, they will help them develop into better human beings with abundant life skills.
Luo Huilan, a professor of women's studies at China Women's University
Teach children how to be a good person
People tend to get anxious when they are not certain about facing or handling a situation.
For example, a person won't feel nervous if he or she knows in advance the exact procedure to be followed and the time needed to catch a train from a specific station.
Chinese moms usually shoulder the main responsibility for their kids' education and face criticism when their kids don't succeed in their endeavor.
Their anxiousness, therefore, can be attributed to the uncertainty over their children's education-for instance, how many after-school classes should a child take per day and how to plan a schedule that would strike the right balance between study and leisure time, homework and hobbies.
Another source of stress for a mom is the relatively rich extra-curricular activities of other kids, which could prompt her to force her child to do the same.
The fear that her kid would fall behind forces a mom to make the child learn everything that she thinks could be useful.
Chinese parents usually have very high expectations for their kids, so many of them don't even try to find out what their children are really good at-and when the kids fail to fulfill their aspirations, the parents feel they have been let down.
To ease the anxiety of parents, especially moms, kids should be taught how to be a good person, rather than just be good at cracking exams and earning good scores.
Parents should be happy if their children excel in their own chosen fields, and teach them the importance of honesty, kindness and shared responsibilities.
These good traits will help the kids a lot in their future development.
Over-anxious parents, on the other hand, could prevent kids from excelling in even their own chosen fields.
Liu Xiuying, director of home education institute at China Youth and Children Research Center