Trilateral ties set to strengthen further
By ZHOU JIN | China Daily | Updated: 2019-05-11 10:53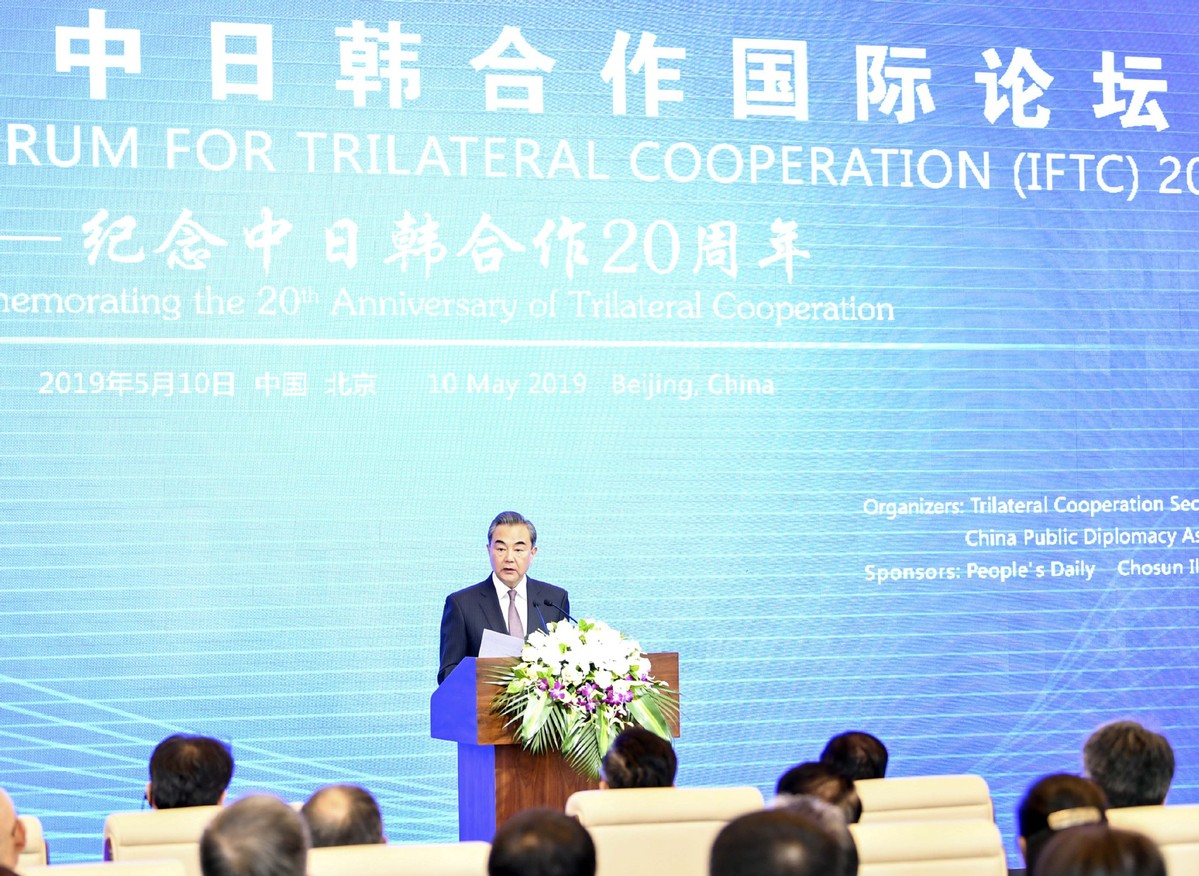 China is ready to work with Japan and the Republic of Korea to make trilateral cooperation serve regional peace, boost economic growth in Asia, advocate an open economy and uphold the rules of international relations, State Councilor and Foreign Minister Wang Yi said on Friday.
As important economies in the region and the world, the three countries need to cooperate with each other closer than ever before and jointly tackle challenges, Wang said at the opening ceremony of an international forum for trilateral cooperation in Beijing.
Noting that the three countries have facilitated and benefited from free trade and multilateralism, Wang called upon the three parties to work together to shape globalization in the direction of greater openness, inclusiveness and balance to benefit all.
The priority task is to conclude negotiations on the Regional Comprehensive Economic Partnership and speed up negotiations on the free trade agreement as well as signal a positive message of commitment to openness, Wang said.
Japan and the ROK are important stops along the ancient Silk Road, Wang said, adding that "they are well positioned to participate in building the Belt and Road more actively".
Trilateral trade volume increased from $130 billion to $720 billion over the past two decades, making the three countries each other's most important trade partners, according to Wang.
Jang Ha-sung, the ROK's ambassador to China, said that the three countries need to hold regular activities and improve the mechanism to stabilize their cooperation.
He also called on the three sides to work together to tackle challenges in areas like trade protection, the environment, natural disasters and an aging population.
Yutaka Yokoi, Japanese ambassador to China, said he hopes that Japan, China and the ROK will carry out more concrete cooperation in sports by using the opportunities brought by past and future Olympics held in the three countries.
He said he also expects more exchanges among peoples of the three countries through tourism.
The annual forum held by the China Public Diplomacy Association and the Trilateral Cooperation Secretariat of China, Japan and the ROK was attended by more than 250 people from the three countries.