Czech ensemble prepares to tour China
By Chen Nan | China Daily | Updated: 2019-05-11 11:53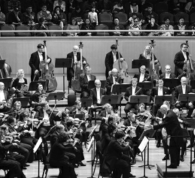 The Czech Philharmonic is launching a tour of China until May 23, visiting Chinese cities, including Nanjing, Jiangsu province; Wuhan, Hubei province; Fuzhou, Fujian province and Beijing.
The tour is to mark the 70th anniversary of diplomatic relations between China and the Czech Republic, and also to mark the 70th anniversary of the People's Republic of China.
The tour was announced at the Czech embassy in Beijing on April 25 by Wray Armstrong, the chairman of Armstrong Music and Arts, the organizer of the Czech Philharmonic's upcoming China tour, and David Mare ek, the CEO of the Czech Philharmonic.
During the tour, the Czech Philharmonic performs under the baton of Petr Altrichter, with repertories by Czech composer Antonin Dvo ak, including Romance, op. 11; Mazurek, op. 49 and Slavonic Dances, op. 46.
The orchestra also performs the fourth movement of Sinfonietta: Allegretto; Presto by Czech composer Leos Janaek and Valse triste by Czech composer Oskar Nedbal.
Czech solo violinist Josef Spa ek, the concert master of the Czech Philharmonic, performs during the tour.
On May 12, the Czech Philharmonic will perform the wellknown Chinese song, My Country, featuring Chinese tenor Liu Zhi, with Jiangsu Symphony Orchestra at the Jiangsu Centre for the Performing Arts, in Nanjing.
According to Mare ek, the Czech Philharmonic, founded in 1896 and based in Prague, paid its first visit to China in 1959 with three concerts held in Beijing and Shanghai.
It was led by its then artistic director and conductor Karel An erl.
Then, Czech violinist Josef Suk and Czech pianist Jan Panenka joined in the tour, which saw the orchestra perform music pieces, including The Symphony No. 3 in E major, Op. 55 by Ludwig van Beethoven and the Romeo and Juliet Fantasy Overture by Pyotr Ilyich Tchaikovsky.
The last tour launched by the Czech Philharmonic in China was in 2016, to mark the orchestra's 120th anniversary.
Speaking about the orchestra's achievements, Mare ek says: "The Czech Philharmonic represents the peak of Czech cultural achievement.
"In 1896, Antonin Dvo ak conducted the orchestra's debut performance at the Rudolfinum, which is still home to the orchestra's concerts in Prague.
"We've established a long friendship with China during our past tours in the country.
"We've also seen great audiences and talented musicians in China."