Giving mother's family name to infants gains popularity in China
China Daily | Updated: 2019-05-13 07:33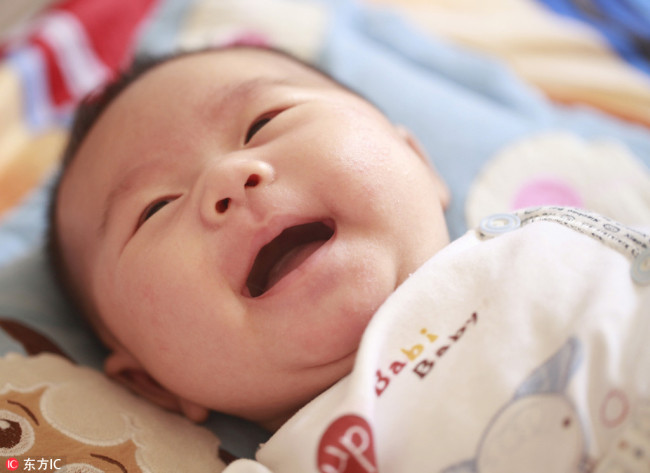 YINCHUAN-Each time Ren Ran introduces his baby girl, he sees the surprise on people's faces. But he has never regretted the decision to give his daughter her mother's surname instead of his own.
"Before my wife gave birth a year ago, her water broke too early and she needed oxytocin," Ren recalled. "She suffered for an entire day in the delivery room, and I could do nothing." So he decided to give their daughter his wife's surname, Ding, as a way of expressing his gratitude.
"Mothers are some of the greatest people in the world," Ren said. "They spend almost a whole year pregnant and suffer during labor."
In China, newborn babies are traditionally given the surnames of their fathers. However, in recent years, an increasing number of people are choosing to use the mother's family name.
Ren Ran was born in the 1980s, after the adoption of China's family planning policy, which limited couples to one child. Ren's mother knew all too well the pains and difficulties of bearing and raising a baby, so when she heard about Ren's decision, she was supportive.
"My mom has always been quite open-minded, and she believes names are just names," Ren said. "She said no matter what surname I chose for my girl, she would always love her granddaughter."
As the values of gender equality permeate Chinese society, diversity in name choices is becoming more common. Changing a tradition that is centuries old does not happen overnight, however. In China, where patriarchal values in a traditionally male-dominated society still prevail, many parents give compound surnames to their babies. A compound surname includes the surnames of both the father and the mother.
Wang Ying, 33, has two children. Her husband is surnamed Xu. When their first child was born, the couple decided to use a compound surname because they wanted to fulfill the wish of Xu's father to pass on the family name. The baby was eventually surnamed Xu-Wang.
When the couple had a second child after China relaxed the family planning policy, the baby was given the surname Wang.
"My father-in-law is open-minded, and he decided to give my surname to the baby," Wang recalled. "My father was ecstatic."
In March, the police in Shanghai released a report about names in the city that said of the more than 90,000 newborns last year, 8.8 percent took their mother's surnames, and 2.5 percent bore compound surnames.
"When we handle baby registrations, it's not uncommon to see compound surnames these days," said Guo Yanmiao, a police officer in charge of household registration processes. "People are becoming more open-minded, and men and women are also becoming more equal."
"My baby having my surname shows that women's roles in families are rising," Wang Ying said. "Whether a baby takes the mother's surname or not, there should be a consensus in the family. It should not be an issue of conflict."
Xinhua